Is the way a book ends important to you? Do you sometimes wish that you could write the ending so that the book finishes just the way you want it to? Or do you sometimes wonder what would happen to the story if the main character chose a different path to the one they did choose?
You sound like a perfect candidate for reading 'choose your own ending' books. These books give you alternatives.  They might say something like: "If you think this happens, turn to page XX, but if you want this to happen, turn to page XXX".
Then everyone's happy! You get the ending you want, and the hero or heroine gets to fight another day (or not, depending on what you choose!).
Oh the power! So… let's get started:
---
If you like adventure non-fiction books with a you-choose ending, try these:
Here are a couple of examples of action adventure books from this nail-biting series:
Could you escape a deserted island? : an interactive survival adventure / Hoena, B. A
"When an adventure at sea goes awry, the reader's choices determine if survival is possible for two friends marooned on a desert island with a deflated raft and few supplies." (Catalogue)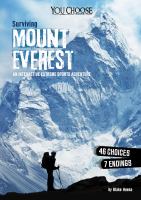 Surviving Mount Everest : an interactive extreme sports adventure / Hoena, B. A
"Since the beginning of time, we have been fascinated with heights. Mount Everest, therefore, is at the tip top of our fascination. In this tale, you call the shots in trying to conquer dizzying heights. Each decision becomes more important than the last as you climb higher and higher. Will you make it? Will you fall? Will you survive at all? YOU CHOOSE how this adventure ends. — back cover." (Catalogue)

---
If you like adventure fiction, try these:
Here's a couple of adventures you won't want to miss the ending/s of:
House of danger / Montgomery, R. A
"You are a successful young detective, and the creepy Marsden residence and its missing owner have haunted you more than any other case. Maybe this is a sign you shouldn't continue? Do you call in your best friends for support? Or perhaps you should turn to the police for help? Are you ready to take on mutant chimpanzees, time travel, and a counterfeiting ring to solve the case? House of Danger takes YOU on a thrilling adventure investigating criminal activity and a dark history in your town!" (Catalogue)

Journey under the sea / Montgomery, R. A
"Did the lost city of Atlantis really exist? Or is it just a myth? You are a highly experienced deep sea explorer, buut your search for the lost city of Atlantis is the trip of a lifetime. You must make choices necessary to go deeper, hoping one will lead you to your quarry, the mythical lost continent of Atlantis. Choose from forty-two possible endings." (Catalogue)

---
Or maybe Sci-fi and fantasy is your jam?
Starship Traveller / Jackson, Steve
"Sucked through the nightmare of the Seltsian Void, the starship Traveller emerges at the other side of the black hole into an unknown universe. You are the captain of the Traveller and her fate depends on you. Will you be able to discover the way back to Earth from the alien peoples and planets you encounter?" (Catalogue)

Spellbreaker / Green, Jonathan
"Rassin Abbey has guarded its arcane treasures for centuries. But when their Black Grimoire spellbook is stolen, the land of Ruddlestone is plunged into a crisis of epic proportions. Should the legendary Casket of Shadows be opened, the Infernal Beast will be unleashed to wreak its terrible carnage across the Old World." (Catalogue)

---
Are you into your sports? These extreme sport adventures might be just for you: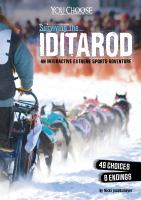 Surviving the Iditarod : an interactive extreme sports adventure / Jacobsmeyer, Nicki
"Set in the Alaskan wilds, the Iditarod is one of the most extreme races on the planet. As the musher and leader of a high-powered dog sledding team, choosing the right lead dog is just the first of your important decisions. From there, each choice you make will affect whether you come in first, fifth, last, or not at all. You choose how this adventure ends." (Catalogue)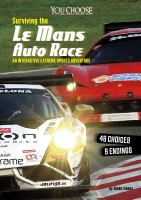 Surviving the Le Mans auto race : an interactive extreme sports adventure / Hoena, B. A
"The Le Mans auto race in France is a true test of endurance, and as you sit behind the wheel of a high-powered racecar, you're in control. The decisions you make may take you across the finish line as a champion–or send you careening off course. Will you find a way to win–or even survive? YOU CHOOSE how this adventure story ends." (Catalogue)