Awesome news for all you audiobook listeners out there — the lovely librarians who buy books for the eLibrary have added a whole new collection of 100 amazing audiobooks that are always available for you to listen to! That's right, there's no need for you to hang around waiting for someone to return the book that you want — no matter how many people have borrowed it, there's always room for another listener!
Head on over to the Unlimited Loans: Kids' Audiobooks page on OverDrive or Libby to start borrowing — and while you're there, why not check out our new Kids' Lucky Day collection too? It's a round up of some of the most popular eBook and eAudiobook titles for kids to be found this side of the Milky Way. You can only have these ones for 14 days, and can't place reserves on them — these are the hottest titles after all — so snaffle them up while you can! By the time you've finished the ones you've chosen, there'll be a whole new selection up for grabs.
Can't decide what to pick up? Read on for some of our favourite top picks from the Unlimited Loans: Kids' Audiobooks and Kids' Lucky Day lists…
Unlimited Loans: Kids' Audiobooks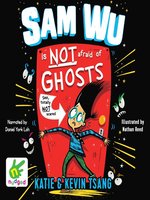 Sam Wu is Not Afraid of Ghosts, Katie Tsang (Audiobook)
Sam Wu is NOT a scaredy-cat (except he is). When a trip to the Space Museum goes terrifyingly wrong, Sam begins a mission to prove to the school bully, and all of his friends, that he is a fearless space adventurer. A truly laugh-out-loud, voice-led and madcap story of ghost hunting, snakes and mischievous pet cats called Butterbutt.
(Overdrive description)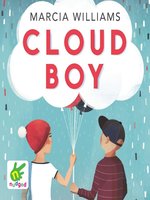 Cloud Boy, Marcia Williams (Audiobook)
Harry Christmas and Angie Moon are best friends and almost-twins. Ever since they were born two days apart they've been partners in cloud-spotting, sweet-eating and treehouse-building. But when Harry is taken to hospital for headaches that won't go away, he needs Angie more than ever. Because when things fall apart, only a best friend can stitch them back together. Told through Angie's lively diary, this is a bittersweet story about friendship and growing up.
(Overdrive description)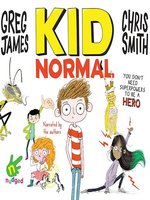 Kid Normal, Chris Smith (Audiobook)
When Murph Cooper rocks up to his new school, he can't help but feel a bit out of his depth. And it's not because he's worried about where to sit, and making friends, and fitting in, or not knowing where the loos are. It's because his mum has enrolled him at a school for superheroes by mistake. And unlike his fellow students Murph has no special abilities whatsoever. But just because you don't have superpowers, it doesn't mean you can't save the day…
(Overdrive description)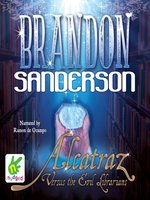 Alcatraz Versus the Evil Librarians, Brandon Sanderson (Audiobook)Alcatraz Smedry, practically the world champion of breaking things, never thought his most boring birthday present – a bag of sand – would get him into this much trouble. Yet now he's fleeing from evil Librarians, releasing dinosaurs to create a diversion in the Fiction section, and learning that clumsiness can be a powerful talent!
(Overdrive description)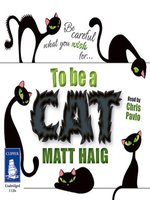 To Be a Cat, Matt Haig (Audiobook)
Barney Willow thinks life couldn't get any worse. He's weedy, with sticky-out ears. Horrible Gavin Needle loves tormenting him. And worst of all, Dad has been missing for almost a year, and there's no sign of him ever coming home. Barney just wants to escape, and find another life. Being a cat, for example. A quiet, lazy cat. Things would be so much easier—right?
(Overdrive description)

Kids' Lucky Day Collection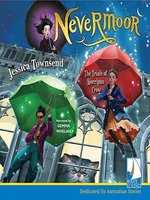 Nevermoor: The Trials of Morrigan Crow, Jessica Townsend (Audiobook)
Morrigan Crow is cursed. Having been born on Eventide, the unluckiest day for any child to be born, she's blamed for all local misfortunes. But worst of all, the curse means that Morrigan is doomed to die at midnight on her 11th birthday. But as Morrigan awaits her fate, a strange and remarkable man named Jupiter North appears and whisks her away into the safety of a secret, magical city called Nevermoor…
(Overdrive description)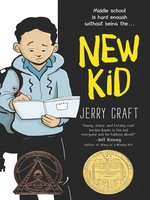 New Kid, Jerry Craft (ebook)
Seventh grader Jordan Banks loves nothing more than drawing cartoons about his life. But instead of sending him to the art school of his dreams, his parents enrol him in a prestigious private school known for its academics, where Jordan is one of the few kids of color in his entire grade.
As he makes the daily trip from his Washington Heights apartment to the upscale Riverdale Academy Day School, Jordan soon finds himself torn between two worlds—and not really fitting into either one. Can Jordan learn to navigate his new school culture while keeping his neighborhood friends and staying true to himself?
(Overdrive description)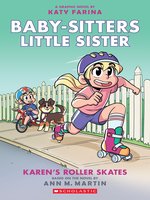 Karen's Roller Skates, Ann M. Martin (ebook)
It's going to be a great weekend! Karen has new roller skates and is a very good skater. She's looking forward to trying some new tricks. But, oh no! Karen falls down and has to go to the hospital. Her wrist is broken!
Karen is determined to get everyone she knows — plus someone famous — to sign her cast. It isn't going to be easy, but she won't give up until the job is done.
(Overdrive description)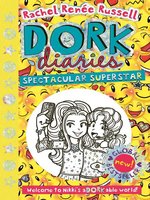 Dork Diaries, Rachel Renee Russell (ebook)
Nikki Maxwell and her bandmates are looking forward to an AWESOME time on tour as the opening act for the world famous Bad Boyz! The only downside? Nikki's frenemy, MacKenzie Hollister, has weaselled her way onto the tour as a social media guru…
Nikki's determined to stay out of MacKenzie's way to avoid any drama, but then she learns that MacKenzie is going to be her roommate! TOTAL DISASTER! Will Nikki survive her dream tour as it quickly goes from AWESOME to AWFUL?!
(Overdrive description)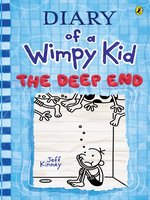 The Deep End, Jeff Kinney (ebook)
In The Deep End, book 15 of the Diary of a Wimpy Kid series from #1 international bestselling author Jeff Kinney, Greg Heffley and his family hit the road for a cross-country camping trip, ready for the adventure of a lifetime.
But things take an unexpected turn, and they find themselves stranded at an RV park that's not exactly a summertime paradise. When the skies open up and the water starts to rise, the Heffleys wonder if they can save their vacation – or if they're already in too deep.
(Overdrive description)