Have you ever had a pen pal?
We've teamed up a series of public libraries in Delaware, USA for a Pen Pal program! It's a chance to make new friendships and learn about another person's culture and life experiences.
From Tuesday 18th April –  Sunday 14th May you can join the first round of the program, simply by filling out a sign-up form. This program is open to adults, teens and children over 5 years old. Parental permission and in-person signup is required for ages 5-15, so drop into your local library and ask for a signup form.
From there, we'll pair you with a similar participant from Delaware – you'll be notified via email of who your pen pal is and what their interests are. Then write your letter and bring it to the library – we'll take care of the international postage and you'll be notified when to pick up your pen pal's response.
If you're wondering about Delaware, here's a few facts to get you started:
Delaware is the second smallest of the 50 U.S. states – only Rhode Island is smaller.
The first people to live in the area that became Delaware were the Lenni-Lenape, which means "original people".
The capital city of Delaware is Dover.
If you go for a walk in the bush in Wellington you'll find Kawakawa, Horopito, Nikau Palms, Wētā, Kaka, and Tūī. If you go for a walk in the woods in Delaware you could find Oak, Sycamore, Maple, Raccoons, Foxes, and Muskrats.
If you'd like to learn more, we recommend checking out the Encyclopaedia Britannica – it's free to use through Wellington City Libraries, just sign in with your Library Card Barcode Number and 4-digit PIN. Just log in and search for Delaware!
---
If you're after some letter-writing inspiration, check out these titles on our catalogue:
Tim's bad mood and other stories / Donaldson, Julia
"With a focus on building phonics skills, this collection includes seven fun stories with colourful illustrations. It is ideal for children who are growing in reading confidence. Find out why Tim is in a bad mood, what makes a good pen-pal and learn about different animal tails! Tips for reading together explain the letter patterns that each story focuses on and identify any words children may find tricky, helping you to get the most out of the collection." (Catalogue)

Same sun here / House, Silas
"A twelve-year-old Indian immigrant in New York City and a Kentucky coal miner's son become pen pals, and eventually best friends, through a series of revealing letters exploring such topics as environmental activism, immigration, and racism." (Catalogue)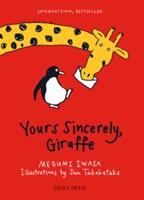 Yours sincerely, giraffe / Iwasa, Megumi
"This book is about friendship and the distinctions of living in different parts of the world. A giraffe that lives in Africa meets a pelican who is a mailman. Since the giraffe is bored, she sends a letter to the first animal the pelican can find on the other side of the horizon. The letter passes on to a seal who gives it to a penguin. He reads the letter and even though he does not understand it he writes back, and becomes the giraffe's pen pal. Although they do not know what each other looks like the giraffe decides to meet her new friend disguised as a penguin!"Giraffe is bored, as usual. He'd love a friend to share things with. So he writes a letter and sends it as far as possible across the other side of the horizon. There he finds a pen pal—Penguin. Giraffe knows nothing about penguins and his letters are full of questions. What does a penguin look like? Where is a penguin's neck? And so the letters begin to fly from horizon to horizon"–Publisher description." (Catalogue)

Same, same, but different / Kostecki-Shaw, Jenny Sue
"Pen pals Elliot and Kailash discover that even though they live in different countries–America and India–they both love to climb trees, have pets, and ride a school bus." (Catalogue)

Dear Greta / Poshoglian, Yvette
"This was meant to be Alice's year to shine, but things are already going wrong . . . First she is given young environmental activist Greta Thunberg as her pen pal for a fictional writing assignment. Why couldn't Alice get someone easy to write to, like a pop star? Then she's put in charge of the Harmony Day Food Fair. It's the ultimate Year Six project, so Alice should be happy . . . but the food fair has to go online this term, which seems impossible, and she has to work with the most annoying boy in her school. As if she didn't have enough on her plate, Alice gets kicked out of her bedroom by her grandmother coming to stay. Through her letters to Greta, Alice finds herself opening up about her life. And as Alice approaches the hard questions by wondering, 'What would Greta do?', she starts to believe that her voice can make a difference – a big one." (Catalogue)

Yours troolie, Alice Toolie : letters from my enemy / Temple, Kate
"Something very bad has happened to Alice Toolie. Her secret diary has been read by her worst enemy – Jimmy Cook. It's war. Until Ms Fennel decides that Alice and Jimmy need to make peace and become pen pals for the term. And it works. Before long, Alice and Jimmy are planning to make billions of dollars for the school fete and with a captured ghost and jars full of unicorn vomit, it's sure to be their time to shine." (Catalogue)