Hey Kids! Wellington City Libraries has some new children's comics and graphic novels this month to keep you amused just in time for Summer. So what are you waiting for? Come on down to your local branch and borrow the following: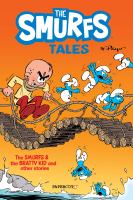 The Smurfs tales. 1.
"On the occasion of the all-new animated TV series starting on Nick this September, an all-new series of Smurfs graphic novels! The Smurfs are back in new stories in English for the first time! First, when Papa Smurf's stork gets wounded in a storm, he must rely on the kindness of a local farmer to nurse the stork back to flying condition. A different kind of storm arrives in the shape of Johnny, the nephew of the farmer. The boy is as aggressive as his uncle is friendly. Making his way to the Smurfs Village, Johnny leaves a path of destruction in his wake, putting the whole village in jeopardy…" (Adapted from Catalogue)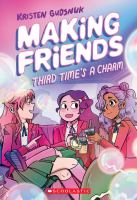 Making friends. [3], Third time's a charm.
"Dany's sketchbook is at it again, but this time it's not Dany's doing! Dany and Madison are living a new reality. Rather than best friends, the pair now believe they are twins — and that isn't the only part of their lives that has been completely rewritten. […] Can the pair put things back the way they were, or is this magic beyond their control?" (Adapted from Catalogue)
Also available as an eBook.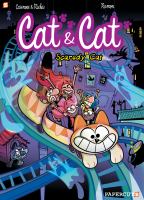 Cat & cat. 4, Scaredy cat.
"After a long day of chasing around Sushi the cat, paying attention to Sushi the cat, and catering to Sushi the cat's every whim, Sushi's owner Cat and her dad get exhausted. But you did know that cats are nocturnal, right? And when Cat and her dad are away, sleeping, Sushi the cat will play… " (Adapted from Catalogue)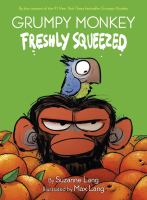 Grumpy monkey. 1, Freshly squeezed.
"Jim Panzee is out for his usual Wednesday walk when he accidentally squishes his stress orange into orange juice. He and his friends must cross the jungle before all of the fresh oranges are gone" (Catalogue)

City of Dragons: The Awakening Storm.
"When Grace moves to Hong Kong with her mom and new stepdad, her biggest concern is making friends at her fancy new boarding school. But when a mysterious old woman gifts her a dragon egg during a field trip, Grace discovers that the wonderful stories of dragons she heard when she was a young girl might actually be real – especially when the egg hatches overnight. The dragon has immense powers that Grace doesn't understand. And that puts them both in danger from mysterious forces intent on abusing the dragon's power." (Catalogue)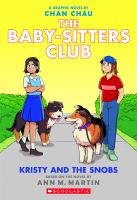 The Baby-sitters Club. 10, Kristy and the snobs.
"This graphic novel adapted by rising cartoonist Chan Chau is now available in full colour! Kristy, Mary Anne, Claudia, and Stacey are best friends and founding members of The Babysitters Club. Whatever comes up, you can count on them to save the day. Kristy's family moves to a new neighborhood where the kids make fun of Louie, Kristy's pet collie, who's going blind. The Baby-sitters are not going to let them get away with it." (Catalogue)

Sunny makes a splash.
"It's summer, and Sunny is BORED. Most of her friends are out of town. Her mom wants her to baby-sit way more than Sunny wants to baby-sit. There's nothing good on TV. The only place that's cool (in a not-boring sense) and cool (in a not-hot sense) is the community pool. Sunny loves going there . . . and loves it even more when she's offered a job at the snack shack. Soon she's flinging fries and serving soft ice-cream like a pro . . . with the assistance of the very sweet boy who works with her. Sunny's mom isn't sure Sunny should be quite so independent. But Sunny is definitely sure: Life is best when it's free swim." (Catalogue)

Baby-sitters little sister [4] : Karen's Kittycat Club.
"Karen wants to start her own club! Karen's best friend Hannie just got an adorable new kitten. Their neighbor Amanda has a cat, too, and Karen has grumpy old Boo-Boo. Now that they all have cats, Karen comes up with a great idea. She wants to start a Kittycat Club! What will the club do? Karen can't baby-sit like her big sister Kristy… but she can cat-sit! Will anyone want to hire Karen and her friends?" (Catalogue)

Beak & Ally. [1], Unlikely friends.
"Ally the alligator is perfectly happy being alone… until one day a noisy bird named Beak lands on her snout. Much to Ally's annoyance, this chatty bird likes to sing all the time and has chosen a nearby tree to build his new nest. Even worse, he insists that he and Ally will be best friends. In fact, he has all kinds of friendship goals in mind, and it seems nothing Ally says will convince him that she'd rather just be alone. Nothing beats peace and quiet… except for maybe a new best friend?" (Catalogue)

Beak & Ally. 2, Bedtime jitters.
"With weird swamp noises swirling around him, Beak the Bird cannot get any sleep until his friend Ally the alligator shows him where the racket is coming from." (Catalogue)

Big Nate Aloha!
"Aloha can mean hello or goodbye–which makes it the perfect word for sixth grader Nate Wright. Why? Because Nate doesn't know whether he's coming or going. Will his romance with Daisy sizzle or fizzle? Will his hair survive Teddy's cut-rate barber skills? And when Nate spots a crime in progress at Klassic Komix, can he find his inner superhero?" (Catalogue)
Also available as an eBook.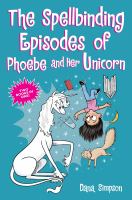 The spellbinding episodes of Phoebe and her unicorn.
"A deluxe bind-up featuring all the comics from two different Phoebe and Her Unicorn books: Unicorns vs. Goblins and Razzle Dazzle Unicorn . In these spellbinding adventures, nine-year-old Phoebe Howell and her unicorn best friend, Marigold Heavenly Nostrils, explore the possibilities of friendship, summer camp, the holidays, and even founding their own detective agency. " (Adapted from Catalogue)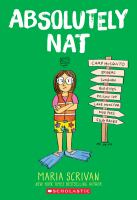 Absolutely Nat.
"Natalie has just arrived at summer camp and soon realizes it isn't anything like the brochure. Instead of spending the summer with her best friends, Zoe and Flo, Natalie is stuck with her ex-BFF, Lily, and someone even more annoying than the endless mosquitoes: Millie Flatbottom. Even worse, she's constantly pushed out of her comfort zone and forced to come face-to-face with some of her greatest fears. Although summer camp isn't at all what Natalie expected, could it be exactly what she needs?" (Catalogue)
Also available as an eBook.