A journey to a new home is called migration. Much of human history is the story of migrations. Some people migrate voluntarily, but sometimes, they are forced to move for reasons such as war, violence, or persecution. When people are forced to move, they are refugees. 
Refugees can come from various places, especially from countries that have been affected by conflicts for decades. In the last few years, the number of refugees has increased dramatically, with the highest level of forced displacement since the end of World War II. More than ever is urgent to talk about this matter.  
Refugees not only experience the difficulty of leaving their homeland, but also encounter cultural differences, and often the need to learn a new language. These are significant challenges for people integrating into a new place.
What can we do to contribute?
It is important to be aware of the circumstances of the other families surrounding us.
Find out more about refugee families in our community, school, neighbourhood or work.
Commemorate the contributions and courage of refugees through the times.
Read refugees' stories to understand their journey.
When we can, clarify incorrect or inaccurate information to contribute to a better understanding of refugees and our communities.
Where can you find information about refugees around the world? Please visit the website AnyQuestions where you can find a list of useful resources. 
We invite you to read different and beautiful stories that talk about migration and the journey that many refugees must make to find a safe place. Check out the reading list below! 

To celebrate the World Refugee Day come to join us to read some of these books in a special storytime session in Karori. Everyone is welcome to come along on Monday 20th June at 3.30 pm at Karori Library!  
This weekend on Saturday 18th June, Wellington City Libraries is taking part in the World Refugee Day event at South Wellington Intermediate School, 30 Te Wharepouri Street, Berhampore from 11:30-3:30pm. We will be running storytimes, and a VR classroom with virtual reality games!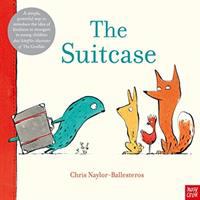 The suitcase / Naylor-Ballesteros, Chris
"When a weary stranger arrives one day, with only a suitcase, everyone is full of questions. Why is he here? Where has he come from? And just what is in the suitcase? A story full of heart, hope and kindness about how we treat those in need." (Catalogue)
Story boat / Maclear, Kyo
"When a little girl and her younger brother are forced along with their family to flee the home they've always known, they must learn to make a new home for themselves–wherever they are. And sometimes the smallest things– a cup, a blanket, a lamp, a flower, a story–can become a port of hope in a terrible storm. As the refugees travel onward toward an uncertain future, they are buoyed up by their hopes, dreams and the stories they tell–a story that will carry them perpetually forward."–Amazon.com" (Catalogue

The day the war came / Davies, Nicola
When the government refused to allow 3000 child refugees to enter this country in 2016, Nicola Davies was so angry she wrote a poem. It started a campaign for which artists contributed drawings of chairs, symbolising a seat in a classroom, education, kindness, the hope of a future. The poem has become this book, movingly illustrated by Rebecca Cobb, which should prove a powerful aid for explaining the ongoing refugee crisis to younger readers." ( abridged from Catalogue)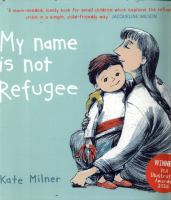 My name is not refugee / Milner, Kate
"A young boy discusses the journey he is about to make with his mother. They will leave their town, she explains, and it will be sad but also a little bit exciting. They will have to say goodbye to friends and loved ones, and that will be difficult. They will have to walk and walk and walk, and although they will see many new and interesting things, it will be difficult at times too. A powerful and moving exploration that draws the young reader into each stage of the journey, inviting the chance to imagine the decisions he or she would make." (Catalogue)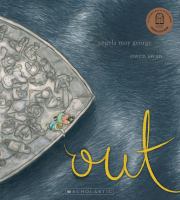 Out / George, Angela May
I'm called an asylum seeker, but that's not my name. A little girl and her mother have fled their homeland, making the long and treacherous journey by boat to seek asylum. Timely, powerful and moving, Out celebrates the triumph of the human spirit in the darkest times, and the many paths people take to build a new life." (Abridged for catalogue)

Marwan's journey / Arias, Patricia de
This is the journey of one boy who longs for a home, and we follow his path, walking hand in hand with him as he looks forward with uncertainty and hopes for a peaceful future. This beautiful, heartfelt story gives a human face to the plight of refugees all over the world. Marwan's journey is everyone's journey"–Jacket." (Abridged from catalogue)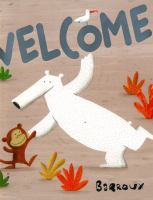 Welcome / Barroux
"A powerful story about the plight of migrants from the award-winning creator of Where's the Elephant?–Back cover." (Catalogue)
Three balls of wool (can change the world) / Cristina, Henriqueta
"Exiled from their homeland, a young girl and her entire family are unhappy about the monochrome sweaters all children wear until Mom decides to make a change. Includes facts about Portugal's history and government, about Amnesty International, and the text of The Universal Declaration of Human Rights." (Catalogue)

Spectacularly beautiful / Lucas, Lisa
"A teacher helps one of her students who is scarred from violence see that she is spectacularly beautiful." (Catalogue)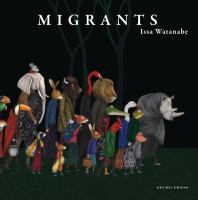 Migrants / Watanabe, Issa
"The migrants must leave the forest. Borders are crossed, sacrifices made, loved ones are lost. It takes such courage to reach the end. At last the journey is over and the migrants arrive. This is the new place. With forceful simplicity, Migrants narrates the journey of a group of animals leaving a leafless forest."–Back cover." (Catalogue)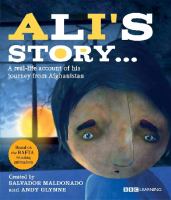 Ali's story … : a real life account of his journey from Afghanistan / Maldonado, Salvador
"This is the real-life story of 10-year-old refugee Ali who, accompanied by his grandmother, flees his home country of Afghanistan to avoid the conflict caused by the war. Told in Ali's own words, it documents his feelings of alienation, separation and suffering that war can place on immigrant children and their families, and the thread of hope that can help them to overcome their ordeal"- (Blurb).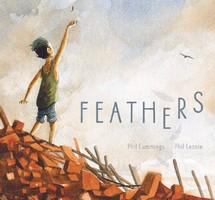 Feathers / Cummings, Phil
"The sandpiper stretched its wings in the chilling breeze. It knew it was time to leave…so it took flight. Follow the feathers as they fall along this exquisite journey of heartache, hope and home." (Catalogue)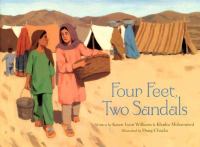 Four feet, two sandals / Williams, Karen Lynn
"Two young Afghani girls living in a refugee camp in Pakistan share a precious pair of sandals while they go about their routines and wait for their names to appear on a list for a new home. Suggested level: primary, intermediate."(Catalogue)

The journey / Sanna, Francesca
"I look up to the birds that seem to be following us. They are migrating just like us. And their journey, like ours, is very long, but they don't have to cross any borders." (Abridged from catalogue)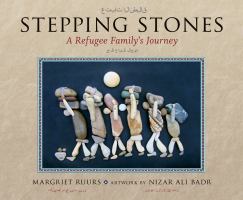 Stepping stones : a refugee family's journey / Ruurs, Margriet
"In this picture book, a young girl and her family are forced to flee their village to escape the civil war that has engulfed Syria and make their way toward freedom in Europe"– Provided by publisher." (Catalogue)

Two white rabbits / Buitrago, Jairo
"A young girl describes what it is like to be a migrant as she and her father travel north toward the U.S. border. They travel mostly on the roof of a train known as The Beast, but the little girl doesn't know where they are going. She sleeps, dreaming that she is always on the move…" (Abridged from catalogue)

From far away / Munsch, Robert N.
"When Saoussan immigrated with her family from war-torn Lebanon, she was only seven years old. This picture book tells the story of how she had to adjust to her new home in Canada. This is the perfect book to help kids empathize with immigrant children whose experiences are very similar to Saoussan's."– Provided by publisher." (Catalogue)