Fakaalofa lahi atu!
This week, from Sunday 15 October to Saturday 21 October, we are celebrating Faahi Tapu he Vagahau Niue | Niue Language Week 2023.
Our theme this year is:
Fakatūleva e Vagahau Niue mo e Tau Aga Fakamotu ma e Tau Atuhau | Sustain Niue Language and Culture for Future Generations.
Niue Language and Culture
According to the Ministry for Pacific Peoples, "Vagahau Niue has been registered with UNESCO as an endangered language, so one of the challenges is the preservation of Vagahau Niue and Niue culture."
Niue leaders and community groups are working hard to keep Vagahau Niue / Niue Language and Culture going so that the next generation (your children and your childrens' children) can learn the unique knowledge of the island, its history, its people and their values.
This is tricky becasue there are only about 1,900 people who live in Niue. Most Niuean people live outside the country, over 30,000 in Aotearoa/New Zealand and about 6,000 in Australia!
Young New Zealand-born Niueans have said that Vagahau Niue and Niue Culture are avenues to stay connected with their parents and grandparents; it is their sense of identity.
For people who aren't Niuean, you can support by learning about Niue culture and people who have  made some amazing contributions to Aotearoa/ New Zealand.
Events
Join us at Newtown Library for a special Niue Language Week Storytime! We have special guest elder Mailigi Hetutu visiting Newtown Library this year to share some special stories from Niue and some childrens games. This session is most suitable for 4-6 year olds. Fakaalofa lahi atu ku a mutolu oti — everyone is welcome!
To get you excited for more stories in Niuean, head on over to our YouTube channel where you can watch and listen to our librarian Lewis (now the Pasifika Librarian at Porirua Libraries!) read a special bilingual story — Fifine pulotu mo e tofuā | The artist and the whale by David Riley — in English and Vagahau Niue.
This video was recorded as part of our celebrations for Faahi Tapu he Vagahau Niue back in 2021. We would like to thank Lewis and David for allowing us to share this beautiful story with you throughout Niue Language Week — fakaaue lahi, David! Make sure to check out the Reading Warrior website to find more stories of the Pacific from David and his collaborators.
You can find even more events on the official NZ Niue Language Week Facebook page and on the Ministry for Pacific Peoples website.
10 Fun Fast Facts about Niue
Niue is the world's largest raised coral atoll
It was created 2-3 million years ago
Niue is just one island
It takes around two hours to drive around the entire island
It has some of the clearest waters in the world because no rivers or streams run off into the ocean
There is a prison on the island's golf course
Niue is one of the last countries in the world to see the sunset
Niue has no traffic lights
Te Kupu Fakafeleveia | Useful Words
Vagahau Niue                      English
Fakaalofa lahi atu               Greetings/Hello
Fakaalofa atu                       Greetings/Hello
Fakaalofa lahi atu ki a mutolu oti              Greetings Everyone
Mutolu kia                            Goodbye – to those who are leaving
Nonofo ā mutolu kia          Goodbye – to those who are staying
Fakamolemole                     Please
Fakaaue Lahi oue tulou     Thank you
Language is a wonderful way to connect with others and celebrate diversity. You can learn even more phrases by using the Niue Language Cards from the Ministry for Pacific Peoples!
Tau tohi | Books
We have many Niue language books in our library collection, and you are most welcome to borrow them today! Here are some of our favourites, but you can also visit this link to find even more children's books in Vagahau Niuē at your local library.
We are the rock / Riley, David
"In We are the Rock contemporary Niueans, historical and legendary figures tell their stories of focus, expression and achievement." (Catalogue)

Tau kukukuku ha Ako = Ako's hugs / Fuemana-Foaʿi, Lisa 
"Ako shows his affection towards his family by giving them hugs, including the family cat and his cuddly toy, Kuku, the fruit bat." (Catalogue)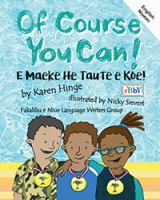 Of course you can! = E maeke he taute e koe / Hinge, Karen
"Jeremy is starting at a new school. He's not too sure about how he will fit in. But the other students make him welcome and every time he thinks he can't do something they say … "Of course you can!" That is until the day they go to the swimming pool." (Catalogue)

Tau matatohi Faka-Niue : Niue alphabet with English translation / Ikenasio-Thorpe, Bettina  
A short introduction to the alphabet! In the same series, we also have an introduction to colours and counting numbers!

The woman who was swallowed by a whale : a tale from Niue / Wilton, Briar
"The woman who was swallowed by a whale is a folktale ; Niue : rock of Polynesia is a short factual introduction to the country and culture." (Catalogue)

Kuaka visits Niue / Peterson,Vanessa
"Uses a story format and the concept of bird migration to introduce places in Niue, food and customs." (Catalogue)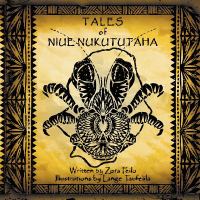 Tales of Niue nukututaha : in Niuean and English / Feilo, Zora
"A collection of twelve stories in both English and Niuean set on the island if Niue, this is the author's reinterpretation of myth, legend and storytelling from her native land. Each story is lavishly illustrated by Niuean artist Lange Taufelila." (Catalogue)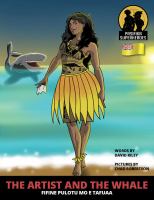 The artist and the whale = Fifine pulotu mo e tafuā : a Niue legend / Riley, David
"Mataginifale is a Niue superhero with a difference. She isn't known for her super powers, but for her super creativity. One day she had an argument with a whale that tested her thinking skills too." (Catalogue)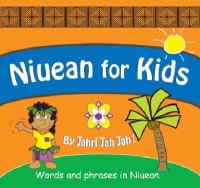 Niuean for kids / Jahri Jah Jah
"Learn to speak words and phrases in Niuean. This book packs in many common words and phrases., including greetings, colours, numbers, body parts, animals and farewells. It is a great resource for anybody wanting to learn some basic words in Niuean. Suitable for ages 1+." (Catalogue)

Niue stands alone / Tu tokotaha a Niue / tau tala tuai ne talahau e David Riley ; fakaliliu e Mele Nemaia ; tau fakatino mai ia Chad Robertson / Riley, David
"Have you ever done something so embarrassing you just wanted to hide? Fao and Huanaki know how that feels. They once did something embarrassing too. But they found a way to turn it into something good." (Catalogue)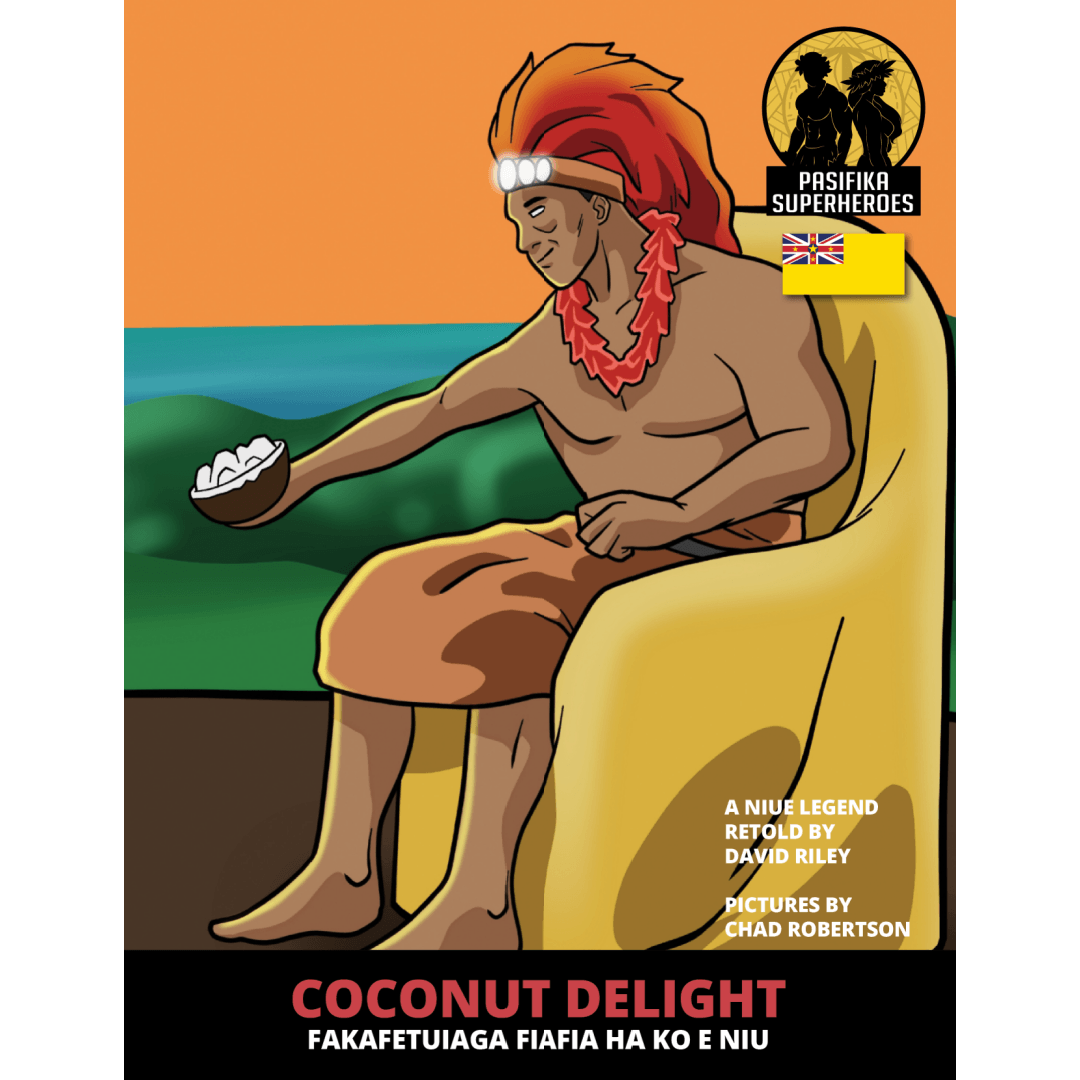 Coconut delight = Fakafetuiaga fiafia ha ko e Niu / Riley, David
"Some of the sweetest fruits in the world grow in Niue. There's fua futi (bananas), fua mago (mangoes) and fua loku (pawpaw). But niu (coconut) might be the most important of them all. How did the niu get to Niue? Find out how in Coconut Delight, a bilingual legend from the Rock!" (Catalogue)

That's it from us today! We hope you enjoy Niue Language Week 2023! Fakaaue lahi oue tulou.