September 1st is New Zealand's Random Acts of Kindness Day and we've never needed it more than in these Covid times!
Started in New Zealand in 2005, we are the only country in the world that celebrate a National Random Acts of Kindness Day. There is also a World Kindness Day on Saturday 13 November 2021… but let's make every day a kindness day!
Random Acts of Kindness have probably never been more important, yet have never been harder to do, than when the city is in a lockdown.
Whether you're in the full Level 4 and can't even get takeaways delivered to someone, or in a variation of lockdowns which maybe means no school or no shops are open, there are still little random acts of kindness that are doable. Here are just a few ideas:
 Chalk positive, happy messages around your neighbourhood
Organise FaceTime or Zoom with friends to check in on each other
Play online Scrabble or other board games with friends also stuck at home
Play a game with your younger brothers and sisters… even if you think it's a bit boring!
Help your caregivers to order some groceries online and have them delivered to a friend or neighbour
Offer to make lunch or dinner – maybe even make one night a week your cooking night
Pick up rubbish on your neighbourhood walks
Make a video of yourself reading a story and send it to your grandparents
Offer to do some housework or gardening
Tidy your room without being asked
Ring a neighbour that you know is isolating on their own, to check that they're OK
Be kind and loving to your pets. Show them you love them with extra pats, a kind voice, small edible treats
Give your bubble buddies a compliment and a hug just for being your bubble buddies
Bring you parents breakfast in bed one morning for no reason (other than you love them)!
Stop for a moment of quiet and appreciate what a great person you are too!
Being kind is good for you!
There are scientifically proven benefits to being kind! It is contagious, teachable, and raises the levels of serotonin – our body's "feel good" hormone – in your brain. Being kind can also help people to sleep better and feel more healthy.
Websites that might help you with kindness action ideas:
Random Acts of Kindness Foundation
RAK ideas when you can go back to school
Student Volunteer Army for kids
Youth volunteering at City Mission
---
Kind / Green, Alison
"Illustrations by prominent illustrators accompany this story on how to make the world a better place through kindness, with an emphasis on welcoming refugees." (Catalogue)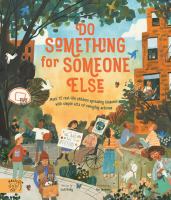 Do something for someone else / Kirby, Loll
"Meet 12 real-life children spreading kindness with simple acts of everyday activism." (Catalogue)

All kinds of kindness / Carey Nevin, Judy
"Plant a seed, push a swing. Kindness makes your heart sing. There is so much kindness in the world and this sweet board book celebrates those special differences that make kind acts both individual and similar. Judy Carey Nevin's bouncing text paired with Susie Hammer's bright, brilliant art showcases a creative look at how important kindness can be. From optimistic ideas of hope to small acts of goodwill, each scene shares the heart of the story: kindness makes our world a better place." (Catalogue)
Pete the cat's groovy guide to kindness : tips from a cool cat on how to be kind / Dean, Kim
"A collection of quotes by famous notables, including Henry James, Booker T. Washington, and Judy Blume, echoes Pete the Cat's thoughts on kindness." (Catalogue)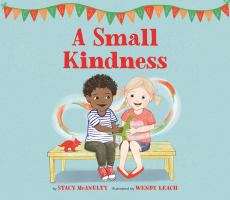 A small kindness / McAnulty, Stacy
"It was like a game of tag, with one small act of kindness spreading throughout a small community of kids and teachers alike. Award-winning children's book author Stacy McAnulty packs a powerful punch with minimal text, providing a sweet message about all the small ways one can be kind. Illustrator Wendy Leach creates a diverse cast of characters while using colour as a visual cue to how kindness is able to spread, even in a small community like a school" (Catalogue)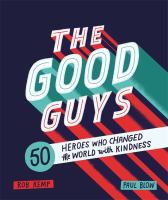 The good guys : 50 heroes who changed the world with kindness / Kemp, Rob
"A life-changing book that shows kids it's cool to be kind. A gloriously illustrated celebration of heroes who have changed the world with kindness and compassion, from David Attenborough to Nelson Mandela, Oskar Schindler to Usain Bolt. What if we celebrated boys for their kindness as well their strength? For their generosity as well as their success? For their loyal friendship as well as their charm? […] The Good Guys celebrates the feats of heroes and everyday men, and will show kids that it really is cool to be kind." (Adapted from Catalogue)

I like being me : poems about kindness, friendship, and making good choices / Lalli, Judy
"Twenty-five rhyming poems invite children to believe in themselves, learn from mistakes, cooperate, share, help others, solve problems, be kind, tell the truth, make positive choices, and more. The short poems are quick to read, easy to learn, and fun to recite — making them perfect for teaching social skills to young children. Children can memorise their favorite poems, talk about them, act them out, and get ideas for creating their own. Accompanying photographs show children from diverse backgrounds in realistic settings, and back matter provides adults with ideas for thought-provoking discussion, activities, and learning." (Catalogue)

Kindness grows / Teckentrup, Britta
"It all starts with a crack that we can hardly see, It happens when we shout or if we disagree. But with every kindness that we care to show, something good and magical then begins to grow… Angry words and thoughtlessness cause a crack to open up, but find out what happens when kindness begins to blossom, in this thought-provoking book by award-winning illustrator Britta Teckentrup." (Catalogue) 

"Everywhere you go, leave a glitter trail of kindness behind you." (unknown)