ٱلسَّلَامُ عَلَيْكُمْ!
The 18th of December marks the United Nations Arabic Language Day. Did you know that there are over 300 million native Arabic speakers worldwide?
This makes the Arabic language one of the most widely spoken languages in the word.
It is spoken by a diverse range of people across the African continent and the Middle East, including Sudan, Egypt, Syria, Iraq, Lebanon, Jordan, Libya, Morocco, Palestine, and many more. At Wellington City Libraries we're lucky enough to offer our community a wide selection of books in Arabic for everyone to enjoy!
Here is our librarian, Khadro, showing us two more brand new Arabic books in the Newtown Library collection:
Here are some of our favourite books for children in Arabic. Click on the title to find out more. If the book you want is in a library that is too far away, you can click 'Place Reserve' to have it sent to a library which is closer, where you can pick it up.
Mā arwaʻ al-ṭaʻām = Food, food, fabulous food / Clynes, Kate
A fun story about the diversity of food and all the ways it enriches our lives. Food brings people together from all walks of life and is a great way to connect with each other.

Ikhtalafat fa-tamayyazatu / Nājim, Alā' Saʻd
Our Differences are Distinguished: This story is a dive into everything that makes us different and unique. Through music the characters of this book learn that there are different ways to express themselves.

Time to pray = Awqāt al-ṣalāh / Addasi, Maha
This story follows young Yasmin as she learns about one of the core tenants of her religion: prayer. It also teaches Yasmin the importance of family and community.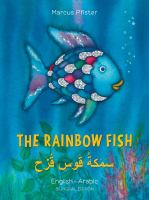 Samakat qaws qazah = The rainbow fish. / Pfister, Marcus
Leaning to share your beauty with others makes everyone shine. This classic tale is now available in English and Arabic for new and native Arabic speakers to enjoy.

Ayyuhā al-dub al-asmar, ayyuhā al-dub al-asmar mādhā tará? / Martin, Bill
I see a bear, what about you? A fun rhyming book that covers all the bases, from magical blue horses to cute purple cats. This book has it all.

Click here to see more Arabic children's books at Wellington City Libraries
Joining the Library is free! You can take these books home for three weeks and then get some new ones! If you would like to learn more, here is some information about how to join the library, written in Arabic.