New children's books in French have arrived! We are excited to announce the arrival of a flood of new French books for all our French-speaking families. All branches have some, but you will find larger collections at Karori, Johnsonville, Kilbirnie, and Newtown Libraries.
Don't forget that you can also order these French books through the online catalogue by searching for "French language readers" or "Children 448.6".
Here are a few must-haves to whet your appetite:
L'Âne Trotro à la plage / Guettier, Bénédicte
A new adventure of the cutest little donkey. Well, when it comes to cute little donkeys, let's not forget Ariol and his gallery of colourful friends. But Trotro is on holiday at the sea with his friends Lili and Nana. Watch out for splashes! The beach is so much fun!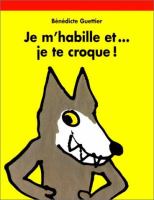 Je m'habille et … je te croque / Guettier, Bénédicte
« – Wolf, are you there yet? -I'm putting on my socks! » A little book to love getting dressed (with a bit of fear) …

Les carnets de Cerise. Tome 1, Le zoo pétrifié / Chamblain, Joris
Cerise is 10 ½ years old and dreams of becoming a novelist, like her neighbour Mrs Desjardins. She spends most of her time observing people. This old man, for example, is probably hiding a strange secret, but what is it? With her two best friends, Erica and Line, they follow the trail…

T'choupi déménage / Courtin, Thierry
Tchoupi moves into a new house… but it's empty. He is a bit worried. But soon he gets his own space and a friendly face.

Bizarre mais vrai! Les dinosaures : 300 faits extrasaure-dinaires à dévorer
Dinosaur bones have been found on every continent including Antarctica – do you know why? The nostrils of the brachiosaurus were not on its nose – do you know where? Find these fun facts about your dino friends in this dictionary.

La belle lisse poire du prince de Motordu / Pef
The young Prince of Motordu lives in a beautiful castle/hat. He plays cards/pies every night in the big danger/dining-room. Puns are everywhere in this untranslatable story to be laughed at together!

So don't wait and stock up on good books for the winter. More books for our other language communities will follow soon.