New Zealand is home to many fascinating and beautiful creatures. There's the vibrant green Kākāpō, the endangered bird that booms in the night. There's the Pekapeka-tou-roa, the smaller of our two native bat species, which controversially won Bird of the Year in 2021. There are Tuna, who can wriggle their way up waterfalls and can be seen in the streams around Ōtari-Wilton's Bush. We have the blue, green, and red Takehē, who we once thought were extinct but were rediscovered in 1948. There's the Kekeno, or New Zealand fur seal, that you can spot sunbathing on the rocks around the coast. And who could forget the Tuatara, our 'living fossils', that can live to at least eighty?
These birds, mammals (marine or otherwise), and reptiles are all amazing creatures, but what about some of the native creatures that you might not have heard about? What about our fascinating and often-weird-looking invertebrates?
Humans are vertebrates, which means that we have a backbone. If you feel your way up the middle of your back you'll be able to feel the lumps of the vertebrae that make up your spinal column. Invertebrates are creatures that have no backbone or spinal column. Think of an octopus, that can squeeze it's whole body through the tiniest of gaps, or a wētā that has the hard parts of its body, its exoskeleton, on the outside. Those are both invertebrates!

---
Let's have a look at some of the weird and wonderful invertebrates we have living around Aotearoa:
Yes, corals are animals and they're invertebrates!
Many of the coral species in New Zealand are protected. The coral in this photo is known as a black coral, even though it looks very pale. Black corals are named for the colour of their skeletons, so a living black coral appears white and will only appear black once it has died. Black corals are hexacorals, which means that they have six tentacles and body partitions. Anemones are hexacorals too!

---
These 'walking worms' look a bit like caterpillars with short stumpy legs. They come in a range of colours, from indigo (like the picture to the left), to grey, to orange. There are at least 30 different species of velvet worm in New Zealand, however only 9 have been described by scientists so far.
Like the Tuatara, Ngaokeoke are another 'living fossil' – they still closely resemble their ancestors from hundreds of millions of years ago!

---
Some species of this native snail can grow as big as your fist!
These snails have distinctive, beautiful shells that can come striped in patterns of reds, browns, blacks, and yellows. They are carnivorous, which means they eat things like slugs and worms, and there are at least 21 different Powelliphanta species across the motu.
Gay Hay's wonderful book Watch Out, Snail!, about a Powelliphanta snail encountering various other animals, is currently on display as the latest installment of Te Ara Pukapuka (The Book Pathway) over at Khandallah Park.

---
That's not a leaf, it really is a slug in that picture! These invertebrates are included in this list for the way they look. This one looks a lot like a leaf, but some closely resemble gherkins!
There are around 30 different species of native New Zealand slugs, and they all have that leaf-like pattern to help camouflage them in the bush. Leaf-veined slugs have been spotted at Zealandia, and gardeners don't need to worry because our native slug species don't damage garden plants.

---
Salps are those little clear lumps you sometimes find in the sea that can make it feel like you're swimming through lumpy rice pudding. You can come across salps in chains, like in the photo here, or as individuals.
Salps are one of the unnerving mysterious things encountered in Things in the Sea are Touching Me, but we learn that they're nothing to be worried about.

---
There are many different species of Wētā in Aotearoa. The Wētāpunga is the largest of them all!
These impressive invertebrates only managed to survive in the wild on Hauturu-o-Toi (Little Barrier Island) thanks to habitat destruction and predators, but there are breeding programmes in place to help build numbers.
Gentle Giant: Wētāpunga has a lot more information about these threatened creatures, or you could check out No Home for a Wētā for a fun story about a young Wētā who's sick of her rambunctious family.

---
If you'd like to learn more about these native invertebrates, or find out about other creatures not on this list, check out these titles in our collection: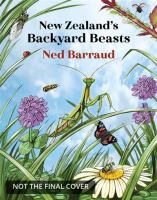 New Zealand's backyard beasts / Barraud, Ned
"In the garden, creeping along branches, hiding under stones or flitting from flower to flower, a whole universe of creatures is waiting to be discovered. Butterflies, moths, beetles, wasps, spiders… what have you found in your backyard? Did you know that chorus cicadas live underground for most of their life? That bumblebees have smelly feet? That some species of stick insect are all female? Or that earwigs don't actually crawl into ears? […] From the simply curious to the budding entomologist, New Zealand's Backyard Beasts will please and inform all age groups about the fascinating creatures found in the back garden. Whether just looking at the beautiful illustrations or absorbing the facts, this book is a must for all backyard adventurers." (Adapted from Catalogue)

Animals of Aotearoa : explore & discover New Zealand's wildlife / Candler, Gillian
"Animals of Aotearoa is a must-have compendium for children curious about New Zealand's wild animals. Based on the award-winning and best-selling `Explore and Discover' children's series about New Zealand's natural history, this book is packed full of illustrations and information about our native animals, both common and rare, as well as many well-known introduced animals. The book includes land and sea birds, frogs and lizards, many kinds of fish and other marine creatures, insects and invertebrates." (Adapted from Catalogue)

In the bush : explore & discover New Zealand's native forests / Candler, Gillian
"In the Bush is the fourth in the popular Explore & Discover series. It includes insects and other invertebrates, fungi, ferns and mosses, birds, bats, introduced pests, vines, epiphytes, and trees. Includes removeable, waterproof reference guide." (Catalogue)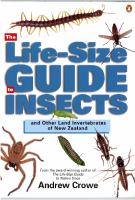 The life-size guide to insects & other land vertebrates of New Zealand / Crowe, Andrew
"Pictorial guide to identifying common insects, spiders and other land vertebrates of New Zealand. Suggested level: primary, intermediate, secondary." (Catalogue)

Tiaki : a shout-out to Aotearoa's lesser-known creatures / Donaldson, Jean
"This book is a shout-out to the weird and wonderful endangered species in Aotearoa, those lesser-known creatures that don't regularly make the news. But they are just as important as the 'stars' like kākāpō and kiwi, for they are the foundation of our unique biodiversity. Tiaki includes such exotic animals as the Smeagol gravel maggot, a sea slug found on the south coast of Wellington; the moko kākāriki, a gecko with a bright blue mouth; the kōwaro/Canterbury mudfish, which can survive out of water for up to several months; and the tiny, critically endangered pekapeka-tou-roa/ long-tailed bat." (Adapted from Catalogue)