Hey Kids! With New Zealand under Red Settings, it can be an uncertain and stressful time. However, keep calm and carry on under RED because Wellington City Libraries has a wide range of books for children on mindfulness.
What is Mindfulness?
Mindfulness has become a trendy word that is used to describe everything from yoga exercises, meditation, breathing to colouring activities.
Mindfulness is simply… noticing what is happening right now.
Mindfulness is taking notice of how your body feels and what you see, smell and taste. Maybe you even feel emotions in your body, perhaps through a tightness somewhere, or a good sensation.
Mindfulness is also noticing what your mind is doing.
To find about more about mindfulness and the tools needed to keep calm and carry on, have a read of the following:
Meditation is an open sky : mindfulness for kids.
"Feeling mindful is feeling good! You know when you're having a bad day, you have that wobbly feeling inside and nothing seems to go right? Find a quiet place, sit down, and meditate! In this daily companion, kids of any age will learn simple exercises to help manage stress and emotions, find focus, and face challenges. They'll discover how to feel safe when scared, relax when anxious, spread kindness, and calm anger when frustrated. Simple, secular, and mainstream, this mindfulness book is an excellent tool for helping kids deal with the stresses of everyday life"– Provided by publisher.

The panic button book for kids : an interactive guide to help kids deal with worries and feel calmer.
"All kids go through tricky times. Bright kids can struggle to switch off their mind, creative kids often heap pressure on themselves and sensitive kids may be easily overwhelmed. When our kids worry, it's as though they give away some of their happiness. Does a child in your life need help tackling anxiety? The Panic Button Book for Kids is an interactive, step-by-step guide for children aged 7-11 and their caregivers. Written in everyday language and beautifully illustrated, this book is designed for grown-ups to read with their child, and is full of helpful ideas to kick anxiety to the curb and create a common language between the generations." (Adapted from Catalogue)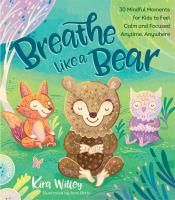 Breathe like a bear : 30 mindful moments for kids to feel calm and focused anytime, anywhere.
"We all want to bring more calm into our lives. We all want to feel more focused and positive. Mindfulness is the key to making it happen. Breathe like a bear guides us through fun exercises to help us relax and stretch our imaginations. Because just like we need to exercise our bodies, we need to flex our mindfulness muscles!"–Jacket.

Calm : mindfulness for kids.
"Calm: Mindfulness for Kids has everything you need to know about focusing your child's mind to help them enjoy and appreciate things that they take for granted every day, while boosting their confidence and self-esteem. Children are guided through each activity, to make sure they achieve maximum enjoyment and awareness. All children will learn and react to each activity in a different way and parent's notes give advice on how to encourage children to embrace mindfulness in the modern world. Each specially designed activity is flexible for each child's needs and inspires them to seek calmness and tranquility in all situations." (Catalogue).

""Nau mai, hoake tātou ko Aroha, i a ia e kaupare ana i te taiatea, i te mataku, i te māharahara, me te anipā, ki ana tukanga māmā ka taea e te katoa." From award-winning New Zealand author, Craig Phillips, creator of The Adventures of Jack Scratch and Giants, Trolls, Witches, Beasts (winner of the Russell Clark Award for Illustration at the New Zealand Book Awards 2018). Aroha's Way is a beautiful, descriptive and relatable book – an important book – helping children to normalise, understand and even develop their own tools for dealing with their feelings." (Catalogue) Also available in Te Reo.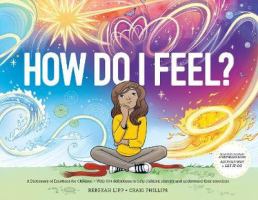 How do I feel? : a dictionary of emotions for children : with 60+ definitions to help children identify and understand their emotions.
"A dictionary of emotions for children ; with 60 definitions to help children identify and understand their emotions. Includes parent/teacher notes." (Catalogue)

Mindfulness activities for kids (and their grown-ups) : learn calm, focus, & gratitude for a lifetime.
"Mindfulness Activities Kids can do with their Grown-ups to be Focused, Peaceful, and Grateful together! Mindfulness reduces anxiety and stress, improves focus, and creates calm—all attributes parents want for their kids. But what's the best way to teach it to your child? Mindfulness Activities for Kids (And Their Grown-ups) provides 40 mindfulness activities for you and your child to do together, so you both reap the benefits as you develop a deeper connection." (Adapted from Catalogue)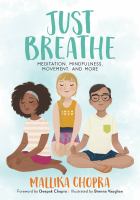 Just breathe : meditation, mindfulness, movement, and more.
"For kids ages 8 to 12, this is an accessible and fun meditation how-to book filled with full-color illustrations, written by Mallika Chopra. Meditation and Mindfulness for Kids is a fun and accessible, fully illustrated go-to meditation guide written by none other than Mallika Chopra, wellness expert and the daughter of Deepak Chopra. For kids ages 8 to 12, this book is full of specific exercises to help deal with day-to-day challenges and tips to lead a healthier, happier, and more connected life. With a foreword written by Deepak Chopra, this will be the go-to book for kids who want to learn more about mindfulness and meditation." (Catalogue)

Crafting calm : art and activities for mindful kids.
"In Crafting Calm : Art and Activities for Mindful Kids, kids engage in and practice mindfulness through fun and easy exercises, crafts, and activities, with the goal of learning a deeper sense of calm, peace, joy, and connection to the world around them, all while improving emotional intelligence, boosting self-esteem, and reducing anxiety." (Catalogue)

For more books about mindfulness, click here.