Summer is now officially here, and all of this season's baby birds are starting to hatch. You might be able to see a nest up a tree at home, or there might be one tucked in under the eaves of your house's roof and you can hear the birds cheeping at night. Some of you may even find a baby bird on the ground and not know what to do to help.
Well never fear! If you're reading this then you'll be ready and prepared if you do find a lonely baby bird.
Nestlings
We call baby birds nestlings when they're at their smallest. Nestlings won't have many feathers – they might not have any feathers at all! A nestling will spend their days tucked cosily into the family nest, waiting for their parents to come back and feed them. A nestling should still be in the nest, so:
if you find one out of the nest,
you can see where the nest is, and
it doesn't look sick or injured,
then the best thing to do is to put it back in the nest. You can get an adult to help with this if the nest is high up. If you can't find the nest or the nest is damaged, then the next best thing is to make the nestling a replacement nest! Once you've made the replacement nest and put it somewhere safe near the original nest, keep an eye on it – from a distance! If the parents don't come by to check on their nestling within a couple of hours, then you might need to contact the SPCA or a bird rescue.

Fledglings
Once the bird has grown their feathers and is starting to think about leaving the nest, we call them a fledgling. A fledgling might leave the nest to get some movement practice in, hopping between branches or the on the ground near the nest. If you find a fledgling on the ground, it may be perfectly safe and healthy and all you should do is keep your distance and see if there are any dangers about. If the fledgling is not in a safe spot, then you can move them to somewhere nearby that is safe. If they're injured or sick, that's when you should take the fledgling in and contact the SPCA or a rescue.
Here in Wellington our local rescue is the Wellington Bird Rehabilitation Trust who will take in any injured or abandoned wild bird.
The SPCA has this great flowchart that you can follow if you do find a baby bird, fledgling or nestling. They also have information on exactly what you should do if you find an injured bird, as well as a section on their education site that covers a few more situations to do with birds. These links have tips for how to move and handle any bird you find, and tips for making a replacement nest.

Cats
Many of us have pet cats, and many of our pet cats love to go outside. Unfortunately, cats also love to hunt and we really don't want them hunting baby birds that can't fly away. If your cat brings you a bird they've caught, and the bird is still alive, even if the bird looks healthy you should contact the SPCA or a bird rescue. Birds can become sick or get an infection from being carried around in a cat's mouth and the rescue will know the best way to look after the bird.
If you have a pet cat, the Department of Conservation has created an easy quiz you can take to see how conservation friendly your cat is. Remember, even if your cat gets all 8 points that doesn't mean that they won't ever hunt any of the animals you may see in your garden. It just means that you are doing your best as a pet owner to lessen their impact.

---
Where to learn more
If you'd like to learn more about the birds visiting your garden, DOC has created a short guide to help you identify some of the common birds you may see. We've also put together a list of books that you might find interesting. Some have information about birds and bird rescues in Aotearoa, and some are stories we hope you'll enjoy about lost or rescued birds.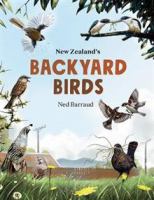 New Zealand's backyard birds / Barraud, Ned
"Guide to the birds that children see and hear in their everyday lives, those that visit our backyards. Some of those will be native birds, maybe tūi, korimako/bellbird and pīwakawaka/fantail, though just as likely they will be introduced birds such as thrush, blackbirds, or flocks of sparrows. This book brings to life our most accessible wildlife, describing the different birds we are likely to see around home, and with useful background information about birds in general"–Back cover." (Catalogue)

Squawk! : Donovan Bixley's forest birds of Aotearoa / Bixley, Donovan
"Bright birds, cheeky birds, masked birds, clever birds, warrior birds, shy birds, big birds, tiny birds and the world's most gigantic birds! Find out what makes the feathered friends of Aotearoa so lovable in this … book by author and illustrator Donovan Bixley. Includes moa, tui, kakapo, whio and so many more!"–Publisher information." (Catalogue)

The video shop sparrow / Cowley, Joy
"Two boys rescue a sparrow trapped in a closed video shop." (Catalogue)

Are you my mother / Eastman, P. D.
"When a baby bird hatches while his mother is out searching for food, he leaves the nest for a series of adventures to try to determine his mother's identity." (Catalogue)
Also available as an eaudiobook.
Sylvia and the birds : how the bird lady saved thousands of birds, and how you can too / Emeney, Jo
"Part Graphic Biography, Part Practical guide to protecting out Taonga Birdlife, this remarkable Book for young readers and their Whanau is fully committed to detailing the wonders of our native Birds, the threats they face, and how we can help them. Based on the life of 'The Bird lady', Sylvia Durrant, it inspires a reverence for the natural world and is a call to action for all young ecologists and Environmental Activists. With an Engrossing Text, Matauranga Maori insights, Activities and How-Tos, It offers hours of enchantment and Engagement." (Catalogue)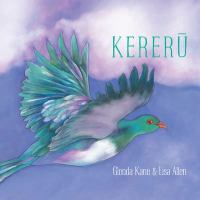 Kererū / Kane, Glenda
"High in a tree in a suburban backyard, a kererū hatches. At rest in its nest, it waits for its food … But another stomach is rumbling, too. Will the baby kererū survive? This unflinching tale paints a complete picture of life in the wild for these beloved native birds, and offers solutions, too. The reader is invited into the story and shown how to look after Aotearoa's vulnerable wildlife. And at the end of the story there are exciting new beginnings"–Publisher's website." (Catalogue)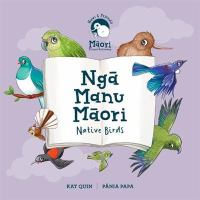 Ngā manu Māori = Native birds / Merewether, Katherine Q.
"Learn the Māori names for 35 of our precious native and endemic birds of Aotearoa. A beautifully presented te reo Māori and English bilingual board book. Drawn from the multi-award-winning Kuwi & Friends Māori Picture Dictionary, and collated into bite sized pukapuka. A stunning matte laminated robust book with rounded corners, for durability and longevity." (Catalogue)

Kakapo rescue : saving the world's strangest parrot / Montgomery, Sy
" KAKAPO RESCUE gives young readers a first hand account of the efforts to save one of the world's rarest and more unusual birds, the kakapo. Part of the Scientist in the Field series. " (Catalogue)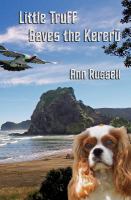 Little Truff saves the kererū / Russell, Ann
"Little Truff, the cute Cavalier King Charles Spaniel, is spending the summer holidays with her family at Piha, New Zealand's famous surfing beach. Along with her Siamese friend Chloe – highly intelligent but mischievous, Truff is asked to investigate why the kererū, native wood pigeons, are disappearing without trace. A drastic drop in numbers could lead to their extinction in the area, meaning the forest's giant trees couldn't regenerate – and an eco-tragedy would result … Will they find out why the birds are vanishing? And put a stop to it?"–Publisher information." (Catalogue)