"Back to school, back to school,
Now the holiday's done.
We love our teacher, we love our class,
We think our school work is fun!" (an old rhyme)
If it's February, it must be back to school time! Ever since New Zealand was colonised in the late 1800's, schools have been built around the country. Many early schools were small, single-room buildings with one teacher who taught everything to students of varying ages. There were strict rules on how to behave, and often physical punishment (usually a cane or leather strap across the hand – ouch!) was administered if you misbehaved! By around 1910, all children between seven and 14 had to attend school.  In 1913, secondary schooling became free to attend in New Zealand. Children who passed Standard 6 (Year 8) in a number of subjects were awarded Proficiency. This meant they could go onto high school.
Today New Zealand has over 2,500 primary and secondary schools.
Fun School Fact #1: Daily School Milk in NZ Schools
New Zealand schoolchildren received free milk between 1937 and 1967. This scheme was introduced – a world first – to improve the health of young New Zealanders (and make use of surplus milk).
Each day, class milk monitors handed out a half-pint (284 ml) of milk to each pupil. By 1940 the milk was available to over 80 per cent of schoolchildren. For a few years during the Second World War, pupils also received an apple a day.
Fun School Fact #2: The world's largest school
City Montessori School in Lucknow, India takes the prize as the largest school in the world. It has around 52,000 students (from kindergarten age through to secondary school) and 1,050 classrooms! Each class has around 45 students, and there is even a whole school department just to write letters of congratulations to students. As there are so many pupils, the school's classrooms are spread across the city.
See if you can find the city of Lucknow in India on a world map HERE
Fun School Fact #3: Correspondence School | Te Aho o Te Kura Pounamu
Te Aho o Te Kura Pounamu (Te Kura) is New Zealand's largest school, providing education programmes to more than 23,000 students every year! The students learn remotely for lots of reasons – they  may live a long way away from their nearest school, or they might be living overseas with their family for a time.
The Correspondence School was established in 1922 to provide lessons to approximately 100 isolated primary school children scattered throughout New Zealand. All the lessons and letters to students were written by hand by the school's first teacher, Miss Janet Mackenzie.
Check out Te Kura's interesting timeline HERE.
What will schools look like in the future?
Today's schools rely heavily on technology, from having laptops and tablets available to students for research, creative writing and presenting, to many schools requiring their students to BYOD – Bring Your Own Device… a far cry from slates and slate pencils in Victorian times (1830's – 1910's) and blackboards and chalk in 20th century schools!
With multiple lockdowns because of the Covid-19 pandemic, school students throughout the country (and the world) have already started to learn in different ways to even five years ago.  This includes virtual classrooms using online video conferencing tools such as Zoom and Teams, and having your own school online account and log-in to allow for work to be uploaded and submitted online.
Many schools and libraries already have Makerspaces offering everything from building blocks to 3-D printing, laser cutting and virtual reality headsets. Very soon we may see holograms being used to help with teaching, or maybe students will be taught by robots!

---
Want to find out more about the history of the school you attend? Wellington City Libraries have a great online resource you could use. In our Wellington City Recollect page, we have a collection called School Jubilee Histories.
Here's a step-by-step to help you find this page:
On the Wellington City Libraries main website page
---
Wellington City Libraries have got loads of books  about schools from around the world, the past and the future: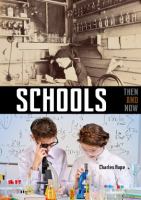 Schools : then & now / Hope, Charles
"Children have been going to school for thousands of years. While some things about schools are the same – teachers and students. Subjects and classrooms – in many ways the schools of today are different to the schools of the past." (Catalogue)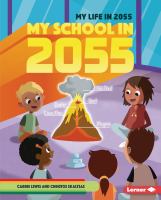 My school in 2055 / Lewis, Carrie
"In the school of the future, children might use tech such as interactive screens, holo projectors, and virtual reality to set their own pace and make learning is personalized" (Catalogue)

A school like mine : a unique celebration of schools around the world / Smith, Penny
"Introduces children from around the world and describes what school life is like for them." (Catalogue)

What's for lunch? : how school children eat around the world / Curtis, Andrea
"An examination of the food consumption by school children in thirteen countries; focusing on school lunches, as well as the inequality of food and the importance of health, nutritious food." (Catalogue)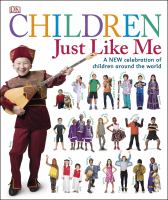 Children just like me.
"Photographs and text depict the homes, schools, family life, and culture of young people around the world." (Catalogue)

Off to class : incredible and unusual schools around the world / Hughes, Susan
"Travel around the globe to visit some of the world's most incredible schools, and meet the students who attend them." (Catalogue)

Bots! : robotic engineering : with hands-on makerspace activities / Ceceri, Kathy
"Robots are everywhere! In Bots! Robotics Engineering with Hands-On Makerspace Activities, middle schoolers learn about these devices that vacuum our houses, work in our factories, help us learn at school, sample rocks from other planets, and even bring back images from the bottom of the ocean. In Bots! you can find hands-on STEM activities, coding challenges that use free online software, essential questions, and links to online primary resources!" (Catalogue)

The makerspace librarian's sourcebook
"This collection leads librarians through how to start their own makerspace from the ground up, covering strategic planning, funding sources, starter equipment lists, space design, and safety guidelines; discusses the transformative teaching and learning opportunities that makerspaces offer, with tips on how to empower and encourage a diverse maker culture within the library." (Catalogue, abridged)