If you're anything like me and my sister you will be reaching for the arts and crafts supplies to get you through these next few weeks. Of course, it can be hard to get started on a project, or think up an idea all by yourself which is where the library comes in. We have loads of great crafting books online you can check out and help you get creative and pass the time throughout the lockdown.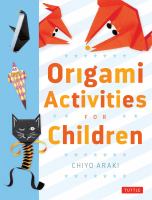 Origami activities for children / Araki, Chiyo
Want to get creative but don't have many craft supplies around the house? Then origami would be perfect! Learn how to make boats, flowers, pumpkins and more out of just a square of paper. Each project comes with step by step instructions and all are graded so you can start off simply and progress to more difficult designs as you improve your origami skills. Have fun keeping your hands busy and decorating your room with some wonderful paper creations.

Life hacks for kids / Keller, Sunny
Who doesn't love a fun life hack? Sunny Heller will take you through her favourite hacks from her youtube channel and teach you exactly how she makes them. Feel like creating your own bowling alley at home? Or maybe some duct-tape earrings or even a new cat toy for your kitty? Sunny can help you make all this and more with this wonderfully colourful and fun craft book.

20 ways to draw a tree and 44 other nifty things from nature / Renouf, Eloise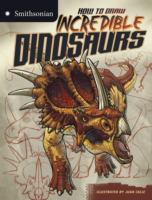 Incredible Dinosaurs / McCurry, Kristen
Itching to draw and paint but can't quite decide what you should create? Then the library can help you figure out your style and help perfect your pictures. These are just two books from our elibrary that are designed to teach you how to draw certain things and inspire you to create your own amazing landscapes, dinosaurs and more!
These are just a few of the books we have available in our elibrary so if they're not quite right for you feel free to check out the rest of our collection.
One thing to remember is that it might be hard to get a hold of all the supplies needed for some of these projects because most shops are closed and we can't leave our houses much. It might be best to talk to your Mum or Dad about what you have available when you're picking your projects and using some kiwi ingenuity by swapping out things you can't get with similar bits and pieces around your home.
I hope these books can inspire you and help you get crafty over the next few weeks!