Ahoy there crew! This Sunday be Talk Like a Pirate Day. This special day comes but once a year on the 19th of September and when it comes around there's only one thing for you to do: talk like a pirate, of course!
So shiver yer timbers, batten down the hatches, and prepare to prattle properly piratical!
If you need to brush up on yer Pirate-speak, look no further than Mango Languages! Mango Languages contains a veritable A-Y of languages for you to learn. From Arabic to Yiddish, there are over 70 language courses for you to choose from, and one of those languages is Pirate!
The Mango Languages Pirate course will teach you how to talk like the most swashing of bucklers. They give you all sorts of interesting grammar tips and tricks, like this one right here:
Each lesson starts with an example sentence in English, and you are shown how to translate it into Pirate. Here's one of the sentences you can learn:
They've even colour-coded the sentence so you can see which part of the sentence in English becomes which part of the sentence in Pirate-talk. You'll be talking like a pirate in no time!
Just sign in with your library card barcode number and your 4-digit pin, and ye'll be off and away!
---
If you've visited one of our libraries and issued your books on a self-check machine, you may have already discovered the language options. After you've first touched the screen, a whole lot of little circles with flags inside them appear down in the bottom left hand corner. Do you see that skull and crossbones there? One of the languages on our self-check machines is Pirate!
If you haven't discovered this feature before, then this Sunday is the perfect time to try it out for the first time. It will make issuing your books so much more fun. You'll be treated to all the classic library self-check phrases, but with that piratical twist.
If you're worried that you won't be able properly follow the steps to issue your items with the machine spouting another language, don't fret. Pirate as a language has certain similarities with English, and our machines still have the normal symbols to guide you on your issuing voyage. As always, when you're finished issuing your books don't forget to abandon ship!
---
If you're feeling sleepy after a hard day of sailing, scrubbing the decks, and speaking in your best pirate voice, then why not relax with a bedtime story! We have Margaret Mahy's The Great Piratical Rumbustification, expertly read by our own splendid scallywag Stephen, available on our Facebook page. We have quite a few bedtime stories available, so check out our Bedtime Story playlist!
If you'd rather read your own book, then we have a few other pirate-themed reads to recommend.
If you feel like reading a fantastically silly picture book about an unusual babysitter and his two charges, you might enjoy:
Pirate stew / Gaiman, Neil
"Pirate stew! Pirate stew! Pirate stew for me and you! Pirate stew! Pirate stew! Eat it and you won't be blue. You can be a pirate too!" (Catalogue)

Maybe you're after a short chapter book about a crew of scurvy pirates who find themselves faced with the most terrifying of creature – a baby!
Nappy the pirate baby / MacDonald, Alan
"Stinky McFlea, Irish Stew, Long Johns, Nitty Nora and Captain Spratt are pirates aboard the Salty Herring. They love nothing more than lazing about on deck and sailing the high seas – until one day, a strange wailing noise changes everything. There's a stowaway baby on board the ship, and the crew have decided to raise him like a proper pirate. But are they really up to the task of looking after a baby? And where exactly did Nappy come from?" (Catalogue)
This is a dyslexia-friendly book.

If you prefer to read comics and like adventurous and heart-warming stories, check out:
Tell no tales : pirates of the southern seas / Maggs, Sam
"Anne Bonny had it all – her own ship, a pirate crew, and a fearsome reputation – but a new enemy has her on the run and it'll take all of Anne's courage to stay afloat. The night before a major heist, Anne has an unsettling dream, and come morning, the robbery is thwarted by Woodes Rogers, a zealot who has sworn to eliminate piracy. With no plan to escape, Anne must persuade her crew to seek the meaning of her dream – or perish. A graphic novel about belonging, belief, and how far we're willing to go to protect the ones we love."–Publisher's website." (Catalogue)
Also available as an eBook.

If a picture book by a fantastic New Zealand author about an accountant and his (formerly) piratical mother, then look no further than: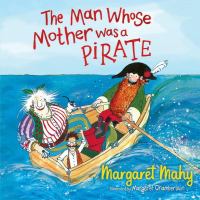 The man whose mother was a pirate / Mahy, Margaret
"Sam has an ordinary life – but his mother used to be a pirate! One day at breakfast, they decide to go to sea and an amazing adventure begins." (Adapted from Catalogue)

What's not to like about a brave girl journeying to the icy Arctic to rescue her sister from a terrifying pirate captain?
The ice sea pirates / Nilsson, Frida
"Captain Whitehead wants children, the smaller the better. They say he has a diamond mine, and to be taken there is the worst thing that can happen to a child. Miki has been kidnapped and nothing will stop Siri from saving her little sister… –Adapted from back cover." (Catalogue)
Also available as an eBook.

How about a piratical classic?
Treasure Island / Stevenson, Robert Louis
"Join Jim Hawkins as he sails the high seas aboard the Hispaniola in search of lost treasure…"-Back cover." (Catalogue)
Also available as an audiobook, eAudiobook, eBook, and a comic.