The Babysitters Club, written by Ann M. Martin, is a series of novels about a group of friends aged 12, Kristy Thomas (founder and president), Mary Anne Spier (secretary), Claudia Kishi (vice-president), and Stacey McGill (treasurer), who run a local babysitting service called "The Baby-Sitters Club".  The novels were originally published by Scholastic between 1986 and 2000.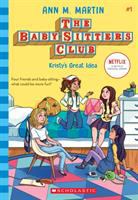 Some of the novels have been released as a graphic novel version written by Raina Telgemeier (who also wrote Smile, Sisters and Guts) and Gale Galligan.


By Raina Telgemeier:
The Baby-sitters Club [1] : Kristy's great idea.
"Kristy, Mary Anne, Claudia, and Stacey are best friends and founding member of The Baby-sitters Club. Whatever comes up – cranky toddlers, huge dogs, scary neighbors, prank calls – you can count on them to save the day. But no matter what, the BSC have what they need most: friendship"–page [4] of cover.

The Baby-sitters Club [2] : the truth about Stacey.
Joining the Baby-sitter's Club after moving to a new town, Stacey helps her new friends outmanoeuvre a rival sitter group while coming to terms with her diabetes.

The Baby-sitters Club [3] : Mary Anne saves the day : a graphic novel.
When a fight breaks out among the members of the Baby-sitters Club, timid Mary Anne finds herself becoming more assertive as a baby sitter and in her relationships with her father and friends.

The Baby-sitters Club [4] : Claudia and mean Janine.
"Claudia and her sister, Janine, may as well be from two different planets. Claudia, who pays more attention to her artwork and The Baby-sitters Club than her homework, feels like she can't compete with her perfect sister. Janine studies nonstop, gets straight As, and even takes college-level courses! But when something unexpected happens to the most beloved person in their family, will the sisters be able to put aside their differences?"–Publisher.
By Gale Galligan:

The Baby-sitters Club [5] : Dawn and the impossible three : a graphic novel.
This graphic novel adapted by bestselling author Gale Galligan is now available in full colour! Kristy, Mary Anne, Claudia, and Stacey are best friends and founding members of The Babysitters Club. Whatever comes up, you can count on them to save the day.

The Baby-sitters Club [6] : Kristy's big day.
Kristy's mom is getting married, and Kristy is going to be a bridesmaid! The only problem? Fourteen kids are coming to town for the wedding!

The Baby-sitters Club [7] : Boy-crazy Stacey.
"Stacey and Mary Anne are baby-sitting for the Pike family for two weeks at the New Jersey shore. Things are great in Sea City: there's a gorgeous house right on the beach, a boardwalk, plenty of sun and sand… and the cutest boy Stacey has ever seen! Mary Anne thinks that Stacey should leave Scott alone and focus on the Pike kids, but Stacey's in love. Looking for reasons to hang around his lifeguard stand takes up all of her time, which means Mary Anne has to do the job of two baby-sitters. Mary Anne doesn't like it one bit! How can she tell Stacey that Scott just isn't interested without ruining their friendship and breaking Stacey's heart?"–Provided by publisher.

The Baby-sitters Club [8] : Logan likes Mary Anne! : a graphic novel.
It's the first day of a new school year, and while Mary Anne doesn't know what to expect from the eighth grade, she's looking forward to getting back into the swing of things. One thing she definitely doesn't expect is to meet Logan Bruno, who just moved to Stoneybrook! Logan has a dreamy southern accent, he's awfully cute… and he might be interested in joining the BSC. But the baby-sitters aren't sure if Logan would make a good club member, so they send him on a job with Mary Anne as a test. Logan and Mary Anne hit it off, but Mary Anne isn't sure of where their friendship could go. Life in the Baby-sitters Club has never been this complicated — or this fun!

There was also a spin-off series called Baby-Sitters Little Sister novels, about Karen Brewer, the seven-year-old stepsister of Kristy Thomas. The series ran from 1988 to 2000. The first two novels, Karen's Witch and Karen's Rollerskates, has been released as graphic novels written by Katy Farina.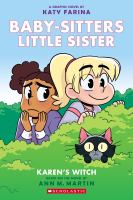 Karen's Witch.
Karen Brewer lives next door to Mrs. Porter, who wears long robes and has wild gray hair. Mrs. Porter has a black cat named Midnight and always seems to be working in her garden. Karen isn't supposed to spy on her neighbor, but she's determined to prove that Mrs. Porter is a witch named Morbidda DestinyMrs. Porter is getting ready to have a special meeting at her house, and Karen is sure the meeting is for witches. Are they going to cast a spell on Karen? Or will she be brave enough to send them away — once and for all?

Karen's Rollerskates.
It's going to be a great weekend! Karen has new roller skates and is a very good skater. She's looking forward to trying some new tricks. But, oh no! Karen falls down and has to go to the hospital. Her wrist is broken! Karen is determined to get everyone she knows — plus someone famous — to sign her cast. It isn't going to be easy, but she won't give up until the job is done.
Did you know? The Babysitters Club was made into a movie in 1995 and was recently made into a TV series on Netflix.
Search our catalogue for more books from The Babysitters Club series. You can also find more books through our Kids' Reading Room on Overdrive!