It's almost Halloween and you know what that means?  Time to get spooky!  Halloween is the time of year where we look for all things creepy, scary and monstrous!  Some of us go trick or treating around our neighbourhoods, or we tell each other scary stories, or we dress up as creepy characters.
Here's a few of the spooktacular events we have for you at our libraries. Read on for a booklist of frightening finds!

Sunday 30 October 2022, 11:30AM – 1PM.
Johnsonville Library, 34 Moorfield Rd. Johnsonville, 6037
Dress up in your favourite costume and join us for a spooooktacular Halloween spell! There will be (not so) scary stories, mask making and crafts, plus a ghostly scavenger hunt in the library!
Recommended for tamariki aged 5-12 with their caregivers. Registration is required as there are limited numbers.
Sbooktacular Celebration in the Library
Saturday, 29 October 2022, 10 – 11:45am
He Matapihi Molesworth Library, 70 Molesworth Street Thorndon, 6011
Join us at He Matapihi Molesworth Library for our sbooktacular celebration of all things supernatural! Come along in your best book-related or fantastical costume and take part in a one-off morning of fun, which will include a story time, Halloween-themed crafts, face-painting, and a spooky scavenger hunt.
Recommended for ages 4 to 400! Please note – registration is required for this event.

We've put together a list of books to get you started on your Halloween reading!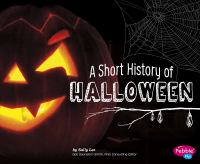 A short history of Halloween / Lee, Sally
"Learn about the early traditions which have led to our present-day celebration of Halloween" (Adapted fromCatalogue)

There's a ghost in this house / Jeffers, Oliver
"Hello, come in. Maybe you can help me? A young girl lives in a haunted house, but has never seen a ghost. Are they white with holes for eyes? Are they hard to see? She'd love to know! Step inside and turn the transparent pages to help her on an entertaining ghost hunt, from behind the sofa, right up to the attic… this unique and funny book will entertain young readers over and over again!" (Abridged from catalogue)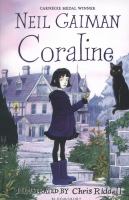 Coraline / Gaiman, Neil
"There is something strange about Coraline's new home. It's not the mist, or the cat that always seems to be watching her, nor the signs of danger that Miss Spink and Miss Forcible, her new neighbours, read in the tea leaves. It's the other house the one behind the old door in the drawing room. Another mother and father with black-button eyes and papery skin are waiting for Coraline to join them there. And they want her to stay with them. For ever." (Abridged from catalogue)

The house at the edge of magic / Sparkes, Amy
"Sometimes you are a whisper away from magic without even realizing it. Nine is an orphan pickpocket determined to escape her life in the Nest of a Thousand Treasures. When she steals a house-shaped ornament from a mysterious woman's purse, she knocks on its tiny door and watches it grow into a huge, higgledy-piggeldy house. Inside she finds a host of magical and brilliantly funny characters…" (Abridged from catalogue)

No Such Thing / Bailey, Ella
"This Halloween, join fearless little Georgia in debunking the spookiest of ghoulish and ghostly activities!" (Catalogue)

October, October / Balen, Katya
"October and her dad live in the woods. They sleep in the house Dad built for them and eat the food they grow in the vegetable patches. They know the trees and the rocks and the lake and stars like best friends. They read the books they buy in town again and again… until next year's town visit. They live in the woods and they are wild. And that's the way it is. Until the year October turns eleven… the year Dad falls out of the biggest tree in their woods. The year the woman who calls herself October's mother comes back. The year everything changes. This book is a feast for the senses…" (Abridged from catalogue)

The house of Madame M / Perrin, Clotilde
"Are you lost? Come in! You're in luck-there's no one here just now. Shhh… Be as quiet as you can, and very, very careful! In The House of Madame M, we explore a strange house: hallway, living room, kitchen, bathroom and bedroom. Each room is full of surprises to make even the bravest shiver. Are we in the house of an ogre? A witch? Something else altogether?" (Abridged from catalogue)

Scary hairy party / Freedman, Claire
"You're invited to a party. What fun! Hip, hip, hooray! So come along to Monster's house at three o'clock today. Raymond the hairdresser is scarily busy. Everyone wants to look their best for Monster's party. A very silly, slightly spooky story that is perfect for youngsters at Halloween!" (Abridged from catalogue)

The haunting hour / Stine, R. L
"A collection of ten short horror stories featuring a ghoulish Halloween party, a long, mysterious car trip, and a very dangerous imaginary friend. Each story includes drawings by a different illustrator." (Catalogue)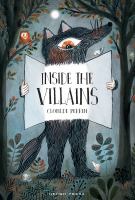 Inside the villains / Perrin, Clotilde
"Once upon a time there was a wolf, a giant and a witch… Just for a change, the heroes of this book are big bad villains — and this is your chance to get to know them… Open the page to read each villain's personality card: what does the wolf read, what games does the giant play, what are the witch's weaknesses? Lift the flaps to get right inside each villain to see what's behind their ears, under their hat, inside their boots, in their pockets. (Abridged from catalogue)

The ghost garden / Carroll, Emma
"Summer 1914. When Fran uncovers a bone in the garden of Longbarrow House on the same afternoon that Leo breaks his leg, it is just the first in a series of strange and unsettling coincidences. Leo is left wheelchair bound for the rest of the summer and Fran is roped in to keep him company… Suddenly the garden she has loved all her life seems to hold threatening shadows of the future…" (Abridged from catalogue)

Scary stories to tell in the dark : the complete collection / Schwartz, Alvin
STAFF CAUTION: this book is genuinely terrifying, young people and parents proceed with caution! The recent film adaptation is R16, so the movie is definitely not for children!
"The iconic anthology series of horror tales that's soon to be a highly anticipated feature film! A classic collection of chillingly scary tales, collected and retold by Alvin Schwartz and featuring the original illustrations by lauded artist Steve Gammell. Scary Stories to Tell in the Dark contains some of the most alarming tales of horror, dark revenge, and supernatural events of all time. Walking corpses, dancing bones, and narrow escapes from death-they're all here in this chilling collection of ghost stories. Make sure you read these books with the light ON!" (Catalogue)

These are just some of the wonderful spooky and scary stories you'll find in the library!  Take the time to explore on your next library visit.