Spring is around the corner! Why not spring on down to Wellington City Libraries for some new children's comics and graphic novels to keep you amused. So what are you waiting for? Come on down to your local branch and borrow the following:

Harriet Tubman : toward freedom.
"Graphic biography detailing Harriet Tubman's escape from slavery and her efforts with other abolitionists to rescue dozens of those still enslaved"– Provided by publisher.

Magic tree house : dinosaurs before dark.
"Retells, in graphic novel form, the tale of eight-year-old Jack and his younger sister Annie, who find a magic treehouse which whisks them back to an ancient time zone where they see live dinosaurs." (Catalogue).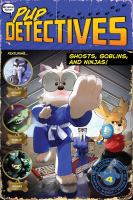 Pup detectives [4] : ghosts, goblins, and ninjas!
"During a martial arts expo at Pawston Elementary, the sacred scroll of Bark-Jitsu is stolen. The pup detectives set out to crack their most puzzling case yet… because this one involves, ghosts, goblins, and a super stealthy ninja"– Provided by publisher.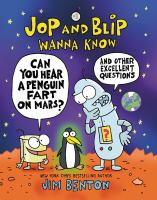 Jop and Blip wanna know [1] : can you hear a penguin fart on Mars?, and other excellent questions.
"Join Jop and Blip as they follow their curiosity and investigate these seemingly odd questions using their own brand of logic, critical thinking skills, STEM knowledge, and humor. Can you hear a penguin fart on Mars? What if you wanted a dragon sandwich? Why do we need TWO ears?" (Catalogue).

Survive in the outdoors!
"In this volume of Maker Comics, First Second's DIY graphic novel series, you'll find step-by-step instructions for seven projects that will help you survive in the wild! Sophia and Alonso have been packed off to their grandpa's for a fishing trip, and they're dreading spending a whole day in the woods without any cell service. But Grandpa opens their eyes to the wonders of the outdoors, and its dangers — from tick bites to hypothermia. And when a sprained ankle delays their return to civilization, the kids have to learn not only how to perform forest-friendly first aid, but how to safely spend the night in the woods when you don't have a tent! Prepare yourself before you set off on your next adventure! Whether you're hiking in the wilderness or camping in your own backyard, Survive in the Outdoors! will equip you with the know-how you need. In this book, you'll find step-by-step instructions on how to build a campfire, catch and clean a fish, make a shelter, and more!" (Catalogue).


Marvel action. Avengers. Book 5, Off the clock.
"First, in order to stop Loki's newest scheme, Thor and Ant-Man go… antiquing? Then, while visiting an elementary school, Captain America runs into the nefarious Trapster! With scores of children in peril, Cap must rely on the aid of none other than Squirrel Girl! And, after Thor and Cap's difficulties, find out what the rest of the Avengers are up to on their day off! Chaos reigns as a fiendish villain makes off with one of Dr. Strange's most powerful artifacts!"–Amazon.