Halloween has STILL arrived at the library!… and the scare fest continues on from Part One, with some fiction, picture books, and books from the eLibrary collection for a quiet (but scary!) night in. Wellington City Libraries also has some spooktacular DVDs in the collection for your viewing pleasure. AHHHWWOOOOOO!
eBooks on Overdrive!
Overdrive for Kids has an amazing collection of eBooks about Halloween and Halloween themed. Click here to view the collection.


Fiction, Comics and Picture Books!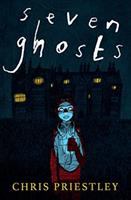 Seven ghosts.
"Jake and the other finalists in a writing competition have been invited to a stately house for a tour like no other. As their guide leads them through grand rooms, hidden nooks and magnificent grounds, they hear the stories of seven ghosts who haunt the halls. But strange shapes and shadows follow Jake as he journeys through the house and with each tale that Jake hears, he begins to feel more uneasy. All is not as it seems and soon Jake will discover that something is very, very wrong … Old ghosts are stirred-up for Halloween in this spine-tingling, multi-narrative horror." (Catalogue).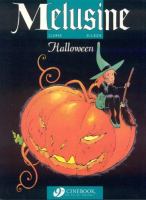 Melusine [2] : Halloween.
Melusine is a sorcerer's apprentice, funny and dynamic, who does everything possible to become a powerful witch. Unfortunately, she's not always successful, and very often her tricks turn against her and her friends… But tremble, poor mortals, for it's the return of Halloween, the day of witches and the walking dead! This festival of demons must be celebrated with dignity, with great smashing of pumpkins and rotten tricks. The opportunity rises for Melusine and her friends to show what they can do… And then to start a new storm of gags and catastrophes!" (Catalogue).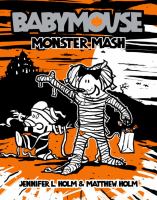 Babymouse: monster mash.
"It was a dark and scary Halloween… This year, Babymouse is determined to have the best Halloween costume and the best Halloween party ever. Will Babymouse be the monster of her dreams? Will Felicia Furrypaws come to the party? And is that really the creature from the black lagoon living in Babymouse's locker?" (Catalogue).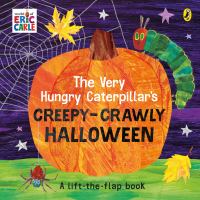 The very hungry caterpillar's creepy-crawly Halloween : a lift-the-flap book.
"Join The Very Hungry Caterpillar on his spookiest adventure yet as he explores the woods by the light of the moon. Lift the big flap on every page to discover which creatures are hiding in the woods tonight. A simple, engaging new seasonal lift-the-flap adventure with big flaps that are perfect for little hands!"(Catalogue).

What do werewolves do when it's not halloween?
"But what about werewolves? Where do they go? What do they do through the year? Do they groom? Do they howl? Do they listen to jazz? Or watch movies and shed a small tear? What do werewolves do when it's not Halloween? Perhaps they're lurking where you least expect! Featuring vampires, witches, zombies, ghosts and skeletons, this is a SPOOKY and KOOKY Halloween treat for all to devour!" (Catalogue).

New to the collection is…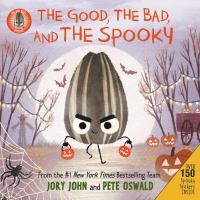 The good, the bad, and the spooky.
"Based on the New York Times bestselling picture book sensation The Bad Seed, Jory John and Pete Oswald present: The Good, the Bad, and the Spooky! Includes two sticker sheets, perfect for decorating your own mini jack-o'-lantern. Halloween is the Bad Seed's favorite holiday of the year. But what's a seed to do when he can't find a show-stopping costume for the big night Postpone trick-or-treating for everyone, of course! Can he get a costume together in time Or will this seed return to his baaaaaaaaad ways Find out in this hilarious, charming, and thought-provoking continuation of Jory John and Pete Oswald's bestselling series." (Catalogue).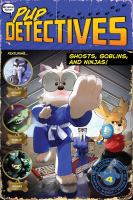 Pup detectives [4] : ghosts, goblins, and ninjas!
"During a martial arts expo at Pawston Elementary, the sacred scroll of Bark-Jitsu is stolen. The pup detectives set out to crack their most puzzling case yet… because this one involves, ghosts, goblins, and a super stealthy ninja"– Provided by publisher.

Click here to view more Halloween themed books.
DVDs:
The Addams Family.
"Members of the mysterious and spooky Addams family–Gomez, Morticia, Pugsley, Wednesday, Uncle Fester and Grandma–are readily preparing for a visit from their even creepier relatives. But trouble soon arises when shady TV personality Margaux Needler realises that the Addams' eerie hilltop mansion is standing in the way of her dream to sell all the houses in the neighbourhood." (Catalogue).

Coco.
"Despite his family's generations-old ban on music, Miguel dreams of becoming an accomplished musician like his idol, Ernesto de la Cruz. Desperate to prove his talent, Miguel finds himself in the stunning and colorful Land of the Dead following a mysterious chain of events. Along the way, he meets charming trickster Hector, and together, they set off on an extraordinary journey to unlock the real story behind Miguel's family history." (Catalogue)

Coraline.
"A young girl walks through a secret door that she has found in her new home and discovers an alternate version of her life. On the surface, this parallel reality is eerily similar to her real life, but much better. When her adventure turns dangerous, and her counterfeit parents, including the Other Mother, try to keep her forever, Coraline must count on her resourcefulness, determination, and bravery to get back home – and save her family." (Catalogue).

Hotel Transylvania 1, 2 and 3.
"The Hotel Transylvania, run by Dracula, is a unique, high-end resort catering only to the finest monsters and their families. Check out The Hotel Transylvania trilogy and watch all three films back to back starting with the original film, where Dracula is preparing for an extra special weekend – his daughter Mavis's 118th birthday – when trouble arises: a human has stumbled upon the resort for the first time ever! Even worse: the human has taken a liking to Mavis!" (Catalogue).

In the sequel, everything seems to be changing for the better at Hotel Transylvania. "Dracula's rigid monster-only hotel policy has finally relaxed, opening up its doors to human guests. But behind closed coffins, Drac is worried that his adorable half-human, half-vampire grandson, Dennis, isn't showing signs of being a vampire." (Catalogue).

In third film, A monster vacation, "The monster family embarks on a vacation on a luxury monster cruise ship so Drac can take a summer vacation from providing everyone else's vacation at the hotel. It's smooth sailing for Drac's Pack as the monsters indulge in all of the shipboard fun the cruise has to offer. But the dream vacation turns into a nightmare when Mavis realizes Drac has fallen for the mysterious captain of the ship, Ericka, who hides a dangerous secret that could destroy all of monster kind."(Catalogue).

Harry Potter (and the philosopher's stone) (and the chamber of secrets).
An oldie but a goodie, watch Harry Potter and the philosopher's stone and relive the magic where Harry learns on his eleventh birthday that he is the orphaned son of two powerful wizards and possesses unique magical powers of his own, becoming a student at Hogwarts, an English boarding school for wizards and having to battle some "enemies" along the way.

In the Chamber of Secrets, Harry finds the second year more challenging with flying cars, trees fighting back, duelling clubs  and a fifty year old secret that threatens to destroy Hogwarts.

Monsters (Inc and University).
Mike Wazowski and James "Sulley"  P. Sullivan are an inseparable pair, but that wasn't always the case. From the moment these two mismatched monsters met they couldn't stand each other. Monsters University unlocks the door to how Mike and Sulley overcame their differences and became the best of friends.

In Monsters Inc, Lovable Sulley and Mike Wazowski are the top scare team at MONSTERS, INC., the scream-processing factory in Monstropolis. When a little girl named Boo wanders into their world, monsters are scared silly, and it's up to Sulley and Mike to get her back home. But Boo's presence is more than just a mere accident. Now, Mike and Sulley have to face an enemy within their own ranks. Overall a heart-warming movie where guaranteed to scare and make you laugh.

Extra challenge… from beyond the grave!
Get into the Halloween spirit and dance your socks off zombie-style to Thriller by the late but talented Michael Jackson! Hmmm, I wonder if he would be keen to accept the vacancy of Wellington City Libraries' library ghost?
Did you know? Wellington City Libraries'  Nao Robots, Frank and Stein, (formally known as Red and Blue) can whip out their own dance moves to to Thriller by Michael Jackson. Read more about them here.


Have a safe and happy Halloween!