Hey Kids! Wellington City Libraries has MORE new children's comics and graphic novels this month to keep you amused just in time for Summer. So what are you waiting for? Come on down to your local branch and borrow the following: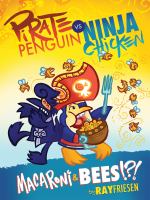 Pirate Penguin vs Ninja Chicken. Book three, Macaroni & bees!
"Best friends and worst enemies Pirate Penguin and Ninja Chicken discuss werewolves, time travel, anti-gravity popcorn, and where Pirate Penguin possibly came from." (Catalogue)

Pizza and Taco. 3, Super-awesome comic!
Who's the Best? Pizza or Taco? "Besties Pizza and Taco are BACK in Book 3, putting their drawing skills–and wild imaginations–to good use writing a comic book together." (Catalogue)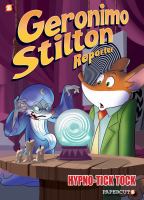 Geronimo Stilton reporter. #8, Hypno-tick tock.
"After Geronimo Stilton visits a hypnotist to get rid of his allergies, a rash of strange thefts begins in New Mouse City." (Catalogue)
Also available as an eBook.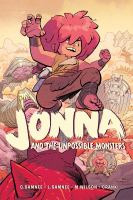 Jonna and the unpossible monsters. 1.
"Rainbow has been looking for her younger sister, Jonna, for over a year–since the monsters appeared and the world began to dry up. Going from settlement to settlement, Rainbow asks every survivor she meets: Have you seen my sister? Then, one day, Jonna is spotted out in the wild: nearly feral, and stronger than ever before. […] But there are more dangers in the world than monsters, and when the two sisters reunite, they'll discover the secrets of this new and terrifying world firsthand." (Adapted from Catalogue).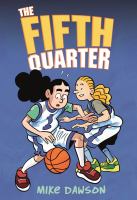 The fifth quarter. 1.
"Lori Block and her best friend Sophia are dedicated to their Fourth-Grade basketball team, despite being relegated to the 5th quarter, an extra period before the real game starts, where the not-so-good kids play, and the points don't count. That doesn't matter to Lori though, because basketball is a place where working hard and getting better gives her hints of self-confidence. […] Can she find her confidence in school, at home, and on the court?" (Adapted from Catalogue)
Also available as an eBook.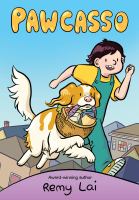 Pawcasso.
"Every Saturday, Pawcasso trots into town with a basket, a shopping list, and cash in paw to buy groceries for his family. One day, he passes eleven-year-old Jo, peering out the window of her house, bored and lonely. Astonished by the sight of an adorable basket-toting dog on his own, Jo follows Pawcasso, and when she's seen alongside him by a group of kids from her school, they mistake her for Pawcasso's owner. […] When it all spirals out of control, is Jo willing to spill the truth and risk her new friendships?" (Adapted from Catalogue)
Also available as an eBook.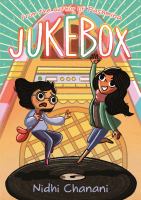 Jukebox.
"A mysterious jukebox, old vinyl records, and cryptic notes on music history, are Shaheen's only clues to her father's abrupt disappearance. She looks to her cousin, Tannaz, who seems just as perplexed, before they both turn to the jukebox which starts… glowing? Suddenly, the girls are pulled from their era and transported to another time! Keyed to the music on the record, the jukebox sends them through decade after decade of music history, from political marches to landmark concerts. But can they find Shaheen's dad before the music stops?" (Catalogue)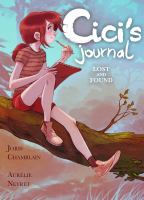 Cici's journal. 2, Lost and found.
"Everyone has secrets, but no one can hide them from Cici! As a future writer, Cici knows what questions to ask and where to find the clues she needs to unlock people's hearts. Yet even though Cici is great at helping others, for a long time now she has kept a dark and painful secret hidden inside herself. Cici's friends and mom all want to help her heal, but she keeps pushing them away. Can a treasure hunt, a mysterious mansion, and an epic beachside fight help her to open up at last?" (Catalogue)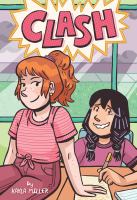 Clash.
"There's a new kid in town! From the moment Natasha sets foot in class, it's clear she's one of the coolest kids in sixth grade. Everyone wants to be her friend, including Olive…but things might not be so easy. Olive tries her best to befriend Nat, but it seems like the only thing they have in common is that they both want to hang out with Olive's friends! Watching as Natasha gets closer with some of her best buds, Olive can't help but worry that they're starting to like Nat more than they like her…and who could blame them? Nat is just that cool…and Olive is, well, just Olive." (Catalogue).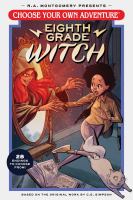 Eighth grade witch.
"From the Choose Your Own Adventure novels comes a newly adapted graphic novel taking readers on their own visual adventure! Enter a ghoulish world of nightmares, witches, ghosts, and the dreaded eighth grade as Rabbit, the new kid on the block! As Rabbit, readers will get to choose which adventure–or nightmare–they'll embark on. […] Will you choose a path that leads to the light? Or will the path you choose lead to a gruesome end? You get to decide!" (Adapted from Catalogue)