To many of us, Halloween is not much more than an excuse to wear a spooky costume, listen to some scary stories and maybe carve up a pumpkin, all while hoovering up more lollies than is probably wise. However, to find out more about why people the world over celebrate this holiday, we have to step back in time to visit the ancient Celts, with quick stopovers in 7th-century Rome and 16th-century Germany along the way.
The brainy people who study such things generally agree that Halloween finds its roots in the ancient Celtic festival known as Samhain (pronounced sa-win). Samhain was traditionally held on November 1, and it marked the end of the harvest season and the beginning of winter, the "dark half" of the year. Ancient Celts believed that during Samhain the world of the gods became visible to ordinary people, and the gods delighted in frightening and playing tricks on their worshippers. Sometimes they appeared as monsters in the dead of night. Sound familiar?
When the Romans conquered Britain in the 1st century CE, they merged Samhain with their own festival of the dead, Feralia. Now the frightening monsters and delicious treats of the harvest were joined by ghosts and restless spirits. The traditions that make up modern Halloween were starting to take form.
Fastforward to Rome, 7th century CE. Pope Boniface IV brought in All Saints' Day, originally celebrated on May 13 — within a century, the date was changed to November 1, perhaps in an attempt to replace the pagan Samhain festival with a Christian equivalent. The day before All Saints' Day was considered holy, or 'hallowed.' This is where the word 'Halloween' comes from — it is the Hallowed Eve.
Zoom forwards in time again to Germany, 16th century CE. The Protestant Reformation, led by people like Martin Luther and John Calvin, put a stop to the still pagan-influenced Halloween festival in most Protestant countries. However, in Britain and Ireland, the festival remained in place as a secular (non-religious) holiday, and the tradition followed English-speaking settlers to the United States, where it is still a hugely important part of the festive calendar. Many of the traditions introduced in the dark and mysterious woods and cairns of ancient Celtia live on to this day in the form of the modern Halloween festival.
Interested in learning more about this fascinating and era-spanning festival, and the people who celebrated it? Why not check out some of these books at your local library: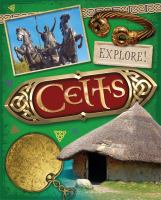 Celts by Sonya Newland
"The Celts were fearsome warriors, but they also developed trade routes across Europe and made beautiful jewellery. Find out about Celtic tribes, how Boudicca rebelled against the Romans, and how the Celts celebrated with feasts and festivals." (Catalogue)
Prehistoric Britain by Alex Frith
"From the age of dinosaurs to the Roman invasion, this book tells the story of this vast and exciting period of British history. It describes when and how people first came to Britain, and includes information on the Bronze Age, Iron Age, Celts and the mysteries of Stonehenge. Full of facts, illustrations, photographs, maps and timelines." (Catalogue)
Celebrate Halloween by Deborah Heiligman
"Vivid images and lively, inviting text illuminate the spookiest night of the year. This book spirits readers on a tour of Halloween celebrations around the globe as it explores the rich history of this holiday and the origins of its folklore, food, games, costumes, and traditions." (Catalogue)
Traditional celebrations by Ian Rohr
"This interesting book is part of a series written for young students that focuses on a wide variety of celebrations and festivals held for special occasions throughout the world. It focuses on traditional celebrations." (Catalogue)