Halloween has arrived at the library! In addition to dressing up and eating treats, now is the time to get your scare on reading up about the history of Halloween, and getting some cool ideas for Halloween costumes and crafts. Soon to come is Part Two, where we'll share with you some extra-spooky fiction, picture books, eBooks and movies for a quiet (scare) night in. Let the scare fest begin! AHHHWWOOOOOO!
About Halloween:
Halloween, or All Hallows Eve, is celebrated on October 31st. The origins of Halloween can be traced back to the ancient Celtic festival known as Samhain, which was held on November 1 in contemporary calendars. It was believed that on that day, the souls of the dead returned to their homes, so people dressed in costumes and lit bonfires to ward off spirits. Today Halloween is considered a holiday (especially in the United States) for dress-up, (traditionally witches, ghosts and zombies), treats and fun, especially for children. For more information about the history of Halloween, read our previous post.
Some ways that people around the world celebrate Halloween include:
Dressing up in costume,
Handing out treats to trick or treaters,
Decorating the house with Halloween party favours,
Reading or sharing ghost stories (we have heaps of those!),
Watching scary movies (we have heaps of those as well!)
Immediately following Halloween, on November 1st, Día de Muertos is a traditional Central American holiday that reunites the living and dead. It is a holiday for celebrating life and death, a holiday where mourning is exchanged for celebration. Below are a couple of books from our collection where you can read up more about this festival: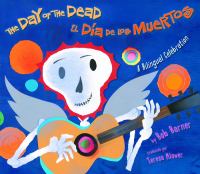 The day of the dead = El dia de los muertos.
@This book tells the story of two children as they celebrate their ancestors on the vibrant holiday: The day of the dead. With sugar skulls, sweet-smelling marigold petals and joyful songs, Hispanic families welcome back ancestors on this holiday. Complete with lush college and lyrical text in both English and Spanish, this wonderful picture book creates the perfect introduction to this festival (and perhaps also to the Spanish language)." (Catalogue).

Día de los muertos.
"It's Día de Los Muertos (Day of the Dead) and children throughout the pueblo, or town, are getting ready to celebrate! They decorate with colored streamers, calaveras, or sugar skulls, and pan de muertos, or bread of the dead. There are altars draped in cloth and covered in marigolds and twinkling candles. Music fills the streets. Join the fun and festivities, learn about a different cultural tradition, and brush up on your Spanish vocabulary, as the town honors their dearly departed in a traditional, time-honored style." (Catalogue)

Where can I find more information about Halloween:
ManyAnswers has a page dedicated to websites, resources and ways to search for information about festivals and celebrations in New Zealand, which includes Halloween.
Get costume ideas, play games, check out cool photo galleries, watch spooky videos, get jack-o'-lantern carving tips, and more from the National Geographic Kids page!
Read about the history of Halloween on the World History Encyclopedia.
Britannica has a page dedicated to Halloween. You can also read more about why do we celebrate Halloween.
Also, check out the following books from our nonfiction collections: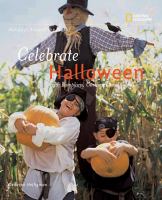 Celebrate Halloween.
"Vivid images and lively, inviting text illuminate the spookiest night of the year. This book spirits readers on a tour of Halloween celebrations around the globe as it explores the rich history of this holiday and the origins of its folklore, food, games, costumes, and traditions." (Catalogue)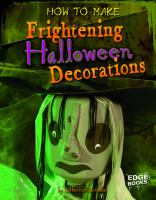 How to make frightening Halloween decorations.
"Do you like to scare and gross out your friends? Create frightening Halloween decorations with just a few simple supplies. Surprise your friends with glowing alien heads and sicken them with bloody intestines. Whether you're decorating for a party or just for fun, these projects will turn an ordinary Halloween into a howling good time."(Catalogue)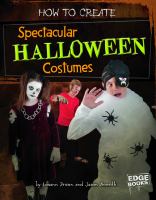 How to create spectacular Halloween costumes.
"Are you searching for a Halloween costume that will get you noticed? Then How to Create Spectacular Halloween Costumes is the book for you! From a guitar-playing vampire to the floor of a movie theater, these easy-to-make costumes are sure to impress your friends. They might even cause a few screams!" (Catalogue)

10 minute Halloween crafts.
"In 10 Minute Crafts: Halloween, children can learn how to make Halloween decorations such as bat hangings and black cat lanterns and create spookily brilliant zombie finger puppets and witches on broomsticks, plus lots more amazing Halloween ideas." (Catalogue)

New to the collection is…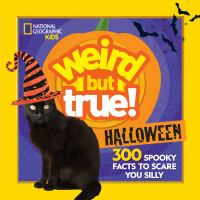 Halloween : 300 spooky facts to scare you silly.
"The wildly popular Weird But True line is all dressed up for Halloween with 300 all-new spooky facts about candy, costumes, pumpkin carving, and more Calling all boys and ghouls: You're in for a treat of freaky facts, stats, tidbits, and trivia about one of the most popular holidays Did you know that there is an underwater pumpkin carving contest? Or that the U.S. Defense Department has a zombie apocalypse plan? Maybe you'd be amazed to discover that there are more Halloween emojis than there are U.S. states? It's all weird–and it's all true–in this latest and greatest edition, packed with hilarious and terrifying tidbits on Halloween." (Catalogue)

Have a safe and happy Halloween!