Why are teddy bears so popular with children and adults alike? Is it because they can be your softest, most huggable companions?! You can hug them for as long as you want, and in return get the best 'cuddly' feel ever. Their soft fur and smooth textures make you feel better and immediately cheers you up. Psychologists refer to them as "comfort objects," and they can help us feel a greater sense of security when moving from one life stage to another, or when things get a little sad and scary.
We love our teddy bears so much that there's even a Teddy Bears' Picnic Day to help celebrate your special friend.

---
Some of our best loved bear stories are based on real events, and, sadly, these events are often about war and conflict. Here are just a few that will make you want to cuddle up with your own teddy and get reading:
Winnie the Pooh
Everyone knows about Winnie the Pooh, but did you know that these stories came about because of a real bear called Winnie? The real Winnie was a black bear who was brought to England from Canada with a vet on his way to World War 1.
Finding Winnie : the story of the real bear who inspired Winnie-the-Pooh / Mattick, Lindsay
"Before there was Winnie-the-Pooh, there was a real bear named Winnie. Here begins the moving true story of the real bear named Winnie adopted by soldiers during World War 1, and the inspiration behind the nation's best-loved bear, Winnie-the-Pooh. In 1914, Harry Colebourn, a vet on his way to tend horses in World War 1, followed his heart and rescued a baby bear. He named her Winnie, and he took her to war. Harry Colebourn's real-life great-granddaughter tells the true story of a remarkable friendship and an even more remarkable journey – from the fields of Canada to an army base in England …and finally to London Zoo, where Winnie made another new friend – a boy named Christopher Robin Milne" (Catalogue)

This amazing story has also been published as a chapter book: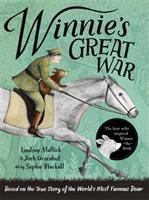 Winnie's Great War / Mattick, Lindsay
"Everyone has heard of Winnie-the-Pooh, but not everyone knows about the real Canadian bear who lent him her name. This is a wonderful tale of courage and friendship, for fans of Michael Morpurgo. Come on a heart-warming adventure, inspired by the journey undertaken by an extraordinary bear called Winnie during World War One." (Catalogue)

 Anzac Ted
Anzac Ted, tells the story of a teddy bear, that was taken to the front line in World War 1 and then passed through the generations. Although this book is fictional, many ANZAC soldiers did in fact take treasured toys to the front line as a reminder of home and happier times.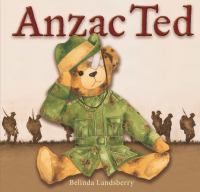 Anzac Ted / Landsberry, Belinda
"Anzac Ted is the powerful, poignant story of a little boy's teddy bear that was passed down to him from his grandfather. Battered, torn, missing an eye and an ear, he might look scary but he's got a great story to tell. For Anzac Ted went to war, keeping soldiers company and giving them comfort. And while he never won a medal, and now doesn't even attract a single vote at classroom Toy Shows, if only everyone looked a little deeper: 'They'd see a hero, plain as day who sits upon my bed. A hero, who saved me and you. His name …is Anzac Ted.' While several children's picture books cover the world wars, none has ever made the conflict so accessible to children by telling the story of a bear who went to war. Belinda's exquisite watercolour illustrations combine with her rhyming text to create a book that, while perfect for parents and teachers to share with children, is also guaranteed to touch the heart of every adult." (Catalogue)

Josef's Bear
Josef's bear is a little wooden bear that was his father's. This story is set in Germany just after World War 2…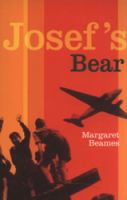 Josef's bear / Beames, Margaret
"It is Germany in 1948 and the war is over, but 11-year-old Josef still dreams of finding his father. All he has to remember him by is a little wooden bear. When Josef's home in Berlin was destroyed during the war, he was rescued by Helga, a farmer's wife, but now Josef is driven from the farm by Helga's husband. With the bear in his pocket and a pistol in his pack, he heads for Berlin. In the war-ravaged city, now in the throes of the Russian blockade, he is befriended by Elsa and 6-year-old Trudi. Survival is a daily struggle, made possible by the Allied airlift. Josef tries to find work, while continuing to search for his father, and is drawn into an attempt to smuggle a German scientist, wanted by the Russians, out of Berlin. When he meets the Professor and sees a collection of hand-carved animals in his room he realises his search is over – but the house is burning, the Russians are closing in and the only way out is over the roof-tops" (Catalogue)

Pink Rabbit
You couldn't call Pink Rabbit a teddy Bear, but it is still a cuddly and much-loved soft toy. The book "When Hitler Stole Pink Rabbit" is also set in World War 2 and is based on the true story of the book's author, Judith Kerr. In the book Anna has to choose which toy she wishes to take with her when her family flee their home. She opts to take her new woolly dog, and leave behind her pink rabbit toy, believing she will return to Berlin after a short time. It is from this that the title is derived as she considers that Hitler and the Nazis have "stolen" her much-loved toy.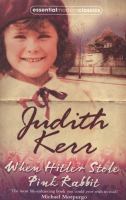 When Hitler stole pink rabbit / Kerr, Judith
"Suppose your country began to change. Suppose that without your noticing, it became dangerous for some people to live in Germany any longer. Suppose you found, to your complete surprise, that your own father was one of those people. That is what happened to Anna in 1933. She was nine years old when it began, too busy with her schoolwork and toboganning to take much notice of political posters, but out of them glared the face of Adolf Hitler, the man who would soon change the whole of Europe — starting with her own small life. Anna suddenly found things moving too fast for her to understand. One day, her father was unaccountably missing. Then she herself and her brother Max were being rushed by their mother, in alarming secrecy, away from everything they knew — home and schoolmates and well-loved toys — right out of Germany!" (Catalogue)

---
Leave a poppy
If you want to do some searching for family members who fought for New Zealand in World War I or World War II, the Online Cenotaph of the Auckland War Memorial is a great resource. You can even lay a virtual poppy on the wall of a loved one, or the UNKNOWN WARRIOR


---
And some of our furry friends have overcome scary times to give their humans comfort:
Edward Tulane
The miraculous journey of Edward Tulane / DiCamillo, Kate
"Edward Tulane, a cold-hearted and proud toy rabbit, loves only himself until he is separated from the little girl who adores him and travels across the country, acquiring new owners and listening to their hopes, dreams, and histories." (Catalogue)

Lockdown Bear
There's a bear in the window / Pitman-Hayes, June
"There's a bear in the window of the house across the street. It's tall and round, with great big feet! I wonder what I would see if I were that bear, and that bear were me? From singer-songwriter June Pitman-Hayes comes a story told in both English and Māori that celebrates the great teddy bear hunt, that entertained thousands of children during lockdown in 2020" (Catalogue)