One of the most difficult things for parents is finding a good pukapuka for their child who has just finished an incredible series that kept them hooked for weeks (or perhaps more realistically, a few hours!) Well the library has got you covered! Starting with Percy Jackson "What comes next?" will provide suggestions for books tamariki might like if they enjoyed popular children's fiction series.
Rick Riordan's Percy Jackson series is one of the most popular children's fiction series out there, and for good reason. Who doesn't love monsters, gods, and a bunch of really cool kids saving the world? Finding something to read after such a great series is hard, but here are our top picks for what to read next. We haven't included Rick Riordan's other books, all of which are set in the same world as Percy Jackson, but if you haven't read them yet then check out Heroes of Olympus (The continuation of Percy Jackson with Roman mythology), Magnus Chase (Norse mythology), The Kane Chronicles (Egyptian Mythology) and Trials of Apollo (A new adventure in the Percy Jackson world).
Younger Kids:
If you're after more books with the same flavour as Percy Jackson but with mythology from a wide variety of cultures, then check out Rick Riordan Presents titles, we've picked two of our favourites which feature Hindu and West African mythology respectively. We've also included other children's fantasy books, so there should be something for everyone.
Aru Shah and the end of time / Chokshi, Roshani
"When twelve-year-old Aru Shah's schoolmates dare her to prove that the museum's Lamp of Bharata is cursed, she doesn't think there's any harm in lighting it. Little does Aru know that lighting the lamp has dire consequences. She unwittingly frees an ancient demon who freezes her mother in time – and it's up to Aru to save her." (Catalogue)

Tristan Strong punches a hole in the sky / Mbalia, Kwame
"Seventh-grader Tristan Strong feels anything but strong ever since he failed to save his best friend Eddie. While trying to rescue Eddie's notebook from an unexpected foe Tristan punches the Bottle Tree, accidentally ripping open a chasm into the MidPass, a volatile place with a burning sea, haunted bone ships, and iron monsters. Can Tristan save this world before he loses more of the things he loves?" (Adapted from Catalogue)

The forests of silence / Rodda, Emily
"Deltora is invaded by the evil Shadow Lord when the magical gems from the Belt of Deltora are stolen. Two unlikely companions set out to find them and to save their land from the tyrant." (Catalogue)
The hound of Rowan / Neff, Henry H
"After glimpsing a hint of his destiny in a mysterious Celtic tapestry, twelve-year-old Max McDaniels becomes a student at Rowan Academy, where he trains in "mystics and combat" in preparation for war with an ancient enemy that has been kidnapping children like him." (Catalogue)

The fairy-tale detectives / Buckley, Michael
"Orphans Sabrina and Daphne Grimm are sent to live with an eccentric grandmother that they have always believed to be dead." (Catalogue)

Older Kids:
If you've come back to Percy Jackson or discovered it later in life and are looking for similar flavour in your Young Adult reads, then here are our suggestions for you. We've got some mythology inspired and other excellent fantasy books sure to appease older readers who loved Percy Jackson.
Lore / Bracken, Alexandra
"Every seven years there is a hunt offering mortal descendants of gods the opportunity to claim their divinity by killing any of nine immortals made mortal for one night. Lore Perseous has no desire to participate in the Agon, embittered because her family was killed by a rival who then ascended to godhood. When a childhood friend asks her to help, and a wounded god offers an alliance, Lore overlooks the steep cost of this decision in exchange for vengeance." (Catalogue)

Season of the bruja / Duran, Aaron
"From a young age, Althalia knew she would someday be the last of her kind – a bruja, tasked with keeping the power and stories of the ancient ways from fading fully into history. But the prejudice her people have always faced continues, and after a seemingly random encounter with a priest, Althalia feels the weight of hundreds of years of religious oppression coming down upon her and her abuela. She must realize her destiny and prevent the church from achieving its ultimate goal – destroying the last bruja." (Adapted from Catalogue)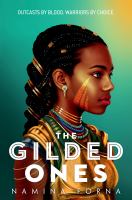 The gilded ones / Forna, Namina
"The blood ceremony determines whether Deka will become a member of her village. Already different because of her unnatural intuition, Deka prays for red blood so she can finally feel like she belongs. But on the day of the ceremony her blood runs gold.  Then a mysterious woman comes to her with a choice: stay in the village and submit to her fate, or leave to fight for the emperor in an army of girls just like her. Nothing and no one are quite what they seem to be– not even Deka herself." (Adapted from Catalogue)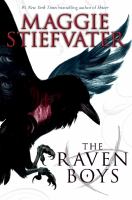 The Raven Boys / Stiefvater, Maggie
"Though she is from a family of clairvoyants, Blue Sargent's only gift seems to be that she makes other people's talents stronger, and when she meets Gansey, one of the Raven Boys from the expensive Aglionby Academy, she discovers that he has talents of his own–and that together their talents are a dangerous mix."
(Catalogue)

The warrior heir / Chima, Cinda Williams
"After learning about his magical ancestry and his own warrior powers, sixteen-year-old Jack embarks on a training program to fight enemy wizards." (Catalogue)