Play Week Aotearoa 2023 is underway from 6 – 12 November! 
Whatever you have nearby – a box, a hose, a tree – then you've got play! Play Week Aotearoa is all about celebrating the value play brings to tamariki, whānau and communities across Aotearoa.
Play gives us freedom and chances to take risks. It's how our tamariki learn to problem solve, get creative, make mistakes, create new friendships, learn skills and build a life- long love of being active. You can be part of it too. Play is Everywhere! Find out more at www.playweek.co.nz.

From neighbourhood scavenger hunts and tafue | jump rope to fort building and balloon games, here are some great play ideas from healthykids.org.nz!
For more inspiration from schools and our communities, check out these play stories from all over Aotearoa!
Here's a few of our books to help celebrate and spark play!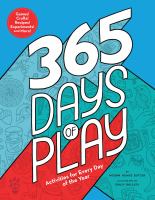 365 days of play : activities for every day of the year / Butler, Megan Hewes
"This go-to activity book for kids ages 4-8 includes 265 pages of games, crafts, recipes, experiments, projects, jokes, songs, guides, skills, tricks, hacks, challenges, and everything else in the canon of kid"– Provided by publisher." (Catalogue)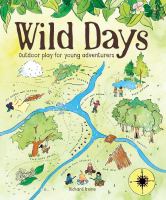 Wild days : outdoor play for young adventurers / Irvine, Richard
"Perfect for inspiring kids to get out in the fresh air, this brilliant book is crammed full of outdoor activities and fun for children." (Catalogue)

50 fantastic ideas for found materials / Featherstone, Sally
"Children love constructing models and other objects, and working with found and recycled materials has a firm and continuing place in the early years, encouraging children to be imaginative and creative as they practice their skills in joining, wrapping, bending and cutting. These materials that are often free or low cost, are available everywhere, waiting for imaginative practitioners to find and use them…" (Abridged from catalogue)

The science of swimming.
"In swimming, there are multiple scientific concepts at play, such as density, gravity, momentum, and buoyancy. Readers learn about these concepts and more with this engaging guide to the science behind swimming. Useful diagrams display how to execute the perfect push-off from the wall of a pool, how to swim successful strokes, and how to do a cannonball." (Abridged from catalogue).

A child's garden : 60 ideas to make any garden come alive for children / Dannenmaier, Molly
A Child's Garden offers a wide range of innovative examples showing how to create special places in which children can experience nature on their own home turf… Out-of-the-ordinary sandboxes are pictured, along with paths, mazes, furniture, peepholes, and scores of ideas for creative play areas that fit perfectly into adult gardens." (Abridged from catalogue).

Playtime : activities for little children that can make a big difference / Richards, Elspeth
"…Playtime explains how children learn and communicate through play, and what easy things you can do to make this a happy and rewarding experience for you both. Whether you're looking at house numbers whole out walking, inventing a new kind of hat or cutting up a banana together, there are ways to make the most of valuable time with your child. This book includes all sorts of games and ideas for children aged 1-5, as well as babies." (Abridged from catalogue)