Ever wondered about the sounds that come out of your mouth and how amazing it is that the people around you can actually understand those weird and wonderful noises? How do you know what to say and how do new words come into everyday use? Commonly used words or phrases are like anything that's trending – the more people use it, the more normalised it will become. In this techno-age you're probably using words and phrases that your grandparents (and definitely your great-grandparents!) would have never heard of. Think "wi-fi", "smartphone", "internet". Or the words and phrases you use now meant wildly different things in the past. For example, if you say "she's sick" to your grandad, he'd probably be concerned that the person you're talking about was "feeling poorly" and would not realise that what you're really saying is "she's awesome", lol (yes, another newbie in the language department).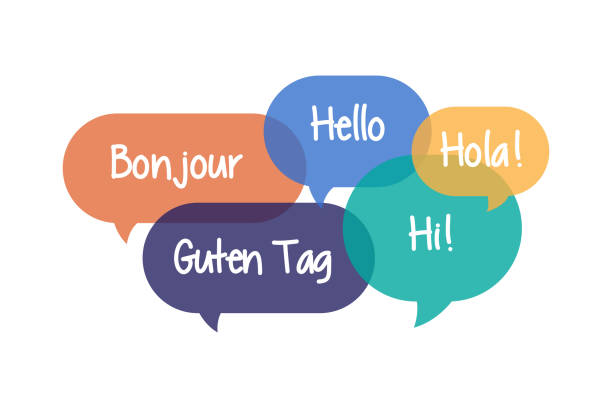 There are approximately 7000 different languages spoken throughout the world, with the top 5 (by total number of speakers) being English, Mandarin, Chinese, Hindi, Spanish and French. Of those 7000 nearly half are in danger of extinction this century. These endangered languages are often indigenous languages that are being taken over by a more dominant language, eg. English. Here in Aotearoa te reo Māori was made an official language in 1987 and Te Taura Whiri i te Reo Māori (The Māori Language Commission) was established to ensure that te reo grows and thrives.

Each year, the major dictionaries publish lists of new and most commonly used words, and it's no surprise to anyone that 2020's word of the year was pandemic, followed closely by coronavirus and lockdown. The word pandemic has been around for a long time and is built on two words from ancient Greek – pan, meaning "all", and demos, "people". Coronavirus simply wasn't part of most people's vocabulary until 2020 – now we all know what it means! Like pandemic, lockdown was already reasonably familiar. But  it has taken on a new meaning in 2020 – confinement to the home in order to stop the spread of the virus – which means it will for ever be linked with disease control.
And if you're still keen for more new words added to the dictionary in 2020, check out the following:

---
The famous playwright William Shakespeare (think"Romeo and Juliet", "Hamlet", "Macbeth") who died in 1616, so a rather long time ago, would simply make up words if he felt they were needed in his plays! And to this day we still use a huge number of his words in everyday language (over 1,700 of them). Words like "critic", "elbow", "lonely" all came from Shakespeare's imagination. Shakespeare obviously like words starting with "un" because he created nearly 300 starting with this prefix. Here are just a few that popped into his, and now our, writing: "unaware", "uncomfortable", "undress", "unreal".
So, what is the longest word in the English language? Is it Supercalifragilisticexpialidocious and is that even a word? It turns out that it only comes in at 5th place with Pneumonoultramicroscopicsilicovolcanoconiosis at 45 letters long, taking first place!
If visualiation is more your thing, maybe you could have a play around with some free word clouds. Word clouds create a pictorial representation of word frequency in a text.  The larger the word in  the picture the more common the word was in the written document. Here's this blog post as a word cloud:

---
Wellington City Libraries have heaps of books and resources that focus on language and the written word – everything from cracking good reads to brain teasers. So don't procrastinate! Immerse yourself in the verbiage!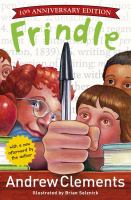 Frindle / Clements, Andrew
Everyone knows that Mrs. Granger, the language arts teacher, has X-ray vision, and nobody gets away with anything in her classroom. To make matters worse, she's also a fanatic about the dictionary, which is hopelessly boring to Nick. But when Nick learns an interesting tidbit about words and where they come from, it inspires his greatest plan yet: to invent a new word. From now on, a pen is no longer a pen — it's a frindle. It doesn't take long for frindle to take root, and soon the excitement spreads well beyond his school and town. His parents and Mrs. Granger would like Nick to put an end to all this nonsense. But frindle doesn't belong to Nick anymore. All he can do now is sit back and watch what happens.
This quirky, imaginative tale about creative thought and the power of words will have readers inventing their own words. Brian Selznick's black-and-white illustrations enhance the humor in this unforgettable story. (Catalogue)

Jabberwocky / Carroll, Lewis
The award-winning first book in the Visions in Poetry series explores Lewis Carroll's celebrated nonsense poem. An illustrated version of the classic nonsense poem from "Through the Looking Glass. The most celebrated nonsense poem in the English language, Lewis Carroll's "Jabberwocky" has delighted readers of all ages since it was first published in Through the Looking-Glass and What Alice Found There, in 1872. Stephane Jorisch's stunningly inventive art adds a vibrant, surprising dimension to an already unforgettable poem. (Adapted from Catalogue)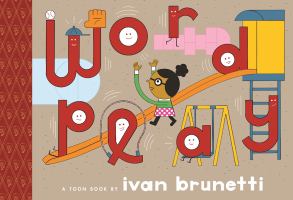 Wordplay : a Toon book / Brunetti, Ivan
Calling all bookworms! Go "outside," "elsewhere," and down the "rabbit hole" with this hilarious introduction to compound words. Young readers will fall in love with the English language as they watch star cartoonist Ivan Brunetti put his sly spin on vocabulary. The lesson here? Even "homework" is fun when you let yourself play with the words.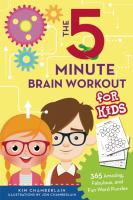 The 5 minute brain workout for kids : 365 amazing, fabulous, and fun word puzzles / Chamberlain, Kim
Our brains are an amazing organ! And just like our bodies, our brain functions best when it's put to work. So get ready to give your brain a full workout each day with 
The Five-Minute Brain Workout for Kids
! Inside, you'll find 365 word puzzles and games to keep your mind active and in great shape! Have fun with your family and friends as you learn about acronyms, anagrams, definitions, parts of speech, rhyming words, syllables, word structure, and more with these fun puzzles. From Alphabet Teasers and Mini Word Sudoku puzzles, to Speed Words and Word Store games, even doing one puzzle a day will help you to learn new words, spell better, problem solve with ease, and have better concentration.
Oxford first rhyming dictionary / Foster, John
"The Oxford First Rhyming Dictionary has over 1000 rhyming words to help young children with writing rhymes and poems, and expand vocabulary. Have fun in the sun, drink lemonade in the shade and be inspired to write about pirates, kings and magic rings in the Oxford First Rhyming Dictionary. The dictionary contains a clear and simple alphabetical list of over 1,000 words that rhyme along with rhyming sounds, and an index to make finding words simple. John Foster's lively poems accompany the rhyming sounds, and every page features bright and colourful illustrations. Children can expand their vocabulary, practice phonic sounds to help with spelling, and being to write their own rhymes.
Access even more downloadable rhyming games, puzzles, activities and much more at:
www.oxforddictionaries.com/schools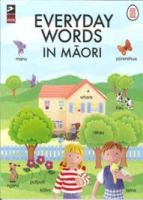 Everyday words in Māori
This is a bright and busy book that will give Maori language learners of all ages hours of enjoyment. A pronunciation guide and an alphabetical Maori/English list of all the words in the book are included.

Oxford Roald Dahl dictionary
A dictionary of real and invented words used by the world's best storyteller. The Oxford Roald Dahl Dictionary reveals what they mean, where they came from and how he used them in his stories. It will inspire you to choose and use each word brilliantly in your own writing – whether it's a real word, a Roald Dahl word or your own made-up one! This is not an ordinary dictionary. After all, you wouldn't expect an Oxford Roald Dahl Dictionary to be ordinary, would you? Lots of dictionaries tell you what an "alligator" is, or how to spell "balloon" but they won't explain the difference between a "ringbeller" and a "trogglehumper," or say why witches need "gruntles' eggs" or suggest a word for the shape of a "Knid." All the words that Roald Dahl invented are here, like "biffsquiggled" and "whizzpopping," to remind you what means what. You'll also find out where words came from, rhyming words, synonyms and lots of alternative words for words that are overused.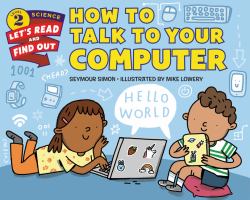 How to talk to your computer / Simon, Seymour
Have you ever wondered how to get a computer to do something First you need to speak in a way it can understand! Read and find out all about how to talk to your computer in this updated edition with brand-new illustrations and simple engaging text that introduces conditions, loops, and functions. How to Talk to Your Computer comes packed with visual aids like charts, sidebars, an infographic, and a computer-less coding activity!