Calling all foodies, brace yourself for the most epic food event of the year where you can eat, drink and be Welly! Wellington on a Plate (WOAP) has arrived once again full of culinary goodness of all things food and beverage all throughout the month of August!
What is Wellington on a Plate?
Wellington on a Plate is an event in August where you can Eat, Drink and Be Welly with hundreds of Festival Events, Festival Dishes that showcase the best of Wellington region's ingredients, suppliers and producers, Creative Cocktails and all the Burgers you could munch your way through. This year's theme is Out Of Place: "one for the improvisers, the fresh thinkers, the misfits, the rebellious, those who dance to their own tune and go against the grain. It's surprising, challenging, different, new, adventurous, exotic, momentous, delicious and curious." Sounds like the makings of some pretty awesome (and delicious) experiences!

How can you celebrate?
Eat your way around Wellington. Click here for more information about WOAP eateries.
Craft your visit by choosing from over 140 events, with everything from hands-on masterclasses to multi-course degustations and everything in between. Click here for more information about the events.
Create your own burgers, drinks and culinary goodness in the comfort of your own home, with the help of the following books:
Easy peasy! : real cooking for kids.
"Mary Contini and Pru Irvine provide over 60 recipes guaranteed to tickle the tastebuds, featuring a huge range of recipes, including a selection from other countries, not just Britain.
Including clear instructions and information about the basics of cooking and utensils, as well as safety in the kitchen, these recipes are designed for children to cook with an adult. But once they have gained confidence and experience, kids will be able to cook many of them confidently on their own. From Cheesy Easy Peasy Pasta, Tooty Fruity Chicken Curry and Moorish Carrot Salad to Portobello Burgers, Scrumptious Slappleberry and Spanish Omelette, this is a fun and informative approach to cooking." (Catalogue).

Kids cook! : 100+ super-easy, delicious recipes.
"With aspiring young chefs showing off their skills on Chopped Junior and Food Network Star Kids, it's clear that kids CAN cook and LOVE to cook! Now, Good Housekeeping has created the perfect cookbook for kids of all ages eager to step in the kitchen. It features more than 100 delicious, fail-safe recipes–from burgers and pizzas to salads and cookies–accompanied by tempting photographs and basic kitchen and cooking how-tos." (Catalogue).


My first cookbook : 35 easy and fun recipes for children aged 7 year +.
"Learn how to cook while making fantastic snacks, desserts, and meals. With 35 recipes that you'll love to make and a helpful techniques section, this book will teach you all about cooking, from how to make sandwiches and party snacks, to making simple dishes for breakfast, lunch and dinner, as well as a range of lip-smacking desserts. Try new foods and make up your own exciting variations on the recipes – with such simple ideas, you can really get creative in the kitchen! Every recipe has step-by-step artworks to guide you, plus a skill level so you can start with quick and easy dishes and move on to more challenging things as you become more confident." (Adapted from Catalogue).


The Star Wars cookbook : Han sandwiches and other galactic snacks.
"Take your sandwich game to the next level with Star Wars-shaped sandwich cutters From sandwiches to sides and desserts, these easy-to-make, irresistible recipes feature iconic scenes from across the saga. Photographs featuring Star Wars figurines re-creating epic moments from the films provide an extra helping of humour." (Catalogue).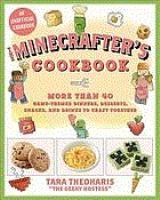 The Minecrafter's cookbook : more than 40 game-themed dinners, desserts, snacks, and drinks to craft together.
The Minecrafter's Cookbook brings the Overworld to life with over 40 fantastic, Minecraft-themed recipes that kids and parents can make together. From main courses that will fill your hunger bar; to enchanted snacks that Alex and Steve couldn't survive without; to party-friendly, game-themed desserts and potion drinks, there is plenty in this book to enchant young gamers and their families. Kids will love the accompanying illustrations of their favourite characters and scenes, while parents will appreciate the simple, step-by-step directions to guide them as they craft. The delicious recipes in this book are sure to make spending time together a whole lot more fun!" (Adapted from Catalogue).

Search our catalogue for more cookbooks.

While you're at it, why not rent some food themed DVDs to compliment your WOAP meal at home, such as:

Ratatouille.
"A rat named Remy dreams of becoming a great chef despite his family's wishes and the obvious problem of being a rat in a decidedly rodent-phobic profession. When fate places Remy in Paris, he finds himself ideally situated beneath a restaurant made famous by his culinary hero. Despite the apparent dangers of being an unwanted visitor in the kitchen of one of Paris' most exclusive restaurants, Remy forms an unlikely partnership with Linguini, the garbage boy, who inadvertently discovers Remy's amazing talents. They strike a deal, ultimately setting into motion a chain of extraordinary events that turns the culinary world of Paris upside down." (Catalogue).

Check out the trailer!
Cloudy with a chance of meatballs.
"When Flint Lockwood's latest contraption accidentially destroys the town square and rockets up into the clouds, he thinks his inventing career is over. Then, something amazing happens aa delicious cheeseburgers start raining from the sky. His machine actually works! But when the machine starts to run amok, it's up to Flint, with the help of weather girl Sam Sparks to find some way to shut down the machine and save the day." (Catalogue)


Check out the trailer!
Cloudy with a chance of meatballs 2.
"Inventor Flint Lockwood thought he saved the world when he destroyed his machine that turned water into food causing cheeseburger rain and spaghetti tornadoes. But Flint soon learns that his invention survived and is now creating food-animals. Flint and his friends embark on a dangerously delicious mission to battle hungry tacodiles, shrimpanzees, hippotatomuses, cheespiders and other foodimals to save the world again!" (Catalogue).

Check out the trailer!
Willy Wonka and the Chocolate Factory.
"The one-and-only Willy Wonka makes the world taste good for a whole new generation in this magical family classic sparkling with brilliantly restored picture and sound! Also included is the all-new documentary Pure Imagination, featuring interviews with Gene Wilder and the Wonka kids and revealing production secrets from the movie!nWhen they find prized Golden Tickets inside their Wonka candy bars, five lucky children win a behind-the-scenes glimpse of the legendary candy factory run by the mysterious Willy Wonka. Now, on a whirlwind tour of Willys incredible, edible realm of milk chocolate waterfalls, elfish Ooompa-Loompas and industrial-sized sugar-coated creations, one very special boy will discover the sweetest secret of all: a generous, loving heart." (Catalogue).