Suffrage Day  is a special day in New Zealand's history. Sunday 19 September 2021 is Suffrage Day / White Camellia Day.

Why is Suffrage Day celebrated?
On the 19th of September 1893, New Zealand became the first nation in the world to grant women the right to vote. This year marks the 126 anniversary of women winning the right to vote in New Zealand. The white camellia was the symbol of the suffragists.
Did you know? November 28th 1893 was the day New Zealand women voted for first time.

What is Suffrage Day?
Suffrage Day provides an opportunity for people to celebrate New Zealand's suffrage achievements and look for ways to benefit women.

How do we commemorate this day?
Wearing a white camellia. Why? These flowers were worn by people supporting women's right to vote in New Zealand.
Wear a The Suffrage 125 symbol. Why? The symbol draws on historical colours and icons adopted by women's suffrage petitioners and presents them in a contemporary form. 

Where can I find information about the suffragettes and and Suffrage Day?
Amazing women: 101 lives to inspire you.
"Read this story of 101 extraordinary women of our time. Empowering and inspiring accounts of female pioneers include the likes of JK Rowling, Rosalind Franklin, Beyonce Knowles, Marie Curie, Malala Yousafzai, Angela Merkel and Serena Williams. A beautiful package that rejoices in the remarkable and crucial contributions women have made to our society." (Catalogue)
"Find out interesting, little-known facts such as how the suffragists were the first people to ever picket the White House and how the nineteenth amendment granting women the right to vote passed by only one vote when a legislator changed his vote to "yes" after receiving a letter from his mother telling him to "do the right thing." The unique details, along with the clever interior illustrations, make this series stand out from the competition" (Catalogue)


Kate Sheppard.
"When Kate Sheppard was a young lady jauntily exploring the streets of her new home in Christchurch, the world was a different place. Women did not ride bicycles or participate in outdoor activities like sports. And they certainly were not allowed to vote. But Kate wanted to do more, and she knew that women deserved the same opportunities as their male counterparts. Her campaign would become the battle of a lifetime. Includes an end section of facts about women's rights around the world." (Catalogue)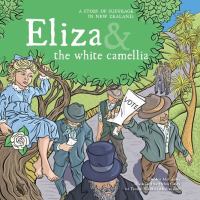 Eliza and the white camellia : a story of suffrage in New Zealand.
"New Zealand suffragist Eliza Wallis was a first-wave feminist who actively sought the Vote for Women. She was a founding member of the National Council of Women in 1896. Her story is told by her fourth great niece in this bilingual children's picture book, a Suffrage 125 project." (Catalogue)


Rebel Voices.
"A beautifully illustrated celebration of the brave campaigners who fought for women's right to vote. Tracing its history from New Zealand at the end of the 19th century, follow this empowering movement as it spread from Oceania to Europe and the Americas, then Africa and Asia up to the present day. Meet the women who rioted, rallied and refused to give up." (Catalogue)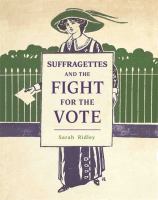 Suffragettes and the fight for the vote.
"This book takes up the story in the mid 19th century, when the first petition was presented to Parliament, and traces the fight for the vote through the work of suffrage organisations and the suffragettes. From peaceful demonstrations to violent campaigns and prison hunger strikes, the story is brought to life through fascinating historical photos and artefacts" (Catalogue)


Be counted! : the diary of Amy Phelps, Dunedin, 1893.
"Thirteen year old Amy goes to live with her aunt and uncle in Dunedin to continue her education. At Otago Girls' High she pursues her dream of becoming an artist like her hero, Frances Hodgkins. Meanwhile, all Aunt Delia can talk about is the campaign to get women the vote. But Amy soon finds some girls who need more urgent help. Her efforts to find her wayward friend Mary lead her to discover a dark side lurking behind Dunedin's stately buildings. Includes historical photographs. Suggested level: intermediate, junior secondary." (Catalogue)


Winning the vote for women.
"Imagine you were there campaigning for women's right to vote. […] Meet the women, and the men, from every continent who fought both for and against the suffrage movement, and those that are continuing the fight today. From New Zealand in 1894 to Saudi Arabia in 2014, readers will discover the global petitions, the campaigns, the peaceful protests and marches, as well as the extreme measures taken by suffragists and suffragettes in their determination to change history." (Adapted from Catalogue)
The book of heroines : tales of history's gutsiest gals.
"Everybody needs a role model! Discover true stories of superstars, war heroes, world leaders, gusty gals, and everyday women who changed the world. From Sacagawea to Mother Teresa, Annie Oakley to Malala Yousafzai, these famous women hiked up their pants and petticoats and charged full-speed ahead to prove girls are just as tough as boys…maybe even tougher. Complete with amazing images and a fun design, this is the book that every kid with a goal, hope, or dream will want to own" (Catalogue)


Girls who rocked the world : heroines from Joan of Arc to Mother Teresa.
"Forty-six biographical accounts of strong, independent female role models, all of whom were younger than twenty years of age when they changed the history of the world through amazing accomplishments. Suggested level: intermediate, secondary." (Catalogue)


Emmeline Pankhurst.
Part of the bestselling Little People, BIG DREAMS series, Emmeline Pankhurst  tells the inspiring story of this brave activist who fought for women to achieve their right to vote. (Catalogue).