Kia ora!  Thursday 11 of February is the International Day of Women and Girls in Science and we love science!  From chemistry to astronomy, biology to geology, and beyond, there is something in science for everyone and on this day we celebrate the amazing roles women have played in science and encourage girls to be active in science.
If you'd like to read about famous women scientists try some of these titles:
Women in science : 50 fearless pioneers who changed the world / Ignotofsky, Rachel
This book highlights the contributions of fifty notable women to the fields of science, technology, engineering, and mathematics (STEM) from the ancient to the modern world.  Read about scientists like Jane Goodall, Marie Curie, Hypatia, Barbara McClintock and many others. Women in Science celebrates the achievements of the intrepid women who have paved the way for the next generation of female engineers, biologists, mathematicians, doctors, astronauts, physicists, and more.

Ada Lovelace / Sánchez Vegara, Ma Isabel
As a child, Ada had a big imagination and a talent for mathematics. She grew up in a noble household in England, where she dedicated herself to studying. Her work with the famous inventor, Charles Babbage, on a very early kind of computer made her the world's first computer programmer.

Jane Goodall / Romero, Libby
"Jane Goodall was a pioneer of primatology through her groundbreaking work with chimpanzees in Africa. When she embarked on her career, women were discouraged from conducting scientific research, especially when that work meant living side by side with wild animals. A self-taught scientist, Jane bravely ventured out into the bush of Tanzania to learn about the secret world of chimpanzees. Discover how, through perseverance and perceptive observation, she gained access to these elusive creatures and discovered that they are not so different from us." (Catalogue)

Maria Montessori / Muñoz, Isabel
"Maria Montessori developed a brand-new approach to education, building on the way children naturally learn. Now, her methods, which won her three Nobel Peace Prize nominations, are practiced worldwide. This fascinating biography shows how Maria defied gender norms by earning a degree in physics and math, became one of Italy's first women physicians, and revolutionized educational theory–experimenting and refining to discover what worked best." (Catalogue)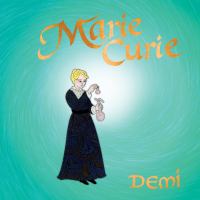 Marie Curie / Demi
"Read about Marie Curie, the revolutionary scientist and winner of two Nobel Prizes who discovered two elements: radium and polonium." (Catalogue)

Reaching for the Moon : the autobiography of NASA mathematician Katherine Johnson / Johnson, Katherine G
"As a young girl, Katherine Johnson showed an exceptional aptitude for math. In school she quickly skipped ahead several grades and was soon studying complex equations with the support of a professor who saw great promise in her. But ability and opportunity did not always go hand in hand. As an African American and a girl growing up in an era of brutal racism and sexism, Katherine faced daily challenges. Still, she lived her life with her father's words in mind: "You are no better than anyone else, and nobody else is better than you." In the early 1950s, Katherine was thrilled to join the organization that would become NASA. She worked on many of NASA's biggest projects including the Apollo 11 mission that landed the first men on the moon." (Catalogue)

Forgotten women. The scientists / Tsjeng, Zing
"Forgotten Women is a new series of books that uncover the lost herstories of influential women who have refused over hundreds of years to accept the hand they've been dealt and, as a result, have formed, shaped and changed the course of our futures. From leaders and scientists to artists and writers, the fascinating stories of these women that time forgot are now celebrated, putting their achievements firmly back on the map. The Scientists celebrates 48* unsung scientific heroines whose hugely important, yet broadly unacknowledged or incorrectly attributed, discoveries have transformed our understanding of the scientific world. From Mary Anning, the amateur paleontologist whose fossil findings changed scientific thinking about prehistoric life and the Earth's history to Emmy Noether dubbed "The Mighty Mathematician You've Never Heard Of" and whose theorem is still critical to modern physics – these are the stories of some truly remarkable women." (Publisher summary)

And if you're ready to dabble in a little science yourself, try these out:
Programmers / Gibson, Karen Bush
"Do you like solving problems? Are you dying to automate even the simplest of processes? Do you always need to know how things work? Programming is the process of breaking down complex tasks into a set of instructions. This is what programmers do when they write code that will make your computer do what you tell it to! In Gutsy Girls Go for Science: Programmers with STEM Projects for Kids, readers ages 8 to 11 meet five female programmers who made revolutionary discoveries and inventions that changed the way people used technology!" (Adapted from Catalogue)

First science encyclopedia
Filled with fun science facts about many different subjects, from the human body and animals to facts about space and matter. (Adapted from Catalogue)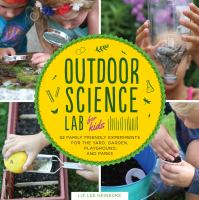 Outdoor science lab for kids : 52 family-friendly experiments for the yard, garden, playground, and park / Heinecke, Liz Lee

From playground physics to backyard bugs, this book makes it fun and easy to dig into the natural sciences and learn more about the world around you. Have fun learning about:
the laws of physics by constructing and using a marshmallow catapult.
centripetal forces by swinging a sock filled with gelatin snack and marbles.
earthworms by using ground mustard seed dissolved in water to make them wriggle to the surface.
germination by sprouting a sapling from a pinecone or tree seed.
surface tension and capillary action by growing baking soda stalagmites and stalactites.

The curious kid's science book : 100+ creative hands-on activities for ages 4-8 / Citro, Asia
What happens if you water plants with juice? Where can you find bacteria in your house? Is slug slime as strong as a glue stick?
In The Curious Kid's Science Book learn to design your own science investigations to determine the answers! Learn to ask their own scientific questions, discover value in failed experiments, and — most importantly — have a blast with science. The 100+ hands-on activities in the book use household items to playfully teach important science, technology, engineering, and math skills. (Catalogue)

Kitchen science lab for kids : 52 family friendly experiments from around the house / Heinecke, Liz Lee
Conduct physics, chemistry, and biology experiments with tools and ingredients found in any kitchen These 52 labs created by mom and scientist Liz Lee Heinecke introduce fundamental scientific principles in a fun and accessible format.
Have fun:
exploring physics marshmallow slingshots serve as a lesson on the transformation of energy and an egg-throwing experiment demonstrates the law of motion.
learning about microbiology by growing your own microbe zoo on a homemade petri plate.
learning about rocket science by making and launching bottle rockets, using water and a bike pump.

These are just a few titles you can borrow from the library to guide you in exploring science.  Remember, have fun, be curious and ask lots of questions!