Our first Olympians vs. Marvel/DC Superheroes team battle is upon us. The kings, queens, and prodigal daughters of the Greek gods and superhero comic pantheons come face to face over the pages of their books — who will emerge victorious? That is for you to decide… once you read the books, of course!
1) Zeus vs Thor
The Greek God of Thunder does battle with the Norse God of Thunder in this epic meeting of the gods of the sky!
Starting with the first book in the world of the Olympians, in Zeus: King of the Gods readers meet the ruler of the Olympian Pantheon, and are told his story from his boyhood to his ascendance to supreme power.
Meanwhile in the Norse-inspired world of Marvel comics, join Thor as he battles with frost giants, goes fishing for sea serpents, and tries to figure out who has stolen his hammer. With the trickster god Loki tagging along on his quests, Thor will not only have to squeeze into a wedding dress but also test his strength against a giant's cat that's so big he can't reach its tummy, even on his tip toes.
Pro-tip: This book is part of the Bloomsbury High Low series, which encourages and support reading practice by providing gripping, age-appropriate and illustrated stories for struggling and reluctant readers, those with dyslexia, or those with English as an additional language.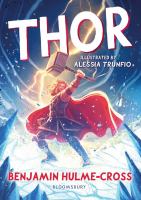 You might also like: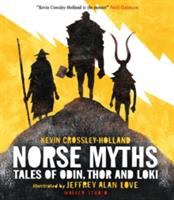 Norse myths : tales of Odin, Thor and Loki.
"The gods of the Vikings come to life as never before in this extraordinary illustrated anthology by Carnegie Medal-winning author Kevin Crossley-Holland and artist Jeffrey Alan Love. These dramatic, enthralling and atmospheric tales are based on the Scandinavian myth cycle one of the greatest and most culturally significant stories in the world – and tell of Odin with his one eye, Thor with his mighty hammer and Loki, the red-haired, shape-shifting trickster. In this stunning collection of myths, the strange world of ancient magic, giants, dwarfs and monsters is unforgettably imagined." (Catalogue)

Treasury of Norse mythology : stories of intrigue, trickery, love, and revenge.
"Classic stories and dazzling illustrations of gods, goddesses, heroes and monsters come to life in a stunning tableau of Norse myths, including those of the thunder god Thor, the one-eyed god and Allfather Odin, and the trickster god Loki. The lyrical storytelling of award-winning author Donna Jo Napoli dramatizes the timeless tales of ancient Scandinavia. This book is the third in the trilogy that includes the popular National Geographic Treasury of Greek Mythology and National Geographic Treasury of Egyptian Mythology." (Catalogue)

Also search our catalogue for more books about Thor and Zeus.

2) Athena vs Wonder Woman
Talk about taking sibling rivalry to to extreme! Half sisters, Greek Goddess, Athena and Wonder Woman (Amazon, demi-god and superhero) do battle over who can best fight battles using wisdom over strength. Who do you think will win?
Read the story of Athena, goddess of wisdom and one of the most complex Olympians. This graphic novel retells her many interwoven tales: how she killed Pallas, fought the Gigantes, aided Perseus, and cursed Arachne. Wonder Woman: The Ultimate Guide to the Amazon Warrior showcases stunning Wonder Woman aka Diana Prince comic artwork and examines iconic characters as well as key issues and story lines. Packed with information on allies, enemies, locations, and much more, this book is a must-have book for fans of DC Comics, Wonder Woman comics and characters, and the Justice League of America.
You may also enjoy Diana and the island of no return. It tells the story of a very young Diana who hopes to persuade her mother, Queen Hippolyta, to let her learn how to fight when the world's most powerful women gather on Themyscira for a festival to celebrate their different cultures. But at the start of the festivities, an unexpected and forbidden visitor — a boy — brings news of an untold danger that threatens Themyscira and all of its sacred neighboring lands. (Descriptions adapted from Catalogue).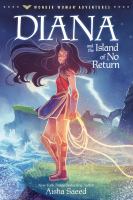 3) Hera vs Captain Marvel
Volume 3 of Olympians, Hera: The Goddess and Her Glory, introduces readers to the Queen of the Gods and Goddesses in the Pantheon. This volume tells the tales of the many heroes who sought and won Hera's patronage — in particular, the famous Hercules. Hera is majestic, proud, and at times severe and vindictive — but always she wields the unquestionable power of a queen of the heavens. So how will she fare in battle against the (unofficial) queen of Marvel heroes and heroines, Captain Marvel?
Join Carol Danvers in Captain Marvel : cosmic cat-tastrophe. Carol's quiet night with BFF Jessica Drew (a.k.a. Spider-Woman) takes a catastrophic turn when Manhattan's bodegas are suddenly overrun by a host of angry felines! And not just any felines – Flerkens, the most terrifying, pocket-dimension-holding, tentacle-devouring kitty-look-alikes in the entire universe! Carol's paw-sitive she can handle the situation on her own, but questions remain: can she overcome the fur-midible foes before it's too late? How well does the "Find My Phone" function actually work? And will there be more cat puns?! (Description from Catalogue)
---
Zeus vs. Thor; Athena vs. Wonder Woman; Hera vs. Captain Marvel — which team won? Stay tuned for our next Olympians vs. DC?Marvel Superheroes team battle, where we'll see more of these powerful beings in exciting literary action!