The Māori language is known as te reo Māori or simply te reo (the language). Te reo Māori is an official language in New Zealand, along with English and New Zealand Sign Language. It was made official in 1987.
Have you thought about reading and speaking more te reo Māori in your day, or maybe you'd like to read to your younger brothers and sisters in te reo? Wellington City Libraries have got loads of first reader resources, translated picture books and online resources to get you started. 
Have you tried…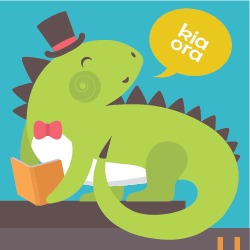 These 30 minute immersive storytimes in te reo Māori are offered on a weekly basis at a number of our branch libraries. They are free to attend and you don't need to have any former understanding of  te reo.
---
Wellington City Libraries have lots to choose from. Here's just a small taster:
Kuwi & friends Māori picture dictionary / Merewether, Katherine Q.
"From the #1 bestselling and award-winning author and illustrator of the Kuwi the Kiwi series, Kat Merewether, comes a large scale, stunningly illustrated visual dictionary. Full of over 1000 basic words in te reo Maori and English, perfect for every New Zealander." (Catalogue)