We're at the end of Term 2 and the school holidays are almost here. In fact, they're starting this Saturday. But that's not the only thing happening this Saturday!
This Saturday the 10th of July is National Teddy Bear Picnic day, so we thought we'd welcome you into the school holidays with some activity ideas for both you and your teddy.
Idea number one: Take your teddy bear on a picnic!
Set up a picnic blanket in your garden, or go on down to the Wellington Botanic Gardens and find a spot to sit down and eat with your teddy. If the weather is miserable we suggest moving your picnic inside. For an extra-special indoor picnic we recommend building a blanket fort to eat it in. Everyone knows teddy bears love blanket forts!
Idea number two: Come to our Teddy Bear Storytime at Te Awe!
In honour of this very special day we'll be having an extra special storytime at Te Awe Library. Bring your teddy bear along and settle in for a fun session of stories, songs, and bear themed crafts. We hope to see you there at 2pm!
Idea number three: Make something with your teddy bear!
If you're going out on a picnic you'll need to have something to eat. If you're a beginner baker then Time for Tea is a good cookbook to start you off. Or if you and your teddy have been reading a book by Enid Blyton together and you like the sound of the tasty treats she describes in her books then head towards Jolly Good Food for some literary and delicious recipes. We also have a list of great websites with recipes, tips, and tricks over on our Fun Stuff page.
It's not just food you can make! If you feel like putting together some decorations for your picnic, perhaps you might like to have some Fun with Paper? Or if you have some yarn lying around you might want to check out My First Pompom Book for some exciting ideas. There's also this blog post on other craft books available through our elibrary. Let your creativity run wild!
Idea number four: Read a bear-themed book!
There are a lot of books out there perfect for you and your teddy bear to read together, and we've picked out some of our favourites: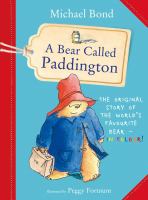 A bear called Paddington / Bond, Michael
"Mr. and Mrs. Brown first met Paddington, a most endearing bear from Darkest Peru on a railway platform in London. A sign hanging around his neck said, "Please look after this bear. Thank you" So that is just what they did. From the very first night when he attempted his first bath and ended up nearly flooding the house, Paddington was seldom far from imminent disaster. Jonathan and Judy were delighted with this havoc and even Mr. and Mrs. Brown had to admit that life seemed to be more filled with adventure when there was a bear in the house." (Catalogue)
Also available as an eBook

The best-loved bear / Noonan, Diana
"When all the children take their teddybears to school for a best-loved bear contest, Tim is embarrassed because his teddy is so worn out. Suggested level: junior." (Catalogue)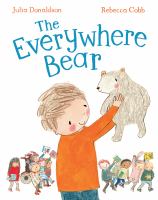 The everywhere bear / Donaldson, Julia
"The Everywhere Bear has a home on a shelf. But he doesn't spend very much time by himself, For each boy and girl in the class is a friend. And he goes home with one of them every weekend. The Everywhere Bear has a wonderful time with the children in Class One, but one day he gets more than he bargained for when he falls unnoticed from a backpack and embarks on his own big adventure! He's washed down a drain and whooshed out to sea, rescued by a fishing boat, loaded onto a lorry, carried off by a seagull …how will he ever make it back to Class One?" (Catalogue)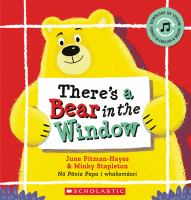 There's a bear in the window / Pitman-Hayes, June
"There's a bear in the window of the house across the street. It's tall and round, with great big feet! I wonder what I would see if I were that bear, and that bear were me? From singer-songwriter June Pitman-Hayes comes a story told in both English and Māori that celebrates the great teddy bear hunt, that entertained thousands of children during lockdown in 2020″–Publisher information." (Catalogue)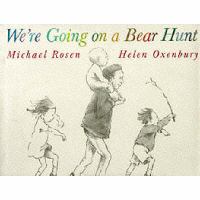 We're going on a bear hunt / Rosen, Michael
"Brave bear hunters go through grass, a river, mud, and other obstacles before the inevitable encounter with the bear forces a headlong retreat." (Catalogue)

Winnie-the-Pooh / Milne, A. A.
"Meet the world's favourite bear in the delightful collection, in which Pooh gets into a tight place, nearly catches a Woozle, and discovers the wrong sort of honey – amongst other things." (Catalogue)
Also available as an audiobook, an eAudiobook, and an eBook