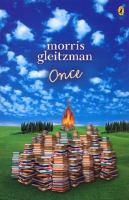 Once / Gleitzman, Morris
Every book you read in the 'Once' collection has different emotions – that's what I like about it.
I gave this book 5 stars because once you read Once, you want to keep reading on and on, luckily there is a collection!
I recommend 11-13 year-olds to read this collection because there is some violence because this book is based in the olden days when Hitler demanded to kill all the Jewish – which is extremely awful.
I won't give too much of the book away – so you can read it yourself!
Enjoy reading!
5 stars
Reviewed by Genevye from Johnsonville and , 9 years old