The Lunar New Year is celebrated by many countries and communities, particularly throughout East Asia. The Chinese New Year is an annual 15-day festival in China, and in Chinese communities around the world, that begins with the new moon.
This blog post will focus on the Chinese New Year of 2022, which falls on February 1st (Tuesday) with a festival lasting until February 15th, about 15 days in total.
The Chinese New Year animal sign this year is the Tiger.

Did you know? Tigers are the third of the Chinese zodiacs. According to legend, Tiger was confident that no one could compete with its speed and vigor for the celestial race that would decide the order of the zodiacs. However, when Tiger climbed out of the river, thinking it was first, it was informed that Rat placed first for its cunning and Ox placed second for its diligence. This left the king of the jungle having to settle for third place.
To learn more about the year of the tiger, click here and read: 
In the year of the tiger.
This Chinese folk tale traces the cycles of village life through the rich community celebration of the Lion Dance performed during the Spring Festival. Chiu Wing and his neighbours eagerly await the festival each year. (Catalogue).
For more information on what events are on around Wellington, check out the Chinese New Year website.
With New Zealand moving to Red Settings, Asian Events Trust will be implementing its COVID-19 back-up plan. For more information, click here.
How can you celebrate?
Create decorations to help join in the festive spirit.
Chow down on festive treats.
Watch the fireworks and traditional dancing.
Spending time with loved ones.
Giving red envelopes to kids.

Did you know: The colour red is regarded as the symbol of energy, happiness and good luck. Sending red envelopes is a way to send good wishes and luck (as well as money).

For more more craft ideas and recipes for festive treats, click on this link.

Where can I find information about Chinese New Year?
ManyAnswers has a page dedicated to websites, resources and ways to search for information about Chinese New Year.
NZ History has an amazing page dedicated to Chinese New Year.
Kids World Travel guide has an amazing page dedicated to Chinese New Year.
Also check out these amazing books!
Books about Chinese New Year:
Chinese New Year.
This book explores the festival of Chinese New Year and the story behind it and features eight simple origami projects for your own festive fun! The book shows how people around the world celebrate Chinese New Year and what the Chinese calendar and the animals of the zodiac are. Attractively designed, its simple text and wonderful full-colour photos make this an essential book for children celebrating or learning about the festival. (Catalogue).

Chinese New Year : a celebration for everyone.
Part of the nonfiction Orca Origins series, Chinese New Year is illustrated with color photographs throughout. Readers will learn how a simple gathering of family and friends grew into a weeklong, worldwide festival. (Catalogue).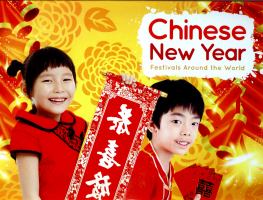 Chinese New Year.
Learn about the diverse and vibrant festivals that are celebrated around the world. This series encourages children to consider religious beliefs and cultural practices via easy to read text and informative, full color images. (Catalogue).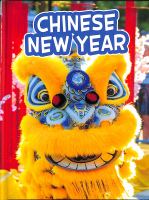 Chinese New Year.
"Chinese New Year is a time of hope and hapiness. During the festival, some people eat special foods and give gifts. Others watch parades and light fireworks. One thing all people do at Chinese New Year is have fun!" – Back cover.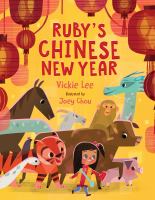 Ruby's Chinese New Year.
"As Ruby travels to her grandmother's house to bring her a gift for Chinese New Year, she is joined by all of the animals of the zodiac. Includes the legend of the Chinese horoscope and instructions for crafts." (Catalogue).

Home for Chinese New Year : a story told in English and Chinese.
"The Chinese New Year is a time for family reunions. This Chinese children's story tells a delightful trip with lots of cultural details along the way! Jia Jun's Dad worked out of town all year around. Now it's time for him to come home." ( Adapted from catalogue).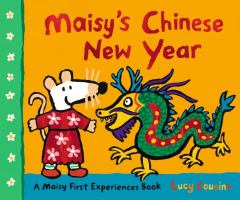 Maisy's Chinese New Year.
"Maisy's friend Tiger is coming home especially for Chinese New Year! Once the house is tidy and the decorations are up, Maisy changes into her lovely red dress and throws a big party for all her friends. They have a delicious feast, tell stories, see the fireworks together and, on new year's day, watch a spectacular parade – with an amazing dragon dance!" (Catalogue).

The runaway wok : a Chinese New Year tale.
On Chinese New Year's Eve, a poor man who works for the richest businessman in Beijing sends his son to market to trade their last few eggs for a bag of rice, but instead he brings home an empty–but magic–wok that changes their fortunes forever. Includes information about Chinese New Year and a recipe for fried rice.(Catalogue).


The little pigs and the sweet rice cakes : a story told in English and Chinese.
"Told in a bilingual Chinese and English edition, this is the story of three little pigs whose appetites initially get the better of them. In a shared dream, they met an old man who tells them to deliver sweet rice cakes to him a week before New Year's Eve. The next morning, they see some sweet rice cakes on their kitchen table. The three little pigs completely forget the old man and eat every bit of them."  Find out what happens next! –Adapted from publisher.

Peppa's Chinese New Year
"It is Chinese New Year and Madame Gazelle is teaching the children all about this very special celebration. Peppa and George and their friends make Chinese New Year cards, try tasty Chinese treats and even take part in their very own dragon parade!"(Catalogue).

Books about Tigers: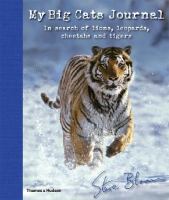 My big cats journal : in search of lions, leopards, cheetahs and tigers.
Follow Steve Bloom as he travels across continents taking photographs. Find out how big-cat predators survive in tough conditions; how they live, grow up, hunt and have babies. Bloom's account makes a compelling narrative in the same way that the voiceover on a natural-history television programme is both informative and pacy." (Catalogue).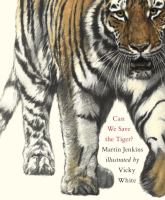 Can we save the tiger?
The tiger is just one of thousands of animals — including the ground iguana, the white-rumped vulture, and the partula snail — currently in danger of becoming extinct, joining the dodo, the marsupial wolf, the great auk, and countless others we will never see again. (Catalogue).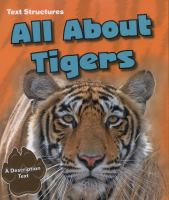 All about tigers : a description text.
This series uses the topic of big cats to present different text structures commonly used in informational writing. The interesting topics will engage independent readers and provide useful stimulus for teachers planning to teach how non-fiction texts are structured and presented. (Catalogue).