School holidays are here, and if you're missing our usual array of library programmes during the break at COVID Alert Level 2, why not get your 'crafty fingers' working with our CRAFTerHolidays2Go take-away packs available from some of our branch libraries?
Johnsonville and Tawa Libraries
These CRAFTerHolidays2Go packs are a follow-on from the ever-popular CRAFTerschool sessions which are offered every Monday (Tawa Library) and Wednesday (Johnsonville Library) after school during term time during Covid Alert Level 1.
These packs are a lucky dip of at least three separate activities that you can make, cook, sew, knit, fly, experiment with or puzzle over. Each sheet also features a QR code that can link you to the activity sheet's specific craft book on our catalogue, just in case you want to do more activities from that book.
There's also a SIT 'N' KNIT pom-pom making pack, and a How-to sheet for submitting your poems to Tūhono 2021, our annual poetry journal for children and teens.
So pop into the Johnsonville or Tawa Libraries over the holidays and pick up your packs!

Te Awe Library
The 'crafty' librarians at Te Awe Library are working on a variety of CRAFTerHolidays2Go packs too – these include a movable paper animals kit with card template, paper fasteners and googly eyes; and there is also a collage kit and an activity pack with wordfinds and crosswords. All available 2Go from Te Awe Library in the CBD on Brandon St.

Newtown Library
Also, come on down to Newtown Library and help yourself to a small bag of crafty goodies! If you're looking for ideas on what to create, check out the Newtown Library Facebook page, where some of our librarians are posting some easy craft ideas for you to follow along with. Share your creations with your local librarian and be in to win some cool school holiday prizes!
Wellington City Libraries online
Wellington City Libraries also have a huge array of interesting 'stuff' for you to watch and do on You Tube. So jump on now and have a browse HERE
Or you could check out the Kids' FUN STUFF on the Wellington City Libraries website for more games, craft ideas, printables and puzzles HERE
---
For further inspo, why not check out these virtual CRAFTerschool clips:
---
Wellington City Libraries have you covered for all things 'crafty' with lots of books and resources to help you on your way. Check out the NON-FICTION Dewey 745 – 750 sections and unleash your creativity:
Easy arts & crafts for kids : 50 fun projects to make, wear, and share / Perkins, Jennifer
"A collection of 50 craft projects that require little supervision and can be made with materials you can find at home." (Catalogue)

Maker camp : heritage crafts and skill-building projects for kids / Holton-Fessler, Delanie
"Classic and innovative hands-on projects for kids ages 3 and up designed to teach both heritage skills and how to think creatively. The 20+ projects in this book weave a story of human innovation and creativity, from the very beginnings of building shelters in the woods to tinkering with recycled materials. Heritage skills teach children how to be independent and capable makers; fibre and wood projects offer rewarding crafts that also teach planning, preparation, and safe risk taking; and tinkering activities connect the low-tech process of making and doing with innovation." (Adapted from Catalogue)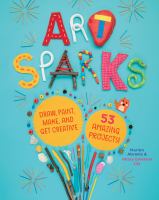 Art sparks : draw, paint, make, and get creative with 53 amazing projects! / Abrams, Marion
"This lively, colourful compendium of arts and crafts for a new generation of kids features projects specially designed to spark creativity, invite self-expression, and nurture self-confidence. From finger puppets to fabric flags to shrink art, each activity uses inexpensive materials and can be crafted in less than 90 minutes." (Catalogue)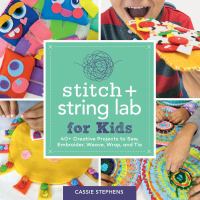 Stitch + string lab for kids : 40+ creative projects to sew, embroider, weave, wrap and tie / Stephens, Cassie
"With 40+ inventive projects, Stitch and string lab for kids contains everything from simple sewing, embroidery, and weaving to string art, needle felting, and yarn crafts!" (Catalogue)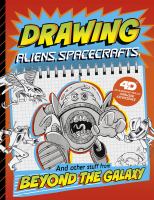 Drawing aliens, spacecraft, and other stuff beyond the galaxy : 4D an augmented reading drawing experience / Cella, Clara
"For budding artists who won't be confined to subjects here on Earth, Drawing Aliens, Spacecraft, and Other Stuff Beyond the Galaxy delivers high-interest projects with step-by-step instructions and special 4D support. Projects increase in difficulty from the first to the last to strengthen drawing skills and confidence. Download the Capstone 4D app for an augmented reality experience that extends learning beyond the printed page with artist video tutorials and other bonus content." (Catalogue)

Crafting fun for kids of all ages : pipe cleaners, paint & pom-poms galore, yarn & string & a whole lot more / Uliana, Kim
"In Crafting Fun for Kids of All Ages, blogger Kim Uliana offers 200 entertaining, versatile, and easy-to-assemble arts and crafts projects for any occasion. Make glittery snowflakes and thumbprint ornaments during the holidays, create straw hats and button sunflowers for summer vacation, or decorate personalized bookmarks for back-to-school." (Adapted from Catalogue)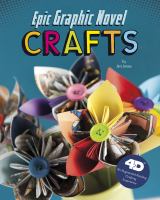 Epic graphic novel crafts / Jones, Jen
"Whether you flip left to right or right to left, this collection of crafts will call upon your favourite comics, manga, or graphic novels! Re-live adventures and far-out tales with these larger-than-life crafts." (Catalogue)