The 1st of October has finally arrived, and so we have officially opened submissions for Tūhono 2021, our annual poetry journal for children and teens! Visit wcl.govt.nz/tuhono to read the guidelines and submit your poem on this year's theme of "Whakaata | Reflection." We are so excited to read your entries this year — just make sure you get them in before the 14th of November! Note: Submissions for Tūhono 2021 have now closed. Thank you to everyone who submitted.
To help you get inspired, Stephanie, one of the editors of Tūhono, has put together this list of awesome poetry books for kids. Why not reserve one to pick up at your local library? They just might give you the help you need to get started on your masterpiece!
---
Tūhono. a journal of poetry by children and teens / 2020 :
"Tūhono : connection. This is the theme that binds together all 197 poems you are about to read, which were contributed by young Wellington writers aged 5-18 and collected by Wellington City Libraries throughout the month of November 2020. The year 2020 was challenging for many people. Some had to spend time apart from their friends and the people they love. Some had to find ways to live with uncertainty and the sense that everything might not be okay in the world. But taken together, these poems represent a constellation of thoughts, ideas, worries, anxieties, hopes, loves, and dreams about how we find ways to connect, even in the face of adversity." (Catalogue)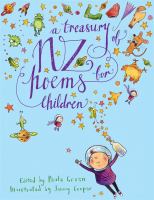 A treasury of NZ poems for children
This award-winning book includes poems by many of Aotearoa's best and most well-known children's authors, including Margaret Mahy, Hone Tuwhare and Denis Glover. A wonderful, comprehensive collection to delve into again and again.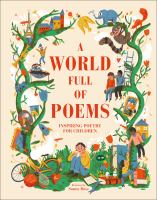 A world full of poems / Vardell, Sylvia M
Wow this book has just about everything! It covers all sorts of different poetry styles and themes (like sport, science and friendship) and mixes well known historical poems with more contemporary selections. And then there's the beautiful detailed illustrations, included along with activities and ideas to inspire you create your very own poetry.

Can I touch your hair? : poems of race, mistakes, and friendship / Latham, Irene
This thought-provoking book explores race from the perspective of two kids that start off as strangers and become friends. As well as showcasing wonderful poetry, this book also highlights how powerful poetry can be in helping us to give voice to and understand different life experiences.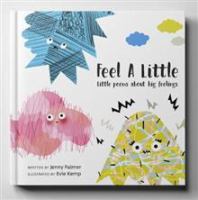 Feel a little : little poems about big feelings / Palmer, Jenny
This lovely book, written right here in Aotearoa, uses poetry as a way to understand and work through all sorts of big feelings. Poems are accompanied by cute different shaped and coloured characters that represent each feeling.

My first book of haiku poems : a picture, a poem and a dream : classic poems by Japanese haiku masters
Haiku is a type of short form poetry that follows a pre-determined pattern and are pretty fun to write! Haiku originated from Japan and this book introduces 20 classic poems that speak to the connection we have with nature. Poems are written in both Japanese and English and are accompanied by original paintings.

My village : rhymes from around the world
What places are your family from? This book has rhymes originating from 22 different countries around the world. Maybe you'll discover one or two that are special to you and your family? The rhymes are written both in the original language and English. An interesting and fun glimpse into different cultures and countries through poems and rhymes.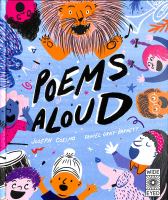 Poems aloud / Coelho, Joseph
A really fun and funny book of riddles, rhymes and tongue twisters! Includes 20 poems by the award-winning poet Joseph Coelho as well as tips and techniques to help you bring your own poems to life in front of an audience. This would be a great book to share with a friend 😊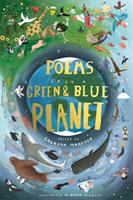 Poems from a green & blue planet
This stunning book celebrates our planet and the diversity of life that can be found on Earth. Explore mountaintop peaks, forests, deserts, deep blue oceans and discover all the animals and people that call this place home. You'll find lots of different styles of poetry to enjoy as well – from haikus to sonnets, from rap to love poems.

Poems out loud! : first poems to read and perform
The poems in this book demand to be spoken OUT LOUD! Featuring poetry from award winning poets as well as hip-hop artists and spoken-word performers, this exciting collection will have you laughing, thinking and joining in! Includes a CD so you can listen to the performances yourself – and maybe even get a few tips!
Also available as an eAudiobook.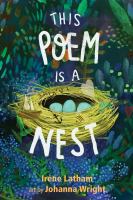 This poem is a nest / Latham, Irene
This beautiful book introduces children to the concept of found poetry. The author writes a 37-line poem, "Nest," then finds 160 smaller poems or "nestlings" within it. The nestlings cover a wide variety of topics – from emotions and wild animals to planets and natural wonders. A wonderfully creative book that also includes tips on how to write to your own found poem.
Also available as an eBook.

Tiger, tiger, burning bright!
Do you love animals by any chance? Well if you do, this is most definitely the poetry book for you! An animal poem for every day of the year – that is a mind boggling 366 poems! (366 to take into account leap years) Included are both classic and contemporary poems that have been brought together from around the world. Bonus – the illustrations in this book are SPECTACULAR!

Woke : a young poet's call to justice / Browne, Mahogany L.
A vibrant collection of poems tackling social justice issues to inspire and empower kids to create their own poetry and speak out on issues that are important to them.