The Māori language is known as te reo Māori or simply te reo (the language). Te reo Māori is an official language in New Zealand, along with English and New Zealand Sign Language. It was made official in 1987.
Have you thought about reading and speaking more te reo Māori in your day, or maybe you'd like to read to your younger brothers and sisters in te reo? Wellington City Libraries have got loads of first reader resources, translated picture books and online resources to get you started. 
Have you tried…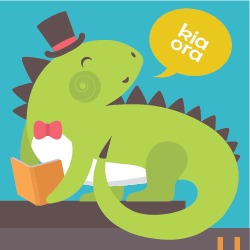 These 30 minute immersive storytimes in te reo Māori are offered on a weekly basis at a number of our branch libraries. They are free to attend and you don't need to have any former understanding of  te reo.
Lingogo is an app that lets you read and listen to Māori stories, and it's free to access through your library membership! It's great for both beginner and intermediate learners of te reo Māori, and every story has native speaker audio attached for those who prefer to listen.
Leading research shows that reading and listening for pleasure is hands-down the most efficient way to acquire a new language, so download the app to enjoy great stories and immerse yourself in te reo Māori!
Download the Lingogo app to your Apple or Android phone or tablet from the Google Play Store

(Lingogo)

 or Apple App Store

(Lingogo)

Choose 'Wellington Libraries' and enter your library barcode number to log in and access the Lingogo collection
Once logged in with your library barcode number, browse and explore beginner and intermediate-level stories in te reo Māori.
Tap sentences for the English translation and tap the headphones icon to hear the sentences read aloud in te reo Māori.
For an eAudiobook experience, read the story to the end and tap the 'Extra for experts' button to listen to the full story in te reo Māori.
---
Wellington City Libraries have lots to choose from. Here's just a small taster:
Kuwi & friends Māori picture dictionary / Merewether, Katherine Q.
"From the #1 bestselling and award-winning author and illustrator of the Kuwi the Kiwi series, Kat Merewether, comes a large scale, stunningly illustrated visual dictionary. Full of over 1000 basic words in te reo Maori and English, perfect for every New Zealander." (Catalogue)
Nana's veggie garden = Te māra kai a Kui / Munro, Marie
"This summer, Bella/Ngāpera, Jacob/Hākopa and Lucas help Nana/Kui grow, harvest and eat an amazing garden, and fill every day with heaps of fun, te reo Māori learning and bunches of awesome memories" (Catalogue)

Mahi = actions / Brown, Kitty
"Meet some of our favourite kiwi kararehe and find out what they like to do best! Learn to introduce yourself and your favourite activities too." (Catalogue)

Kararehe = Animals / Brown, Kitty
"Beautiful bilingual board book about animals in Te Reo Māori and English." (Catalogue)

The singing dolphin = Te aihe i waiata / Whaanga, Mere
"Every once in a while, a dolphin will come to the island beside The Pathway of the Whales. It will leap and play with people, bring gifts and sing songs. Award-winning author Mere Whaanga tells a story of land, sea and seasons; of living creatures and family ties, and the songs that connect us all." (Catalogue)

---
Challenge yourself!
Te Wiki o te Reo Māori (Māori Language Week) is held every year. This year's date is 13 – 19 Mahuru (September), 2021.
Challenge yourself to learn a new te reo word a day. You can do this easily through this website: Kupu o te Rā
Or maybe you could challenge yourself to learn 100 words in te reo: 100 Māori words
"Poipoia te kākano kia puāwai."
Nurture the seed and it will grow.