Chinese New Year 2021 will fall on Friday, February 12th, 2021. The Chinese New Year animal sign is the Ox. 
What is Chinese New Year?
Chinese New Year is the most important festival in the Chinese calendar. Chinese New Year, also called Lunar New Year, annual 15-day festival in China and Chinese communities around the world that begins with the new moon. 

When is Chinese New Year?
Chinese New Year occurs on Friday, February 12, 2021, in many of the countries that celebrate it. Wellington's Chinese New Year celebrations will take place on the weekend of 13-14 February.
For more information on what events are on, check out the Chinese New Year website and Facebook page.

How can you celebrate?
Create decorations to help join in the festive spirit.
Chow down on festive treats.
Watch the fireworks and traditional dancing.
Spending time with loved ones.
Giving red envelopes to kids.
Did you know: Chinese people love the colour red. The colour red is regarded as the symbol of energy, happiness and good luck. Sending red envelopes is a way to send good wishes and luck (as well as money).
For more more craft ideas and recipes for festive treats, click on this link.

Where can I find information about Chinese New Year?
ManyAnswers has a page dedicated to websites, resources and ways to search for information about Chinese New Year.
NZ History has an amazing page dedicated to Chinese New Year.
Kids World Travel guide has an amazing page dedicated to Chinese New Year.
Also check out these amazing books!

Chinese New Year.
This book explores the festival of Chinese New Year and the story behind it and features eight simple origami projects for your own festive fun! The book shows how people around the world celebrate Chinese New Year and what the Chinese calendar and the animals of the zodiac are. Attractively designed, its simple text and wonderful full-colour photos make this an essential book for children celebrating or learning about the festival. 

Chinese New Year : a celebration for everyone.
Part of the nonfiction Orca Origins series, Chinese New Year is illustrated with color photographs throughout. Readers will learn how a simple gathering of family and friends grew into a weeklong, worldwide festival.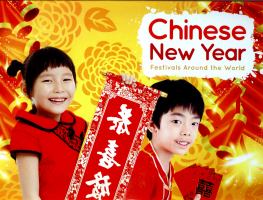 Chinese New Year.
Learn about the diverse and vibrant festivals that are celebrated around the world. This series encourages children to consider religious beliefs and cultural practices via easy to read text and informative, full color images.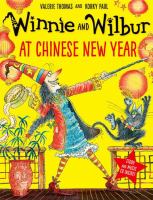 Winnie and Wilbur at Chinese New Year.
Winnie and Wilbur are having a Chinese New Year party! Winnie's magic brings sparkle and spectacle to the occasion but when Wilbur goes missing just before it's time for the fireworks, where can he be? Includes an audio CD with an entertaining narrated version of the story including music and sound effects.

The runaway wok : a Chinese New Year tale.
On Chinese New Year's Eve, a poor man who works for the richest businessman in Beijing sends his son to market to trade their last few eggs for a bag of rice, but instead he brings home an empty–but magic–wok that changes their fortunes forever. Includes information about Chinese New Year and a recipe for fried rice.

The little pigs and the sweet rice cakes : a story told in English and Chinese.
"Told in a bilingual Chinese and English edition, this is the story of three little pigs whose appetites initially get the better of them. In a shared dream, they met an old man who tells them to deliver sweet rice cakes to him a week before New Year's Eve. The next morning, they see some sweet rice cakes on their kitchen table. The three little pigs completely forget the old man and eat every bit of them. When their mother comes home, she is very angry to discover all the cakes gone. Seeing their mother unhappy, the three little pigs help her make more delicious sweet rice cakes. When there is only a week left before Chinese New Year's Eve, their mother lays the sweet rice cakes in front of the portrait of the Kitchen God and prays for the peace for the family. On seeing the portrait, the three little pigs realize that the old man in their dreams is actually the Kitchen God!"–Provided by publisher