Bula! Hello!
Recently is was Macawa ni Vosa Vakaviti- Fijian Language Week. So we thought we would highlight some cool facts and books about the beautiful Fijian Language! Wellington City Libraries would love to journey with you as you learn more about the language, the culture and the people of Fiji.
Here are some handy things to say:
Au tiko ena vale ni vola.
I am at the library.
Au wili vola tiko
I am reading a book
Ko kila e dua na vosa vakaviti?
Do you know any Fijian language?
Sega
'No.
If you would like to learn some Fijian, you could choose to borrow these books from ena vale (the library):
Fijian for kids by Jahri Jah Jah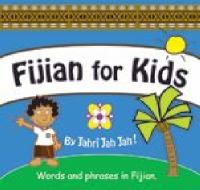 Matanivola vaka viti = Fijian alphabets by T. Vunidilo
Would you like to find out more about Fiji – the people and the place? Try these books:
Go Fiji, Go! by David Riley
The inspiring story behind Fiji's first Olympic gold medal … and the incredible joy it brought to the nation. Wananavu (awesome) for ages 7 – 10.
Billy's Weekend by Jill MacGregor
Billy, who lives on the island of Ovalau in Fiji, describes some of the things he does on the weekend. Includes some Fijian words, and a glossary. Wananavu (awesome) for ages 3 – 6.
Vinaka vakalevu! – Thankyou very much!