Bula!
Fiji is a southwestern Pacific island nation located about 800 kilometres southwest of Samoa and 1,800 kilometres North of New Zealand. It is an archipelago (a group of islands) made up of several hundred islands.  There are around 20,000 Fijian people living in Aotearoa!
Macawa ni Vosa Vakaviti – Fijian Language Week is Sunday 2 October – Saturday 8 October 2022
This is a chance to celebrate the Fijian language and culture in New Zealand and around the world!  This year the theme is:
Me vakabulabulataki, vakamareqeti, ka vakaqaqacotaki na vosa vakaviti. | Nurture, preserve and sustain the Fijian language.
Celebrate Fijian Language week with workshops at Newlands Community Centre!
Wellington Fijian Language class invite children of primary and intermediate age to celebrate Fijian language with a free workshop of language, games, food and art! Learn some simple Fijian phrases, play some traditional games, learn how to do some Fijian weaving. There will be a lunch at 1pm, you are welcome to bring a plate to contribute. Parents and carers welcome. Please contact the centre to register – ph 04 4773724 or email newlandscc@wcc.govt.nz
Click the image to find out about more events here in Te Upoko-o-te-ika-a-Māui Wellington Region!
Here are some simple phrases to get you started speaking Fijian:
Ni sa bula vinaka – Greetings/Hello
Ni sa moce – vei kemuni na gole – Goodbye – to those who are leaving
Ni sa moce – vei kemuni na tiko – Goodbye – to those who are staying
Kerekere – Please
Vinaka vakalevu  – Thank you
Special phrases to use in the library:
Au tiko ena vale ni vola
I am at the library
Au wili vola tiko
I am reading a book
You can learn some more simple Fijian phrases on the Ministry of Pacific Peoples Website here
Events for Fijian Language Week:
There are all kinds of fun events happening across Aotearoa in celebration of Macawa ni Vosa Vakaviti including games, weaving, print-making, language classes, dancing and food.
Check out all the details on the Ministry for Pacific Peoples Website
Awesome Fijian books in our collection:
You can also visit your local ena vale (library) and borrow some amazing books to learn more about Fijian culture and to practice the language.  If you don't have a library card – you can sign up for free!
My Ocean Home Fiji / Gang, Tui's
"My Ocean Home Fiji is a beautiful children¿s book that tells the story of Tui and his friends, who explore the magical world under the sea. This book will fast become your child¿s favorite story, beautifully told with stunning artwork, incorporating the Fijian names for each ocean friend they meet on their adventure. Starfish, Manta Rays, Turtles, Octopus and Jellyfish are just a few of the colourful characters your child will get to know. From start to finish, My Ocean Home Fiji shows the wonder of the Ocean and the animals who live there, ending on a lovely note of protecting the ocean home for the next visit." (Catalogue)
Fiji / Sorovi-Vunidilo, Tarisi
"The islands of Fiji are full of rich history and culture. Describes the history, customs, geography, and culture of the people who live there, and provides authentic vocabulary words for an immersive experience. Includes a glossary, index, and bibliography for further reading."– Provided by publisher." (Catalogue)
Molau and Tanovo / Wilton, Briar
"Molau and Tanovo is a tale from Fiji about how two fighting giants caused the creation of the islands around Kadavu. Bula Fiji is a short factual introduction to the country and culture." (Catalogue)
My Kindy : a story from the island of Fiji / MacGregor, Jill
Caqi lives in Fiji. He is five and goes to kindy in the little blue house by the beach. His teacher says their beach is the biggest sandpit in the world.(Blurb)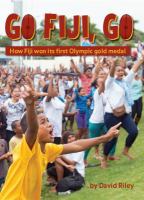 Go Fiji, go / Riley, David
"Inspiring story behind Fiji's first Olympic gold medal … and the incredible joy it brought to the nation"–Back cover." (Catalogue)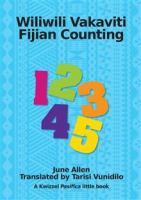 Wiliwili Vakaviti = Fijian counting / Allen, June
"Learn to count up to five in Fijian and English." (Catalogue)
Vinaka vakalevu! – Thank you very much!