Let's talk about one of the most Kiwi summer activities Wellington has to offer – going to the beach!
There's so much to do at the beach. You can build sandcastles, go swimming and jump over waves, draw pictures in the sand and follow the footprints in the sand left by birds. You can collect shells, have a picnic, search for sea life in a rockpool, and there's so much more!
When you're planning your beach trip, it's a good idea to be prepared with lots of sunscreen, buckets and boogie boards, and also some thoughts towards safety. If you're not already familiar with the Water Safety Code, we recommend having a read so you know how best to keep yourself and your family safe. If you're visiting a beach for the first time, Find a Beach is a great website created by Surf Life Saving New Zealand that has profiles for pretty much every beach around Aotearoa. On this site you can search up the beach you're planning to visit, check out the forecast, find out if there will be lifeguards, and learn about any hazards to watch out for. They've got a good safety information page too!
There are so many beaches around Wellington for you to explore, so lets take a look at some of them:
Balaena Bay is the first of the smaller beaches along Evans Bay Parade.
There's a carpark at one end, and changing rooms at the other. The water here is quite shallow and calm, so is good for just splashing about if you're not yet ready for swimming.

Freyberg Beach and Oriental Bay are so close together that they're sharing an entry in this list.
These two beaches are right next to each other, and very close to the central city.
There are changing rooms and wheelchair access at Freyberg, as well as parking and a playground! There's also a beach wheelchair at Freyberg pool that's available to borrow. There are also a few cafes, ice cream stores, and food trucks around on Oriental Parade in case you're after a post-swim snack.
If you're worried about safety, then relax! Oriental Bay is patrolled by lifeguards over the summer.

Hataitai Beach, like Balaena Bay, is along Evans Bay Parade. The beach here is quite small and the water is very calm but it gets deep more quickly than at Balaena Bay so if you're not a very confident swimmer make sure to stay close to the shore. Cog Park is right next door, so if you are a confident swimmer and the tide is in there's a small wharf you can jump off!
Cog Park has plenty of picnicking spots, and at the other end of Hataitai Beach are the changing rooms with steps that go straight down into the sea.

Island Bay is easy to get to on the bus – just hop on a number 1 and you're pretty much there. If you're keen for a swim or a walk along the beach, Island Bay is a good option for you. Just remember that it looks out on the open sea so the water will be a bit cooler than any of the beaches inside the Wellington harbour.
There are changing rooms and picnic tables at the park across the road, and also a playground!

Lyall Bay is a wonderfully long stretch of beach to walk along – and the eastern end of the beach allows off leash dogs if you have a furry friend who would like to join you!
You can use the changing rooms in the Lyall Bay Surf Life Saving Club, and they also have beach wheelchairs available to borrow. Lyall Bay is a patrolled beach over the summer so let the lifeguards keep you safe!

Princess Bay is another beach along the south coast. It's further east than Island Bay and quite a bit smaller. Princess Bay is good for a sheltered swim and if you're interested in sea life you can explore the rockpools out along the point. If it's a clear day you might even be able to see the South Island!
Leave your car in the carpark at the eastern end of the bay by the changing rooms.

Out along the Miramar Peninsula is Scorching Bay. It's got golden sand, a nice grassy area, changing rooms and outdoor showers, and the Scorch-O-Rama café across the road.
Scorching Bay is a patrolled beach, so make sure you swim between the flags.

Worser Bay is another beach along the Miramar Peninsula, out on the eastern side.
You'll be well taken care of with changing rooms, a picnic area, and across the road from the beach is the famous Worser Bay swing. Be sure to check it out!

---
If you can't get out to the beach but you can make it to the library, or would like to know more about the creatures you might find in a rockpool, here are some beach-themed New Zealand reads to get you inspired:
At the beach : explore & discover the New Zealand seashore / Candler, Gillian
"At the Beach is a delightful introduction to the natural history of the New Zealand seashore. The stage is set with beautiful, factually correct illustrations (including detailed cross-sections) of three familiar habitats – the sandy beach, rockpools and mudflats. Many of the plants and animals that play a part in these rich ecosystems are shown in situ, and readers are directed from there to pages dedicated to detailed coverage of: crabs; sea stars, kina and sea anemones; shellfish; seaweeds, sponges and sandhoppers; fish, jellyfish & shrimps; birds. Aimed at children 5-8 years old, but with appeal for anyone curious about New Zealand's natural environment, At the Beach is a must for the home, bach, classroom and library. Comes with a removable, waterproof quick-reference guide to common seashore animals." (Catalogue)

Freddy Bear and the beach / Cowley, Joy
"Freddy Bear is playing at the beach with Dad – running, playing, chasing seagulls. He falls over running, but Dad picks him up and takes him home." (Catalogue)

The life-size guide to the New Zealand beach : featuring the odd things that get washed up on the sand / Crowe, Andrew
"Pictorial guide to identifying various items and curious objects that are commonly found on New Zealand beaches. Suggested level: primary, intermediate, secondary." (Catalogue)

Dashing dog / Mahy, Margaret
"When a dashing dog gets into messy mischief, his family is exasperated. Then baby Betty falls off the jetty, and it's up to the brave dashing dog to save the day." (Catalogue)

A summery Saturday morning / Mahy, Margaret
"The children go down to the sea on a summery, Saturday morning, down the wiggly track, scattering shells and leaping logs. But first their dogs chase a cat, then they chase a boy on a rattly bike, then wild geese hiss and chase the children and the dogs and the walk is not so peacful after all. Suggested level: junior, primary." (Catalogue)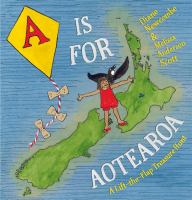 A is for Aotearoa : a lift-the-flap New Zealand treasure hunt / Newcombe, Diane
"Our story starts with a bottle containing a secret message, washed up on a beach. The bottle begins a trail of clues, and children lift the flap to reveal the clue that takes them on an alphabet journey all over New Zealand. Included is a glossary with interesting facts about each location"–Publisher information." (Catalogue)

Charlie Tangaroa and the creature from the sea / Roxborogh, Tania Kelly
"On a beach clean-up, thirteen-year-old Charlie and his brother, Robbie, find a ponaturi, a mermaid, washed up on a beach. An ancient grudge between the Māori gods Tane and Tangaroa has flared up because a port being built in the bay is polluting the ocean and creatures are fleeing the sea. This has reignited anger between the gods, which breaks out in storms, earthquakes and huge seas. The ponaturi believes Charlie is the only one who can stop the destruction. So begins Charlie's journey to find a way to reunite the gods and discover why he is the one for the task"–Publisher information." (Catalogue)
Also available as an eBook

Splish, splash, safety : a book about water safety.
"Join The Wiggles as they practise water safety!" (Catalogue)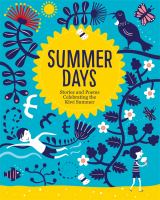 Summer days : stories and poems celebrating the Kiwi summer.
"A beautiful collection of children's stories and poems that celebrates the golden days of summer, by some of New Zealand's finest writers and illustrators. The great Kiwi summer conjures images of the beach, swimming, boating, fishing, families, friends adventures… This collection of seven stories and ten poems capture that quintessential summer feeling, and is perfect summertime reading to share with children. Dive in to find all sorts of treasures by well-known New Zealand writers and illustrators, including Margaret Mahy, Joy Cowley, Gavin Bishop, Pamela Allen, Gwenda Turner, Fiona Farrell, Elena de Roo, Melanie Drewery, Sandra Morris, Sue Wootton, Brian Turner, Jenny Cooper, Vasanti Unka and David Elliot. Target age 3-7 years"–Publisher information." (Catalogue)