Since the summer holidays are fast approaching, and our Summer Reading Adventure has already launched, now is the perfect time to highlight our children's audiobook collection.
Audiobooks are a great distraction for long car trips, and are also a good way for more reluctant readers to keep up their reading over the summer. And we have so many audiobooks for you to choose from, and so many ways to access them as well!
Audiobooks on CD
If you prefer to use a CD player to listen to your audiobooks, then head on down to one of our branches and keep an eye out for the Children's Audiobook section where you can browse the collection of available books-on-CD. You can also search and reserve audiobooks through our catalogue so the titles you're after are ready and waiting for your next library visit – and check out our Quick Searches page! Here you can get a quick list of hundreds of kids audiobooks to scroll through.
If you're into eAudiobooks, we have two different services you can use to listen. Both are free to use – you can use them in your browser or just download the app onto your phone, tablet, computer, whatever device you have, and sign in with your library card barcode number and your 4-digit pin.
Our eAudiobooks show up on our catalogue when you're searching, just like our regular audiobooks. All you have to do is check which kind of eAudiobook it is, Borrowbox or Overdrive!
---
Borrowbox has several thousand different titles, and a big focus on eAudiobooks. They're an Australian company so are a bit more likely to have titles from closer to home.
With Borrowbox you can search for specific titles, or filter by age and explore featured lists such as Chart Toppers or new books, and you can have 25 eAudiobooks and 25 eBooks out at a time!
---
Libby by Overdrive
Overdrive has got two apps you can use, Libby and Overdrive, but both have exactly the same books on them and you can use both or either, whichever you like best!
There are a lot of curated booklists available on Libby and Overdrive, such as the Stay At Home Audiobook Selection from earlier this year, Alternative Fairy Tales and Folklore, and even a dog themed booklist! Probably the most exciting of these lists though is the Unlimited Loans: Kids Audiobooks collection. With this list of 100 eAudiobooks you don't have to wait for the person before you to return them to the library – they're always available!
You can have 20 titles – eAudiobooks and eBooks – out a time through Libby and Overdrive.
---
So now you have all these different options for accessing audiobooks, but when are you going to listen to them, and what kind of book do you want? Do you want a nice long chapter book with an adventure in it to listen to on the long car trip to your grandparent's house? Or maybe you'd like a Christmas story to listen to as you decorate your tree? Or some shorter stories to help lull you off to sleep?
In case you're having a hard time deciding what to listen to, here are a few ideas to get you started:
The Quentin Blake collection / Blake, Quentin
"A collection of gorgeous stories from Quentin Blake, one of the best-known and most highly regarded illustrators of our time, internationally celebrated for his partnership with Roald Dahl." (Catalogue)
Also available as an eAudiobook

Christmas stories / Blyton, Enid
"In this collection there is mystery and magic, laughter and mischief, the joy of shared times and plenty of delicious food, many of the ingredients that have been delighting Enid Blyton's fans for more than seventy years." (Catalogue)
Also available as an eAudiobook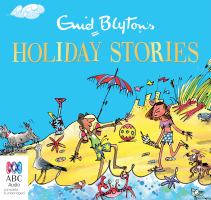 Holiday stories / Blyton, Enid
"A wonderful selection of stories to read and share. From sandcastles at the beach to enchanted ice-creams, step into the summer with these delightful characters. Adventure, fun and magic can all be found on holiday with Enid Blyton, who has been delighting readers for more than seventy years." (Catalogue)
Also available as an eAudiobook

Artemis Fowl / Colfer, Eoin
"When a twelve-year-old evil genius tries to restore his family fortune by capturing a fairy and demanding a ransom in gold, the fairies fight back with magic, technology, and a particularly nasty troll." (Catalogue)
Also available as an eAudiobook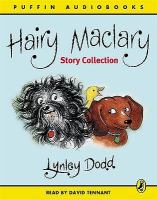 Hairy Maclary story collection / Dodd, Lynley
"Collection of amusing stories about the adventures of the dog Hairy Maclary and his friends who just want to have fun, but trouble is never far away! Suggested level: junior, primary." (Catalogue)

The Julia Donaldson collection / Donaldson, Julia
"Follow the Swallow: When Apollo the swallow flies to Africa, Chack the blackbird wants to send him a message. But Africa is far away. Can a jumpy dolphin, a grumpy camel, a greedy crocodile or a playful monkey help to deliver the message? […]" (Catalogue)
Also available as an eAudiobook

Good night stories for rebel girls : [100 tales of extraordinary women] / Favilli, Elena
"To the rebel girls of the world: dream bigger, aim higher, fight harder, and, when in doubt, remember you are right"–Introduction. "Good Night Stories for Rebel Girls reinvents fairy tales, inspiring girls with the stories of 100 heroic women […]" (Catalogue)
Also available as an eAudiobook

The pirates' mixed-up voyage / Mahy, Margaret
"Captain Lionel Wafer and his fellow-pirates, Toad, Brace-and-Bit and Winkle, are no ordinary ruffians. Clinging to the belief that life should be simple, free and unplanned they set off in a converted teashop of a ship[…] to sail backwards and forwards over the bounding blue […]" (Adapted from Catalogue)
Also available as an eAudiobook

The lightning thief / Riordan, Rick
"Twelve-year-old Percy Jackson learns he is a demigod, the son of a mortal woman and Poseidon, god of the sea. His mother sends him to a summer camp for demigods where he and his new friends set out on a quest to prevent a war between the gods. Suggested level: intermediate, junior secondary." (Catalogue)
Also available as an eAudiobook

Nevermoor : the trials of Morrigan Crow / Townsend, Jessica
"A cursed child destined to die on her eleventh birthday is rescued and whisked away to a secret realm called Nevermoor and given the chance to compete for a place in a prestigious organization called the Wundrous Society." (Catalogue)
Also available as an eAudiobook