Manaaki Whenua | Landcare Research is running its annual Garden Bird Survey right now (from 26 June – 4 July). To participate you need to spend 60 minutes  in your garden, local park or reserve recording the birds you see at any one time between 26 June – 4 July.
To take part, go to gardenbirdsurvey.landcareresearch.co.nz. There are heaps of resources on this website including helpful pictures of the birds you are most likely to see, printable tally sheets, quizzes, competitions, and how to enter as a school group, if that's your jam!
Taking part is easy:
Select your garden, park, or school
Choose one day from 26th June to the 4th July
Look and listen for birds for ONE hour.
Record the HIGHEST number of a bird species observed at one time.
Submit your survey results below.
Your survey results will be analysed by the Landcare Research scientists. This will help them know and understand things like how our bird populations are changing over time, and keep an eye on any population trends (good and bad).
So do your part to help care for our wonderful birdlife! Did you know that at the end of Day 1 alone…
282 Surveys were submitted
 And if you still have some questions, jump onto the
FAQ
page on the website to answer the ones you have, and ones you hadn't even thought about around all things birds + survey.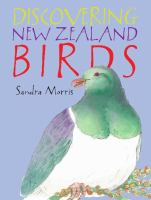 Or you could browse the Non-Fiction shelves under the Dewey Number of 598.
---
Other useful websites:
Become an ornithological expert and help understand and protect Aotearoa's wonderfully diverse birdlife.
---