Mālō e lelei!
We are excited to tell you this week is Uike Kātoanga'i 'o e lea faka-Tonga, Tonga Language Week, from Sunday 4th September to Saturday 10th September.
This year, the theme is Ke Tu'uloa 'a e lea faka-Tönga′ 'i Aotearoa, Sustaining the Tonga Language in Aotearoa.
A series of activities and events will be running for the whole week. To find out more click the button below:
About Tonga
The Kingdom of Tonga has more than 170 islands! Some of the islands are the peaks of undersea volcanoes! Other Tongan islands are atolls, or islands in which coral reefs surround a shallow pool of water. Only 36 of the islands have people living on them.
The population in Tonga is around 100,000 people, 70% of whom reside on the main island, Tongatapu.
The islands are divided into three main groups: Tongatapu in the south, Ha'apai in the center, and Vava'u in the north. There are also isolated islands in the far north (the Niuas island group) and in the far south ('Ata).
There are two official languages, Tonga and English.
The distance between New Zealand and Tonga is around 2,382km and it takes about three and a half hours to fly there.
At the 2018 census, 82,389 people living in Aotearoa NZ identified themselves as being part of the Tongan ethnic group.  Head over to Te Ara Encyclopedia to learn more about Tonga identities and cultural contributions in Aotearoa!
Basic Tonga Greetings
Mālō e lelei – Greetings / Hello
Mālō e lelei – Greetings Everyone
'Okú ke fēfē hake? – How are you (singular)?
'Oku ou sai pē, mālō – I am fine, thank you
---
New FREE Tonga Language Learning App 
Check out this new app 'MA'AU: Learn through Bathtime'. You can learn Tonga, Gāgāna Sāmoa and Fijian languages. There are songs, quizzes and colouring!
If you want to learn more about them you can visit their website. https://maau.co.nz/
You can also read the book; Learning Tongan through bathtime.
---
Books
Visit your local library and have a look at our amazing books to learn more about Tonga cultures and practice the language in the  Tonga collection for kids. All our branch libraries have children's collections in Tonga language.
If you don't have a library card, you can sign up for free!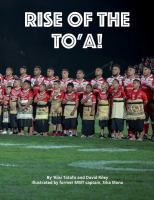 Rise of the To'a / Tatafu, 'Alisi
"Describes the culture behind the Tongan national rugby league team, Kau To'a, Mate Ma'a Tonga, MMT, and features profiles on each of the players. Also tells the fictional story of Toko, who overcomes his fears and grows in self confidence." (Catalogue)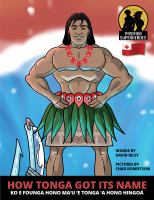 How Tonga got its name = Ko e founga hono ma'u 'e Tonga 'a hono hingoa / Riley, David
"Maui threw his line and hook into the ocean. He felt the hook catch onto something huge and heavy. "Wow, it's beautiful!" Maui said. What amazing sight did Maui see in the ocean that day?" (Catalogue)
Fish for mufti day : a story from the Islands of Tonga / MacGregor, Jill
"To raise money for the Mufti Day donation Siokatame and his friends collect seafood and sell it to people in their village." (Catalogue)

The secret cave = Koe 'ana fakapulipulí / Riley, David
"Naua was an expert fisherman who found an underwater cave. Naua had a feeling his cave would be helpful one day. And so it did. Find out what happened in The Secret Cave – Koe 'Ana Fakapulupuli, a Tongan legend retold by David Riley"–Back cover." (Catalogue)

Of course you can! = 'Io te′ ke lava / Hinge, Karen
"Jeremy is starting at a new school. He's not too sure about how he will fit in. But the other students make him welcome and every time he thinks he can't do something they say … "Of course you can!" That is until the day they go to the swimming pool."–Back cover" (Catalogue)

That's a wrap! Let's enjoy the Tonga Language Week 2022 together! Mālō 'aupito.