Mālō e lelei kaungāme'a, and welcome to Uike Lea Faka-Tonga 2023 | Tonga Language Week 2023! The Tongan language is spoken by nearly 190,000 people around the world — including about 100,000 across the 45 inhabited islands of Tonga, and over 35,000 here in Aotearoa! Tongan people are a very important part of our whānau in Aotearoa, with over 82,000 people of Tongan descent living here, nearly 3,300 of whom live here in Wellington. (Source: 2018 Census)
This year, the theme for Uike Lea Faka-Tonga is:
'E tu'uloa 'a e Lea faka-Tonga 'o ka lea-aki 'i 'api, siasi (lotu), mo e nofo-'a-kāinga | The Tongan Language will be sustainable if used at home, church and in the wider community
Help us celebrate this special time for the community by learning more about the unique culture, language and history of Tonga and the Tongan people through the books and other resources below!
---
Celebrating the Life of Emeli Sione
Before we share our wonderful pukapuka in the lea faka-Tonga with you all, we wanted to take a moment to celebrate the life of Emeli Sione, who passed away in August 2023. Emeli was the bestselling author of A New Dawn (in lea faka-Tonga, Ko e Pongipongi Fo'ou), which was shortlisted for the Elsie Locke Non-fiction Award at this year's Children's Book Awards, and has also been shortlisted in the Ngaio Marsh Book Awards, but she also acted as author, editor, translator, advisor, and advocate for many other books in the Tongan language and about Tongan people and culture.

Emeli was a founding member of Mila's Books based in Moera, Lower Hutt, one of the most significant publishers of children's books in Pasifika languages in Aotearoa, and the only publishing company in New Zealand that works with an all-Pasifika team of authors, illustrators and editors. Through her work as an author and editor at Mila's Books, and previously with the Ministry of Education, Emeli's contribution to Pasifika literature, and Tongan children's books in particular, can't be overstated. This month, Mila's Books are releasing 12 books in Tongan that Emeli worked on as part of the Tongan My Pasifika series — we can't wait to have these books in our libraries for everyone to enjoy!

---
Lea Faka-Tonga at the Library
Check out some of our favourite books from the children's section from and about Tonga, and in lea faka-Tonga:
Tonga / Toumu'a, Ruth
"The islands of Tonga are full of rich history and culture. Describes the history, customs, geography, and culture of the people who live there, and provides authentic vocabulary words for an immersive experience. Includes a glossary, index, and bibliography for further reading."– Provided by publisher." (Catalogue)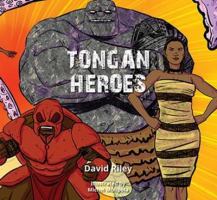 Tongan heroes / Riley, David
"Tongan heroes presents inspirational stories of achievers who have Tongan ancestry. It includes: Legends like Aho'eitu, Hina and Seketoa, historical figures such as Queen Salote Tupou III, Pita Vi and Professor Futa Helu, contemporary heroes like Jonah Lomu, Captain Kamelia Zarka, Filipe Tohi, The Jets, Manu Vatuvei, Dr Viliami Tangi and Valerie Adams. Readers will be inspired as they discover the challenges these figures faced and overcame, to become some of the world's best in their chosen fields." (Catalogue)

The worm and the whale / Halapua, Lisala
"Worms, yams and humpback whales tangle in a heart warming Tongan fable"–Back cover." (Catalogue)

How Tonga got its name = Ko e founga hono ma'u 'e Tonga 'a hono hingoa / Riley, David
"Maui threw his line and hook into the ocean. He felt the hook catch onto something huge and heavy. "Wow, it's beautiful!" Maui said. What amazing sight did Maui see in the ocean that day?" (Catalogue)

Rise of the To'a / Tatafu, 'Alisi
"Describes the culture behind the Tongan national rugby league team, Kau To'a, Mate Ma'a Tonga, MMT, and features profiles on each of the players. Also tells the fictional story of Toko, who overcomes his fears and grows in self confidence." (Catalogue)

Learning Tongan through bathtime / Sanerivi, Deborah
"Follow along with these children as their mother names each of their amazing body parts after fun in the mud. Join them as they go through their bath and bed time routines. Sentences are written in Tongan with their English translations." (Publisher description)

The eleventh sheep = ko e sipi hono tahataha / Mewburn, Kyle
"When the eleventh sheep falls out of Sian's dreams and into the real world, Sian is excited to have a new friend. Every day they play together, and at night Sian falls straight asleep with her arms around her woolly friend. But she can tell the eleventh sheep is homesick"–Publisher's description." (Catalogue)

Ko fé ho ihu? = where is your nose / Piliu, Annabel
"An early learning primer for the Tongan language." (Catalogue)

'Oku ou lava 'o tohi : I can write / Lovatt Davis, F. M.
"Photographs and text introduce a range of places where children can write." (Catalogue)

Also, visit this link to find even more books in lea faka-Tonga at your local library.
---
More Resources
Check out the following websites to learn more about the islands of Tonga and this beautiful country's culture, language and history: