This week is officially New Zealand Sign Language Week! NZSL Week 2021 is being held from 10th – 16th May, and is a wonderful opportunity for the sign language community in Aotearoa to showcase their language — and for people who don't know NZSL to learn more about it! Check out this video welcoming you to the library in NZSL, to see some of the ways in which NZSL is used in the community:
Events
To help mark the occasion, there are a number of events happening around the country in celebration of New Zealand Sign Language and the NZSL-speaking community — including some in our own backyard! On Friday 14 May, starting at 5.00pm, the Wellington Deaf Society are hosting a special New Zealand Sign Language Evening for the whole community! The event includes nibbles, prizes, giveaways, kids' face painting, and a whole range of activities for adults and kids, including free NZSL lessons from 5.00pm! This special event is taking place at the Waiora Hub at Alex Moore Park, 17 Bannister Avenue, Johnsonville. Find out more at the Wellington Deaf Society's website, and get in touch with them if you would like to take part in a free NZSL class with your friends.
Resources
If you can't make it along to this wonderful community event, Wellington City Libraries has some resources to help get you started in learning NZSL. Why not check out some of the following books and DVDs to get your NZSL journey on the road:
Children's visual communication dictionary : New Zealand Sign Language – Māori – English = Te reo Rotarota, he papakupu mā te hunga tamariki.
"Translations of New Zealand Sign Language words in English and Māori, with English descriptions of how to sign the words. Suggested level: primary, intermediate." (Catalogue)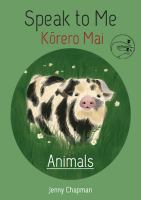 Animals / Chapman, Jenny
"Introduces signs and words for common animals that a baby might meet. Includes tips for teaching your baby to sign." (Catalogue)

Te rā tuatahi o Hope = Hope's first day / Chapman, Jenny
"Join Hope on her first day of school and learn everyday phrases in our three languages — Back cover." (Catalogue)

Kiri and the emergency / Cahill, Margaret
"Uses a picture book format, with a story about a Nana falling from a ladder, to demonstrate pre-schoolers making sensible choices during an emergency situation. Includes notes and activities on safety education and key first aid messages. Accompanied by a supporting DVD which presents The emergency song resource, Te waiata Aituā, New Zealand sign language and a behind the scenes look at how this resource was made." (Catalogue)

You can also search for New Zealand Sign Language on our catalogue to find more resources to help you learn!
Learn Online
Lastly, there are many places you can go online to learn more about New Zealand Sign Language.
The library has to a special database called Bridget Williams Books – New Zealand Sign Language Collection, that you can access for free with your library card. One of the amazing resources you can find there is Rachel McKee's New Zealand Sign Language: A Reference Grammar. You might need to get an adult to help you with some of the words, but this book is chocka-block full of lessons, videos, and illustrations to show you how NZSL works. Ka rawe!
Here are some more great online resources you can use:
So what are you waiting for? Now is the perfect time to start learning about this official language of our country!