It should be no surprise to you that librarians like books. We work here for a reason! We are surrounded by books at work and a good number of them often manage to find their way home with us at the end of the day. We choose books for book clubs, displays, and storytimes, and a very important part of what we do is helping people like you find a book that you're going to love.
To help you find a picture book you'll love, we thought we'd tell you about some of the picture books we love, and why we like them. So read on for a list of your local librarians' favourite picture books.
Amy's favourite: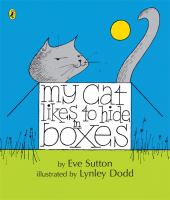 My cat likes to hide in boxes / Sutton, Eve
The illustrations are super cute and my cat also likes to hide in boxes (or any other tiny spot he can squeeze into).

---
Andree's favourite: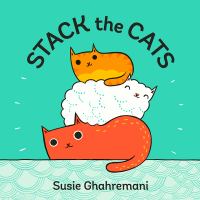 Stack the cats / Ghahremani, Susie
Counting and Cats, what's not to love!
Will the cats stack or tumble and fall? How is the best way to stack your cats?
A fun way to put a little bit of maths and a little bit of cute into your life.

---
Catherine's favourite: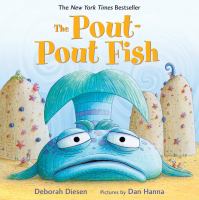 The pout-pout fish / Diesen, Deborah
I love the rhythm and rhyme and how a frown turned upside down is a smile ( I have a song that goes with it) and the value of a loving kiss to change your perspective on life. Wonderful illustrations too with just enough detail to be interesting. With the illustrations I think the book could do double duty as just an undersea looking/talk-about book if you are one to one with a child.

---
Claire's favourite: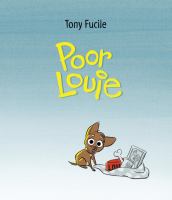 Poor Louie / Fucile, Tony
Poor Louie is very sweet – You can't help but feel sorry for the poor puppy dealing with lots of changes, going from being the centre of attention to… not so much… The very sweet twist at the end is what makes it great though.

---
Debbie's favourite:
The Lorax / Seuss
Even though it was a children's book  it was read to a small group of peers at a college biology camp by a teacher. It has always remained a special book for me because of his wonderful rendition of the story.
Plus I love the environmental message.

---
El's favourite:
The lamb who came for dinner / Smallman, Steve
This story makes me feel warm and fuzzy inside whenever I read it.

---
Emma's favourite:
The bear who wasn't there / Pham, LeUyen
I like it because it's as funny for adults as it is for kids (probably for slightly older kids like 8+), and there's lots of different characters which you can do all sorts of voices for, and it gets meta and it's just great!

---
Jonno's favourite:
Bark, George / Feiffer, Jules
This book is the greatest thing put to paper since the Dead Sea Scrolls. It is a delightful book with so many hilarious moments, plot twists, and animal sounds, that kids are rapt by it.

---
Kath's favourite:
The legend of rock paper scissors / Daywalt, Drew
This book has the best illustrations, and made me laugh out loud when I read it. When I read it to kids, they love the battle scenes and I always have fun giving the characters voices. I wish I could have posters of the illustrations!

---
Mary's favourite:
Dr. Seuss's sleep book. / Seuss
A favourite from my childhood! I love all the illustrations, all the funny creatures, and how you can choose your favourite creature on each page. Dr. Seuss is great at rhyming so it's easy to read aloud, and at the end of the book you're told to turn off your light and go to sleep which is a great hint!

---
Sandy's favourite:
Supermarket, zoopermarket : a fun flap book / Sharratt, Nick
I am a great fan of Nick Sharratt, both because of his delightful and quirky illustrations in collaboration with others but also his own picture books. One that gets the attention of both children and adults at story time is a lift the flap 'Supermarket Zoopermarket'. Very funny and a delightful play with words. Snappetizing…crocolate drops. I bet you can guess what they are. Crazy Crisps …Salt and Fin-egar crisps…fangtastic flavour.

---
Sara's favourite:
Winnie the witch / Thomas, Valerie
Who could fail to be charmed by Winnie and her black cat Wilbur?  The adventures they have! The fun and the scrapes and the quirky naughtiness appeal to kids and grownups alike.

---
Stephen's favourite: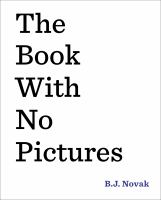 The book with no pictures / Novak, B. J.
We know, we know, a picture book with no pictures in it! But trust us, this is one book you will definitely want to hear read aloud!

---
Te Atawhai's favourite:
Pete the cat and his magic sunglasses / Dean, James
Such a fun, groovy read! Always in a good mood after reading Pete the Cat!

---
Tessa's favourite:
The great white man-eating shark : a cautionary tale / Mahy, Margaret
I love the illustrations (especially Norvin's shifty eyes), I love when Norvin gets his comeuppance and most importantly, I love Sharks!

---
When you're around books all day, every day, it can be hard to pick just one favourite. Particularly when there are so many good books out there! One librarian couldn't narrow it down to just one picture book, so here are her top picks.
Sue's picks:
The black book of colours / Cottin, Menena
Such expressive language. A great one to get your audience to shut their eyes to. Makes for a good segue into discussions about disability etc with smaller children.

Nicketty-nacketty, noo-noo-noo / Cowley, Joy
A great rhyming read, and I love it that the wee wishy woman sticks it to the giant. Yay!  One for the underdogs!

Along came a different / McLaughlin, Tom
Bright and colourful, and another fun read that teaches tolerance (and shapes while you're at it!)

Love you forever / Munsch, Robert N.
I first heard this book read by a grandchild at her nana's funeral, and it's made me cry ever since. All about a mother's love. It got read to my children A LOT!

We're going on a bear hunt / Rosen, Michael
A classic! Did you know that this can successfully be acted out to Edvard Grieg's music "In the Hall of the Mountain King"?!

---
Now you've seen our favourite picture books, what do you think? Have you read any of them, or do you want to read any of them? And what's your favourite picture book?