Tālofa Lava! 
Sāmoa Language Week | Vaiaso o le Gagana Sāmoa will be celebrated this year from Sunday, 29 May 2021 until Saturday, 4th June 2022. This is a chance for all New Zealanders to celebrate Sāmoan language, Sāmoan culture in New Zealand and around the world, and promote the use of Sāmoan language in schools, at work and at home.
Did you know that nearly 4% of New Zealanders are Sāmoan? That's almost 200,000 people! Gagana Sāmoa is the 3rd most spoken language in Aotearoa, New Zealand!
Sāmoa has a unique historical relationship with New Zealand. It is the only country that New Zealand has a Treaty of Friendship. The Treaty of Friendship between Sāmoa and New Zealand is like a mutual project to support Tagata Sāmoa (Sāmoan people) to have better opportunities. Being proud of your language is such an important part of feeling proud of your culture.
This year's theme for Vaiaso o le Gagana Samoa is:
Fa'aāuāu le Folauga i le Va'a o Tautai – Continue the Voyage with Competent Wayfinders of the Ocean.
2022 is also a significant year for the Samoan community, being the 60th anniversary of Samoa Independence. Communities are organising activities to commemorate this milestone, which coincides with Samoa Language Week.
Events for Samoa Language Week
As part of Samoa Language Week, there will be a Pasifika Pool Party! Find out more about the council events here.
Our friend the wonderful librarian Lewis from Johnsonville Library presents a special story in English and Gagana Sāmoa, How Do You Say 'Thank You'? by Karamia Müller. Many thanks to the publisher Beatnik Publishing for allowing us to share this story!
Find Out More:
You can also visit your local library and borrow some amazing books to learn more about Samoan culture, and practice the language. All our libraries have Samoan books and Newtown Library has the biggest collection! If you don't have a library card- you can sign up for free. If you are worried about fines- just talk to the staff, they can help.
Awesome Samoan books in our collection:

Losi the Giant fisherman : Samoan myths and legends pick a path collection / Malaeulu, Dahlia
Losi the Giant was the greatest fisherman across all the moana. A mischievous and loyal friend to sea creatures and all humans, Losi will always be remembered as the hero who brought taro, the food of the Gods', to Earth.
Author and Publisher Dahlia Malaeulu lives in Wellington and has written and published lots of Samoan books. You can read her blog about how Losi the Giant fisherman was shaped by her son Mase who has Autism.
Available from Mila's Books!
Also, read this really interesting article on the Spinoff!

Samoan heroes / Riley, David
"A collection of inspirational stories of achievers who have Samoan ancestry. It includes: contemporary heroes like Dwayne 'The Rock' Johnson, Troy Polamalu, Judge Ida Mālosi, Savage and Associate Professor Donna Adis; historical figures like Emma Coe, Tamasese, Salamāsina and Lauaki; legends like Sina, Tiʻitiʻi and Tigilau"–Back cover." (Catalogue). Also available as an eBook.

Fanene Peter Maivia : son of Samoa / Riley, David
"Fanene Peter Maivia – Son of Samoa is the remarkable story of the first Polynesian to become a star of professional wrestling. Fanene's life began in Samoa and he took Samoa to the world. He was a pioneer who inspired some of the greatest wrestlers the world has known, including his own grandson, Dwayne "The Rock" Johnson."–Publisher's description." (Catalogue). Also available as an eBook.

Brush up on your geography and history with…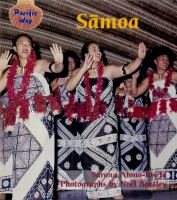 Samoa / Aiono-Iosefa, Sarona
"Did you know that the English word 'tattoo' is supposedly derived from the Samoan word 'tatau'? Find out about the traditional methods still used by Samoans to apply the amazing tattoos worn by many of the islands' people today. In this book you will discover that an 'ie toga is a beautiful and intricate fine mat, woven by Samoan women and used as highly prized gifts, which are made and given to celebrate important occasions. You can also study the climate, population, social structure and political history of the thirteen islands that make up the beautiful countries of American Samoa and independent Samoa (formerly Western Samoa)." (Catalogue).

Samoa & Tuvalu / Guile, Melanie
This book contains information about the history, culture and people of Samoa and nearby Tuvalu. A great book to have just in time for Samoan Language week.
Learn some simple words and phrases
Tālofa lava: Hello (formal)
Mālō le soifua: Hello/Good health
'O ā mai 'oe? How are you? (to one person only)
Manuia fa'afetai: Good, thank you
Manuia le aso: Have a great day
Tōfā soifua: Good bye (formal)
Faʻafetai lava ma ʻia manuia tele le Vaiaso o le Gagana Sāmoa!
Thank you and have a very blessed Sāmoan Language Week