If you're looking for a way to celebrate Matariki with your family during this festive, but chilly, season, look no further than your local library! If you pop down to any of our library branches this month, you'll be able to find a special collection of books that look something like this:
The books on these displays are part of our new Celebration Collection, and they will be on the shelves for a limited time only! They don't appear on our online catalogue, so you won't be able to reserve them, which means that unless they have all been borrowed, you'll always be able to find some Matariki books on the shelf to take home!
After the Matariki celebrations have concluded, the books will be packaged up and sent back to Te Pātaka, our storage warehouse in Johnsonville, until the next time we need them. All of these extra books will help us deal with increased demand at certain times of the year — and help make sure that you aren't disappointed when you come in looking for books about Matariki only to find they've all been borrowed already!
At the moment, we've only prepared a Celebration Collection for Matariki, but there are plans in the works to add Celebration Collections for other festivals and celebrations throughout the year as well, including Christmas, Easter, Eid al-Fitr, Ramadan, Chinese New Year, and Diwali, among others!
To whet your appetite, here are some of the wonderful titles that are part of the Matariki Celebration Collection at your local branch:
Ngā whetū Matariki whānakotia / Kamo, Miriama
"Sam and Te Rerehua search for the stars that have mysteriously gone missing." (Catalogue)
Also available in Te Reo Pākehā as The Stolen Stars of Matariki.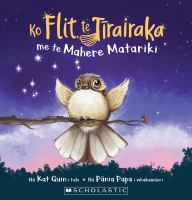 Ko Flit, te Tīrairaka me te mahere Matariki / Quin, Kat
"Join Flit and his friends, Keri the kiwi and wise old Ruru, as they explore the night skies to work out how to capture a sparkling star. When the friends get lost, they follow the twinkling clues in the sky to find their way back home." (Catalogue)
Also available in Te Reo Pākehā as Flit the Fantail and the Matariki Map.

Ngā manu tukutuku e whitu o Matariki / McClintock, Calico
"It is a special time of year. A time when the whispering wind blows warm from the east, and a crescent moon rises in the wintry night sky. Seven little sisters make kites with eyes of seashells to celebrate the New Year. But that playfulwind whips those kites away… Matariki is here!" (Catalogue)
Also available in Te Reo Pākehā as The Seven Kites of Matariki.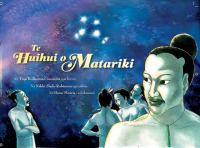 Te Huihui o Matariki / Rolleston-Cummins, Toni
"When Mitai's seven handsome brothers are bewitched by seven beautiful women, Mitai seeks advice and learns that the women are patupaiarehe and must be cast far away. They are given to Urutengangana, the god of the stars, who places them in the far away heavens. Yet once a year, at winter solstice, he allows them to shine in the Eastern sky." (Adapted from Catalogue)
Also available in Te Reo Pākehā as The Seven Stars of Matariki.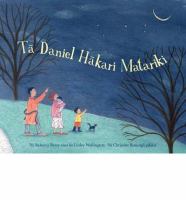 Tā Daniel hākari Matariki / Beyer, Rebecca
"Starting something new is always difficult. How will Daniel fit in? Luckily for him Matariki is a time of sharing and new beginnings." (Catalogue)
Also available in Te Reo Pākehā as Daniel's Matariki Feast.