ANZAC Day is a very special public New Zealand holiday that falls this year on Sunday 25th April.
What is ANZAC Day?
ANZAC is an acronym for the Australian and New Zealand Army Corps and is a very special day where New Zealanders and Australians remember the men and women that served and lost their lives in War.

Why is ANZAC Day commemorated on 25th April?
April 25th was the day when the New Zealand and Australian soldiers first landed at Gallipoli in 1915.

How do we commemorate this day?
Going to the Dawn Parade and watching the service men and women march to their local war memorial where they are met by family and the community.
Going to the ANZAC Day Service were the community come to lay wreaths in remembrance of the fallen soldiers.
Wearing a red poppy. Why? These flowers were the first to bloom over the graves of soldiers in France and Belgium and have become a symbol of remembrance. Information about the red poppy can be found on New Zealand History and the Returned Services Association (RSA).
Eating ANZAC biscuits. Why? The biscuits were sent by wives and women's groups to soldiers abroad because the ingredients did not spoil and the biscuits kept well during naval transportation. Click here for a yummy recipe!
Recite the Ode of Remembrance:

"They shall grow not old, as we that are left grow old:
Age shall not weary them, nor the years condemn.
At the going down of the sun and in the morning,
We will remember them."

FACT: The Ode of Remembrance came from Laurence Binyon's poem For the Fallen and it was first published in The Times of London in September 1914. Since then, it has been incorporated into the ritual of remembrance in many countries.
Will the libraries be open on ANZAC Day? 
We are closed on ANZAC Day and Monday 26th April (Anzac Day Holiday). Wellington City Libraries  will open usual hours from Tuesday 27th April.

Where can I find information about the ANZACs and Anzac Day?

ManyAnswers has a page dedicated to websites, resources and ways to search for information about the ANZACs and ANZAC Day. You can also refer to last year's blog post, 2019's post and this previous post, which  provides a list of websites that will provide you with reliable information about ANZAC Day and World War 1.
The Returned Services Association (RSA) has some brief information on ANZAC Day, and is good for finding out about what happens at an ANZAC Day service and where they are happening.
New Zealand History provides information about the history of the day, the ceremony, and modern ANZAC day.
Wellington City Libraries has some amazing fiction and non fiction about ANZAC day and World War 1 such as:

Non Fiction:

The Anzac violin : Alexander Aitken's story.
"This a WWI-era picture book intended for children and based on true events and a real-life young soldier from Dunedin named Alexander Aitken, who was a brilliant mathematician and a gifted violinist, as well as an artifact – the violin – that has survived the war and remains on display at Otago Boys High to this day" (Catalogue)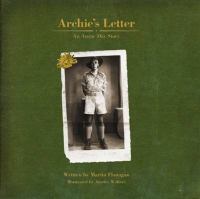 Archie's letter : an Anzac day story.
"On Anzac Day 2010, a 96-year-old man in Hobart, a returned soldier from World War II, wrote a letter to the local paper thanking the people who were going to that morning's dawn service. Who was this man? Why did he write this letter? Archie's Letter tells the story of an ordinary man who went off to fight in World War II. His experiences included surviving the Burma Railway, where he was under the command of Australian war hero, Weary Dunlop. Archie's Letter also tells how he dealt with his wartime experiences; how, at the age of 91, he agreed to meet a group of elderly Japanese women interested in world peace; how he could never forget the young men who were with him during the war and who didn't come back" (Catalogue).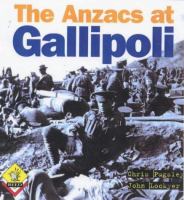 The Anzacs at Gallipoli : a story for Anzac day.
"Explains the history behind Anzac day describing how New Zealand and Australian soldiers went to fight on the battlefields of Gallipoli. Includes personal narratives from New Zealand soldiers describing the horrific conditions they were subjected too and the events which took place including, the Battle for Chunuk Bair and the Battle for Hill. Suggested level: primary, intermediate, junior secondary" (Catalogue).

Meet the ANZACs.
"A picture book series about the extraordinary men and women who have shaped Australian history. ANZAC stands for Australian and New Zealand Army Corps. It is the name given to the troops who fought in the Battle of Gallipoli in World War I. The name ANZAC is now a symbol of bravery and mateship. This is the story of how the ANZAC legend began." (Catalogue)

Anzac Day : the New Zealand story : what it is and why it matters.
"This book exposes the rich history behind Anzac Day, seeking to answer the many questions children often ask their parents and teachers around the 25th of April every year. It covers all aspects of Anzac Day, from the Gallipoli Campaign and the Great War, right through to the format of the commemorative services held annually throughout the country. The author identifies important memorials around New Zealand, examines the national anthem, the tradition of Anzac biscuits and the Last Post, Reveille music, plus much more. She also offers websites and projects for further study. The thoroughly researched information is presented alongside numerous images, both historic and contemporary, giving children a very clear view of the significance and background to Anzac Day" (Catalogue)
"The poignant story of a little boy's teddy bear that was passed down to him from his grandfather. He might look scary now but he's got a great story to tell, for Anzac Ted went to war. Watercolour illustrations combine with rhyming text to create a picture book that will touch the hearts of children and adults alike." (Catalogue)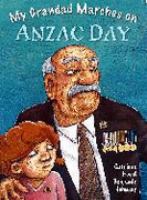 My grandad marches on Anzac Day.
"This is a simple, moving look at Anzac Day through the eyes of a little girl. It explains what happens on the day and its significance in terms that a young child can understand." (Catalogue)

Reflection : remembering those who serve in war.
"Left! Left! Left! Right! Left! We make our way in the dark. A family journeys through the early morning darkness… A group of young men huddle in a cold muddy trench… Reflection is a powerful tribute to those who have served their country." (Catalogue)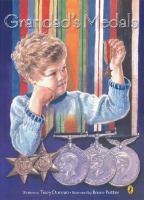 Grandad's Medals.
"Every year Grandad marches in the Anzac Day parade and wears his medals, walking proudly beside his old friends. But this year Grandad's best mate is too sick to walk and the number of old soldiers still marching is getting smaller. A touching story about the relationship between a young boy and his granddad." (Catalogue)

Fiction: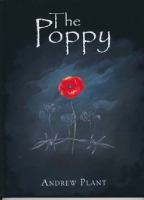 The poppy.
"On Anzac Day, 1918, a desperate night counter-attack in the French village of Villers-Bretonneux became one of Australia's greatest victories. A bond was forged that night between France and Australia that has never been broken. Villers-Bretonneux is 'the town that never forgets'. What was achieved that terrible night and what happened after is a story that, likewise, Australians should never forget." (Catalogue)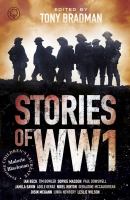 Stories of World War One.
"In this collection of short stories, twelve awarding-winning authors take you into the heart of the trenches and beyond – with powerful accounts of Zeppelin raids and front-line fighting, along with stories of everyday life lived under extraordinary circumstances. With tales of inspiring bravery, heartbreaking loss and overwhelming hope, this anthology brings to life the major events of World War One at home and around the globe." (Catalogue)

War horse.
"In 1914, Joey, a beautiful bay-red foal with a distinctive cross on his nose, is sold to the army and thrust into the midst of the war on the Western Front. With his officer, he charges toward the enemy, witnessing the horror of the battles in France. But even in the desolation of the trenches, Joey's courage touches the soldiers around him and he is able to find warmth and hope. But his heart aches for Albert, the farmer's son he left behind. Will he ever see his true master again?" (Catalogue).

Also check out the picture book!

War Horse the picture book. 
"Master storyteller Michael Morpurgo has adapted his much-loved novel, War Horse, for a picture book audience. This powerful book for younger readers tells the enduring story of a friendship between a boy and his horse and is a gateway to help children understand the history and deadly chaos of the First World War. As we move beyond centenary commemorations and continue to strive for peace across the world, War Horse remains an important book for generations to come." (Catalogue)

Search our catalogue for more books about ANZAC Day.